Cage Fury Fighting Championship 34 – Full Results – Honstein works Santella, earns title strap
Cage Fury Fighting Championship 34 – Full Results – Honstein works Santella, earns title strap
CFFC 34 will go down in the history books as one of the best fight cards to ever make its mark in the Garden State. Cage Fury Fighting Championships invaded the Mennen Arena in Morristown with a near sell-out crowd that saw six of eight fights end via TKO or submission.
In the main event, Sean "Shorty Rock" Santella set out to defend his CFFC flyweight title for a record seventh time. In the end Shorty Rock fell short of his goal when the title exchanged hands and a new champion was crowned in Nick Honstein.
Full fight card results below:
Main Event: Sean "Shorty Rock" Santella (125.2 lbs.) vs. Nick Honstein (126 lbs.) for the CFFC flyweight title.
Round 1 – Santella is demonstrating a plethora of submissions however Honstein is proving he is not easy to submit. Shorty Rock is working off his back throwing everything from guillotines to triangles and Americana's at his opponent. In the second round the roles have reversed as Honstein traps almost all movement from the champion by encasing his head and arm in a vice-like hold and keeps punching Santella in the side of the face. A huge mouse forms over the eye of Shorty Rock. Honstein works for an armbar and a kimura twisting Santella's arm every which way. Round two was all the challenger's.
In the third round Honstein picks the champion up early and slams him to the mat. The two fighters each attempted submissions and strikes from the ground but nobody was more convincing in the round than the other. Entering the championship rounds. Round 4 – Santella's face is battered but he is striving on. Honstein is again in dominant position with Santella scrambling from underneath working to defend the strikes and work sweeps and submissions, but Honstein isn't allowing it.
If Santella doesn't pull something off in this fifth and final round he is in danger of losing his title. Santella almost pulls off an armbar in the opening seconds but again Honstein proves too much for Shorty Rock. It appears as if the Rockaway native's title reign will come to an end here in Morristown. With just a minute left Santella pulls off an amazing armbar that bends Honstein's arm back completely. It appears the bone is going to snap. Whole crowd is on their feet and wincing, but Honstein gets out. It is a miracle he still has his arm.
Nick Honstein defeats Sean Santella via unanimous decision (49-46) and is the new CFFC flyweight champion.
In his post-fight interview Honstein said, "I took Shorty back to Nebraska, and do what I do best, good old fashion Nebraska wrestling."
Co-Main Event – Andy Main (145 lbs.) Rockaway, N.J. vs. Brian Kelleher (145.2 lbs)
Andy Main proves why he just earned his black belt a few short week ago. He makes quick work of Kelleher. Throws his legs over Kelleher's head for a triangle and scoops his leg under his opponent's leg also grabbing an arm. Applies an armbar and triangle choke after Kelleher slams Main only tightening the choke and he is forced to tap out. Andy Main defeats Brian Kelleher via triangle choke at 1:26 of Round 1
Emmanuel Walo (174.5 lbs.) Jersey City, N.J.  vs. Cheljean Erwin-Davis, (174 lbs.) Troy, N.Y.
This fight is a catchweight of 175 lbs.
Round 1- The two fighters are throwing combinations of front kicks and kicks to the thighs. Erwin-Davis is stunned by a hard right by Walo, but the majority of the strikes are being thrown wildly and missing. Walo throws a wild spinning back fist, Erwin-Davis ducks and grabs body control. In the second round Walo's back is to the cage the majority of the round. Neither fighter is really doing any damage. Walo must not know that he lost the second round because he walks over to the media table and screams "Woo, this is f**king fighting."
Round 3 – In the third and final round Walo turned up the action with a body kick right off the bat and dominated the round with knees and strikes to the head and body. He landed a combination of knees and after the fight went to the ground Walo softened his opponent with short strikes.
Emmanuel Walo defeated Cheljean Erwin-Davis via unanimous decision (30-27, 29-28, 29-28)
Mike "the Irish Machine" Stewart (217.5 lbs.), Yonkers, N.Y. vs. Lewis Rumsey (222 lbs.) Williamsport, Pa.
This fight is at a heavyweight catchweight of 225 lbs.
Round 1 – Rumsey is getting the better part of Stewart on the feet. Stewart who had a stint on the Ultimate Fighter season 8 is stumbled to the point where he dropped but was able to survive. Rumsey is not allowing Stewart to get the takedown is really controlling the fight on the feet. Stewart who has the more muscular frame has to find a way to get the fight to the mat or he is going to lose the fight.
Round 2- Stewart gets a slam but can't do anything with it. About a minute later he picks Rumsey up over his head and walks him a few feet before dumping him. He applies a kimura, but Rumsey works free. As soon as the fight gets to the feet Rumsey lands a punch that devastates Stewart. He follows up with a knee. Rocks Stewart again with a punch and Stewart falls to the canvas. Rumsey gets full mount and opens up Stewart's face. The referee calls and end to the action
Lewis Rumsey defeats Mike Stewart via TKO at 2:59 Round 2
Claudio Ledesma vs. Marcio Bittencourt (128 lbs., Wayne, N.J. by way of Brazil)
Round 1 – Traded chops at each other's trunks for better part of a minute before the action got pressed up against the cage and Bittencourt works for a takedown and takes the back of Ledesma. The American gets to the top position after the fight finds it way back down to the mat but Bittencourt ends the round landing strikes to the side of Ledesma's face from back control.
Round 2 – Again they start the round trying to sweep the legs out from under each other.   Ledesma is landing the better part of the shots as they exchange leather. Referee Gaspar Oliver temporarily halts the match as Bittencourt receives a finger to the eye. When the actions is continued Ledesma sends Bittencourt to the canvas with a solid punch. Once on the ground Ledesma lands in Bittencourt's guard. The round comes to a conclusion with the referee pulling Ledesma out of the guard position when the time expires.
Round 3 – The round ends just as fast as it started as much to everyone's surprise Ledesma taps the Brazilian with a guillotine choke. Ledesma turns him over, throws the leg up over top, leans back and cranks harder. Just before Bittencourt was about to pass out he taps the shorts of Ledesma.
Claudio Ledesma defeats Marcio Bittencourt via guillotine choke submission Round 3
Mike "Tailor Made" Wade, (185.5 lbs.), Richmond, Va. Vs. Shedrick Goodridge, (186 lbs.), Rahway, N.J.
Wade comes out to the Hulk Hogan theme song 'Real American' and the crowd is loving it.
Round 1 – Catching each other with rights. Wade lands a head kick and Goodridge shakes it off. Wade catches him again, fight goes to the ground, and he applies a guillotine and gets Goodridge to turn over. Wade cranks harder. Referee stops the fight, but Goodridge protests the stoppage.
Mike Wades defeats Shedrick Goodridge 2:04 submission via guillotine chokes Round 1
After the fight the audience is made aware that Wade had to come up in weight from welterweight and travel to New Jersey to get a fight because he couldn't find a find in Virgina. With the win Wade improves his record to 5-3.
J.A. Dudley (224 lbs.) vs. Plinio Cruz (225 lbs.)
Catchweight 225 pounds
Round 1 – Cruz gets a takedown early on after swatting away a Dudley kick. Cruz scoots Dudley to the corner and peppers him with punches. As Dudley stands he eats a knee. Cruz secures another takedown landing in side control. Cruz has his back again, sets his hooks in, rolls Dudley over and applies a rear-naked choke. When the choke doesn't work Cruz steps over and cranks an armbar. After the second submission attempt fails Cruz again moves to side control. He works for a full mount and cranks the arm once again this time getting the job done forcing Dudley to tap out in pain.
Plinio Cruz defeats J.A. Dudley via armbar submission at 4:12 Round 1
Josh Key (168.8 lbs.) Somerset, N.J. vs. Bradley Desir (170 lbs.) New York, N.Y.
Josh Key is a monster. All over Desir with takedowns and hammer fists. Landed a solid roundhouse to the face. TUF alum, Dante Rivera in the corner of Key. Key lands another roundhouse to the sweet spot.
End of the round Desir comes on strong, bouncing back with knees and solid strikes. Stuns Key, backs himy up across the cage but Key lands a takedown to the end the round.
Round 2 – Key controlling the round again with wrestling. Holding Desir down on the mat while landed some solid shots to the head. Desir working for submissions but Key works out. Key attempts a suplex but Desir lands directly on top of him. Key working the ground again but referee Gaspar Oliver stands them back up. Now Desir ends the round with a takedown.
Round 3 – Desir drops Key with a nasty Muay Thai clinch knee. Swarming Key with a ton of punches from top before he turns his stomach to the mat and Oliver tackles Desir to put an end to the contest.
Bradley Desir defeats Josh Key via TKO at 0:16 Round 3.
"I actually trained with him a week before the fight, and I thought he was just a wrestler. He proved me wrong," Desir said in the post fight interview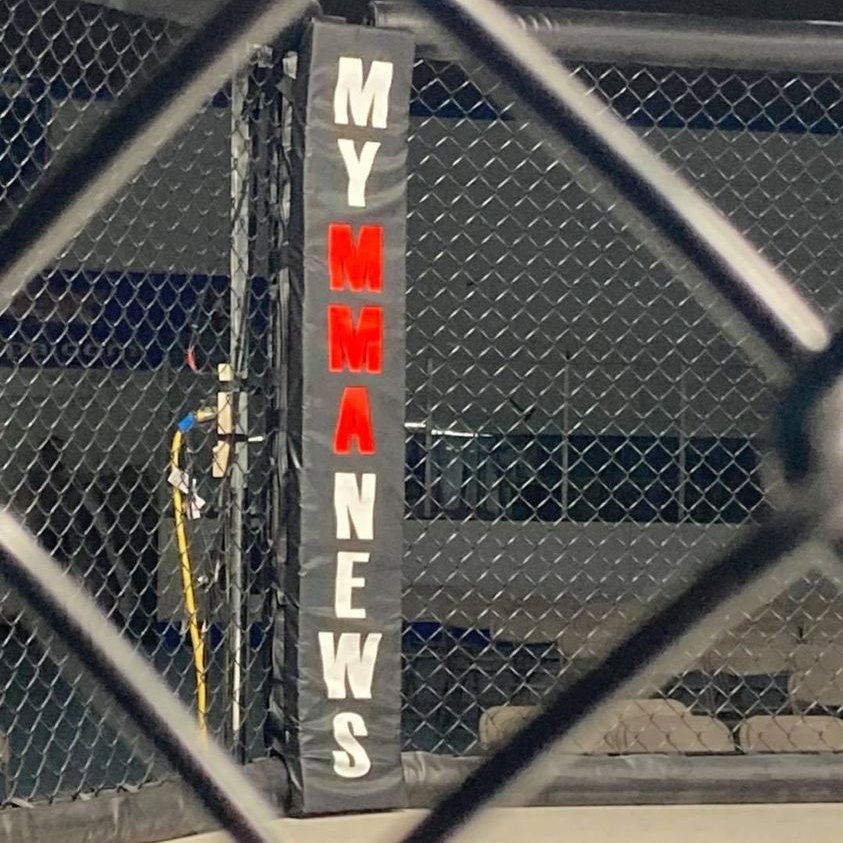 MyMMANews.com – We cover everything from MMA, BJJ, Bare Knuckle, Wrestling, Boxing, Kickboxing, and Judo
News, Opinions, Videos, Radio Shows, Photos and more.