Patrick Mix: I'm chasing world titles
Born and raised out of Angola, New York,  Patrick Mix is one of the most promising up-and-coming bantamweights in the world today. "Patchy" Mix is the current King of the Cage (KOTC) bantamweight champion who will look for his eighth consecutive fight for the promotion this Saturday against Keith Richardson (18-10). Mix will look to improve to 9-0 in the biggest fight of his fighting career.
First of all, how is the weight cut going? Last time you were saying the weight cut isn't really hard. What is usually your diet plan while cutting weight? Do you have a nutritionist or do you do it yourself?
"The weight cut is going great. For me, it's about mental toughness and discipline. I love to make the weight because it helps me conquer the fight before the actual fight."
How did you get the nickname "Patchy"?
"I got the name 'Patchy' from my parents/grandparents. They always call me Patchy' instead of Patrick as a kid."
I know you're a fighter that likes to stay active and fight as much as possible. How many fights do you think you should take in a year?
"I love to stay active and on the regional scene over the last five years, I've had four fights per year. Once I get to the UFC I would most likely hope for three a year just because the jump in competition will likely cause more damage to my body."
How has training camp been? Last time I spoke to you, you started training with Jackson Wink so have you stayed with them for this fight camp?
"Yeah, I've been at Jackson Wink for the majority of my camp this time around. Its been great adding new tools to my game. Next Saturday, I plan to make it 5-0 under the JW banner."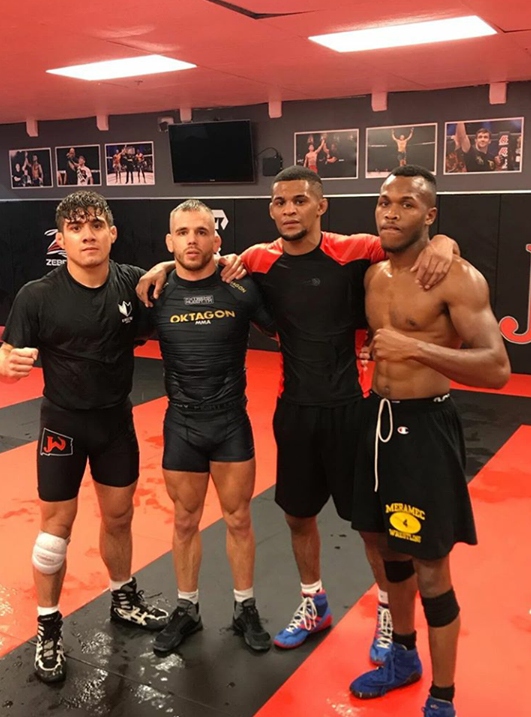 Not too long ago you signed with one of the best managements in Dominance MMA with Ali Abdelaziz. How has it been working with Ali? Ali has a lot of influence on the UFC who has so many fighters in the UFC so you feel signing with Dominance will get you to that next level?
"Ali is hands down for me one of the best if not the best manager in the game. He's been helping me tremendously. I feel like signing with Dominance will fast track myself into the UFC. But it's not just about getting there for me by 2020 I'm aiming to be a contender for the best in the bantamweight division of the UFC."
With days to go for your upcoming fight, do you have any odd pre-fight ritual? Matt Lindland avoided showering for a week going into his fights to repulse his opponents. Lyoto Machida drunk his own piss.
"Yeah, I'm not into not showering or drinking my own piss so I guess my only pre-fight ritual is dropping off a crazy amount of tickets since this will be the ninth time professionally I've sold out local shows."
Explain what a normal day in the life of Patrick Mix is?
"A normal day in the life of mine varies depending on if I'm in camp or not. But when I am its wake up, make breakfast, walk from my dorm downstairs to the Jackson Wink gym. Get my first pro session in, normally shower lay low for a couple hours until I do my second session which is a private with Jackson/Winkeljohn/Harry St Leger. Then I will normally stretch and do my third hard pro session of the day with it being grappling or striking depending on the day. Then I shower, make dinner, watch a movie/fights and call it a night."
Who will be in your corner for your upcoming fight?
"I'll have the same three corners that have been helping me since I won my KOTC belt. Dennis Brown, Mike Dubs, and Alex Castellano."
You're fighting Keith Richardson next who has a lot of experience and has for the most part lost to solid competition. What do you think of him as an opponent and how do you see this fight playing out?
"Keith Richardson will be my toughest opponent to date. Having 28 pro fights and many finishes he's extremely game. Hell, he was fighting pro when I was a sophomore in high school. I'm not too sure how it will play out but I am sure that I will be trying to finish this man from the one second to the 15-minute mark."
After this next fight with KOTC, you will have your UFC out-clause. If you can give a message to Dana what would you tell him?
"One message to Dana is tune in next Saturday. This will make it 20-0 for me spanning over five years undefeated who has never pulled and always made it to the show."
Let's say the UFC doesn't come calling right away would you sign an exclusive contract with Bellator or maybe Rizin? What if PFL contacted you for the million dollar tournament next year. Obviously, there are many options but many think it's UFC or nothing, do you agree?
"If the UFC doesn't call there are other options such as Bellator or PFL. Unfortunately, PFL doesn't have a million dollar bantamweight tournament just yet so I'm not sure if I would be going there. Regardless wherever I go I'm chasing world titles."
Let's say everything goes right and you get that win on Saturday. How do you usually celebrate?
"If everything goes well in celebrating in style by blowing the roof off the casino with my friends family and fans."
Last question, Why do you fight? who do you fight for and why do you have the passion for this sport?
"I fight because this is what I was raised to do since I was a child. I fight to honor the family members I lost especially the ones that believed in me. I fight for the people I know that don't have enough courage to go after the things they want in life. I fight to give the people from my small ass town of ANGOLA, NY the inspiration to go out and achieve anything they set their minds too."