Dan Severn Discusses UR Fight Fallout and "Hyprocrite" Shamrock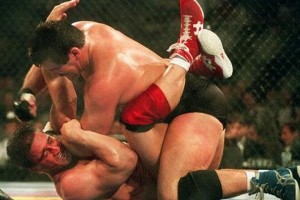 UFC Hall of famer, Dan Severn, otherwise known as "The Beast," was scheduled to come out of retirement and compete on March 20th, 2016 against rival, Ken Shamrock for UR Fight promotions. A promotion that was scheduled to feature multiple combat sports to take place on the same night in a single ring. The interesting, yet highly versatile card included a pro grappling contest between Michael Bisping and Chael Sonnen, a pro wrestling match featuring Rey Mysterio vs. Kurt Angle, a pro boxing fight featuring Roy Jones Jr. against Vyron Phillips as well as pro MMA legends, Severn taking on Shamrock.
Unfortunately, the pro MMA super-fight rematch of Severn/Shamrock never came to fruition as Shamrock backed out of the scheduled contest after being suspended following a positive drug test from his Bellator 148 fight with Royce Gracie. Shamrock was replaced for the UR Fight card on late notice by Tank Abbott to take on "The Beast", however, Abbott failed his pre-fight medicals which rendered him unable to compete.
Dan "The Beast" Severn joined MyMMANews reporter, Adam Crist with some choice words for Ken Shamrock and his reasoning on backing out of their scheduled fight. "The Beast" also touched on the process and fall out of his UR Fight bout against Shamrock as well as Abbott. On top of letting his fans know his latest endeavors, Severn also talks about who he would consider competing with these days and much more! Tune in!
Listen Here