Defamation lawsuit against Wanderlei Silva moves forward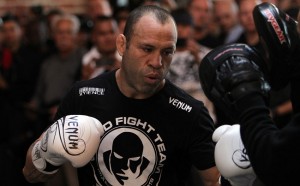 Last week a Nevada district judge denied a motion to dismiss a civil defamation suit filed by Zuffa, parent company of the UFC, against Wanderlei Silva.
In July, Silva posted comments to Facebook, written in Portuguese, stating he could "prove" the UFC had engaged in the illegal act of fight fixing. "I haven't told everything I know," Silva wrote.
Zuffa filed the suit July 28, alleging Silva, 39, defamed the company with two posts on social media in which he accused the promotion of "fight fixing." The lawsuit seeks punitive damages.
Silva's attorney Terry A. Coffing, argued that Silva's freedom of speech should be protected by Nevada's Anti-SLAPP laws, which protects people after speaking out on public issues.
Judge Joanna S. Kishner denied the Anti-SLAPP motion, based on her ruling that Silva's statements on fight fixing were not directly connected to public matters including an ongoing anti-trust lawsuit against Zuffa and his appeal of sanctions placed on him by the Nevada State Athletic Commission.

Kishner did grant a motion to dismiss part of the complaint related to monetary damages alleged by Zuffa.
"I'm glad we have a judicial officer with First Amendment experience," said Zuffa's attorney Donald J. Campbell. "This law can be convoluted and we're happy the court arrived at what was clearly the right result. We look forward to delving into Mr. Silva's statements further."
Follow MyMMANews.com on Social Media
The following two tabs change content below.
Founder of MyMMANews.com - After writing for Ultimate MMA magazine and serving as the editor for U.S. Combat Sports, both of which went on hiatus, I decided to venture out on my own and enlist a staff of writers and photographers that could help me achieve my goal of telling stories that would otherwise go untold. We pride ourselves in taking a deeper look into the fighter, and understanding what makes them tick. - #1 Dad, Marine Corps Veteran, 80's and 90's Pro Wrestling Fan, MMA Commentator, Beer Lover, and avid movie watcher. Seriously..... I watch a lot of movies.
Latest posts by Eric Kowal (see all)