Kimbo Slice gives up Texas fight license after drug test failure
Kimbo Slice gives up Texas fight license after drug test failure
Bellator MMA heavyweight Kevin Ferguson, AKA Kimbo Slice has reached an agreement with the Texas Department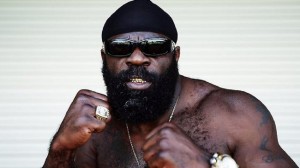 of Licensing and Regulation following a drug test failure stemming from the Bellator 149 event held in Houston.
Slice fought and TKO'd Dhafir Harris, AKA Dada 5000 in the co-main event of the evening, Feb. 19.
Slice tested positive for anabolic steroid nandrolone post-fight, and was also flagged for a high T:E ratio.  The Texas Department of Licensing and Regulation is usually not as strict or harsh in punishing fighters as other athletics commissions often are.
On July 16 in London, England, Slice will fight James Thompson in a rematch of their 2008 fight.  That fight was announced April 18 before this settlement came about.  Even if the Texas Department had suspended him for a lengthy period of time, the ruling would not necessarily hold up overseas because it is sanctioned by the International Sport Karate Association.
Instead, of the usual $2500 fine and 90-day suspension usually handed down in Texas, Slice will pay the $2500 fine, and give up his Texas fighting license. That license is set to expire on March 4th, 2017.
Slice vs Thompson will take place at the O2 Arena at Bellator 158.