NSAC releases statement regarding Nick Diaz talks
The Nevada Athletic Commission released a statement Wednesday, confirming that it is indeed in settlement talks with Diaz's legal team despite its decision last month to suspend Diaz five years and fine him $165,000 for a third marijuana offense.
The statement, from NAC chairman Francisco Aguilar, did say that Diaz's case would not be discussed during the upcoming NAC meeting Thursday.
"As a reminder to the general public, the Nick Diaz disciplinary matter will not be on the agenda at the regularly scheduled meeting of the Nevada State Athletic Commission's on Thursday, October 29, 2015 in Las Vegas," Aguilar said. "Settlement discussions between the NSAC and Mr. Diaz and his counsel are on-going."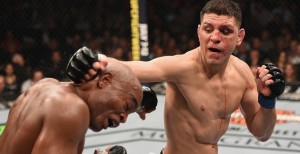 Diaz was suspended for five years and fined $165,000 at a NSAC hearing last month for his failed drug test after his January 31, UFC 183 bout with Anderson Silva.
A White House petition sparked after the announcement and garnered more than 100,000 signatures.