Pennsylvania State Athletic Commission executive director wins Middle Atlantic Association award
HARRISBURG, Pa., Dec. 22, 2015 — Secretary of State Pedro A. Cortés announced today that Gregory Sirb, executive director of the State Athletic Commission (SAC), has been named 2015 Most Valuable Person by the Middle Atlantic Association, a regional arm of USA Boxing which governs Olympic boxing in the United States.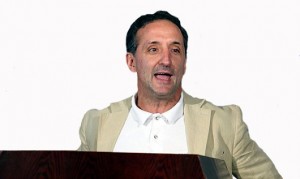 "Because the State Athletic Commission is part of our agency, I know very well what a tremendous job Greg does," Cortés said. "As the Department's longest serving administrator, Greg demonstrates every day that he is one of our most valuable team members."
For more than 25 years, Sirb has served as executive director of the State Athletic Commission, which regulates boxing, wrestling, mixed martial arts, and kick-boxing throughout the Commonwealth.
The Middle Atlantic Association, a Local Boxing Committee (LBC) for USA Boxing, includes 65 amateur boxing clubs and has 978 registered boxers and 225 coaches and officials. The LBC serves eastern Pennsylvania, southern New Jersey and Delaware.
William Billingham, president of the Middle Atlantic Association, said Sirb is a constant source of support and guidance for the LBC.
"He is always assisting us with making sure nothing slips through the cracks," Billingham said. "He's a great liaison with the (USA Boxing) office in Colorado."
In September, the Pathway to Glory Olympic Trials Qualifier II, a six-day competition, was held in Philadelphia and was overseen by the SAC.
"That was the first time in history that we had that event in Pennsylvania," Billingham said. "Greg was instrumental to that. He was a significant part of that."
A native of Sharon, Pa., Sirb joined the State Athletic Commission in 1990, after serving as a senior analyst for the Pennsylvania Intergovernmental Council Corporation. He holds a master's degree in public administration from Penn State University and a bachelor's degree in communications from Edinboro University.
Sirb is a member of the Governor's Council on Physical Fitness and Sports.