Official Statement on BlackZilians – No Truth To Rumor of Closing
After rumors surfaced on the web about the possibility of the famed BlackZilians MMA fight camp coming to a close, owner Glenn Robinson released a statement.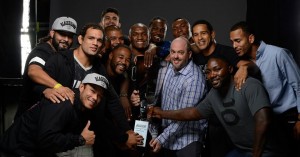 "Today a story involving the Blackzilians and I was published on a website named www.smackhisface.com.This site is owned by a man that we considered working with, but didn't, because we couldn't come to terms.
There is no truth to this website's article, for the exception that I have said I would consider selling Jaco under the right conditions. I was recently very ill and it took months to recover. During this time, I reflected on my life and realized I have to work less and spend more time with my family.  And that maybe building a clothing company is not the best use of my time.
I love my wife and daughters and my other family of athletes. While I will never leave the MMA business, selling Jaco could free up my time, so I can cheer for my daughters at their soccer games, instead of working more late nights at the office.
In short, the article is completely false and is an example of poor journalism. The price for this will be paid, as we will be filing a defamation suit against the owner of the site.
Thank you!"
Robinson and the BlackZilians appears on the Ultimate Fighter Season 21 opposite the American Top Team.
A news video regarding the rumor also about on UFC Minute: