Scottish Thai fighter Andrew Miller's goal to be Britain's best
The international influence on not only the Ultimate Fighting Championship but all mixed martial arts organizations has always been evident.  A Brazilian by the name of Royce Gracie (maybe you have heard of him) proved dominant at the very first UFC back in November 1993.  Immediately following that win, Jiu-Jitsu schools started popping up everywhere and "Gracie" became a household name.
Then little more than ten years later,  Michael Bisping became the UFC's "golden ticket" in the United Kingdom.
Today, an Irish born fighter by the name of Conor McGregor is making headlines with his brash talk and the skill set to back it up.  McGregor is currently out on the most expensive UFC tour in the history of their organization as he promotes his upcoming title bout against featherweight champion Jose Aldo.
On the 20th season of the Ultimate Fighter a Scottish female named Joanne Calderwood captured the hearts and minds of viewers everywhere with her calm voice and heavy hands.
But where do these stars come from?  How do they get noticed and rise up to stardom?
They build their brand.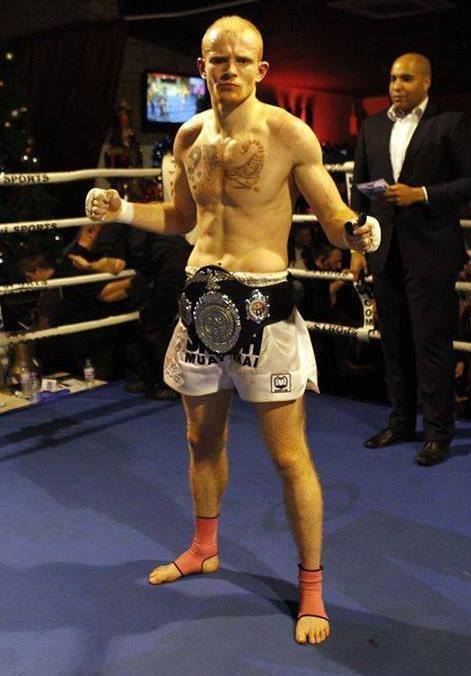 24-year old Scottish fighter, Andrew Miller has been training Muay Thai since he was 18 years old and in just five years of competing he has amassed 19 fights to his record.
After just one amateur bout in which Miller knocked his opponent out with a knee to the face, he decided it was time to go pro.
He states that a friend invited him to a gym and that's how his passion for the sport began.
"I have never looked back," Miller said.
Now he has 11 wins, six losses and two draws to his credit to include fights in Thailand but says "The addiction is just amazing but the pain after the fight is murder."
Miller feels that the attention McGregor is getting is well deserved.
"He has done really well.  He trains his arse off and gets what he deserves," Miller said.
While he has never had a mixed martial arts bout, Miller does not rule it out.
 Andrew Miller to MMA?
"I would love to try a fight in MMA one day," he said.
Miller currently trains at Colosseum Gym in a small town called Cumbernauld just outside Glasgow.
When he is not training, Miller helps teach the "stand up" portion of MMA at a Scottish gym called 'Hit Squad.'
His training regimen includes daily practice (except for Sundays) and two times a day when in preparation for a fight.
 When speaking about his goals in the sport Miller said, "To be the best; Aim for British number one first, then on to world titles.'