Titan FC 51 results from Kazakhstan – Nazarov vs. Brown
Titan Fighting Championship holds its first international show as Titan FC 51 is held Friday, December 21 from the Almaty Arena in Almaty, Kazakhstan. The event streams live on UFC Fight Pass beginning at 8 a.m. EST.
Earlier this week two fights were dropped due to Cuban born fighters Gustavo Balart and Luis Gomez having Visa issues. Gomez was to fight Herbert Burns. Burns will now fight Aibek Nurseyit, a native of Kazakhstan. Balart was to fight Myrzamidin Pazylov. Titan FC officials intend to move that fight to their next card.  Titan FC 52 will be held January back at Xtreme Action Park in Fort Lauderdale, Florida.
The first fighter into the cage this morning (night, depending where you are) was Liu Mengyu of China. His opponent, Syrym Bektursyn of Kazakhstan.  This one was fast and action-packed right from the get go.  Bektursyn lands the first strike, Mengyu shoots in for a takedown and gets the fight to the ground.  Bektursyn applies a guillotine, but Mengyu breaks free, lands some ground and pound.  The two scramble and Mengyu locks up a triangle choke.  As he works to make the submission attempt tighter, Mengyu locks up Bektursyn's arm and submits him just 1:15 into the fight.
Salauat Beisenkhanov and Farid Alibabazade enter the cage next.  Beisenkhanov (1-0) is known as "the Bad Boy" of Almaty Fight Team in Kazakhstan.  These two are throwing bombs right out the gate and immediately competitors are hurt.  Beisenkhanov applies a standing guillotine but Alibabazade powers through, stands up and pushes his opponent against the cage.  The fight works to the ground.  Alibabazade is on top landing ground and pound but loses position and Beisenkhanov takes advantage and gets on top.  The two men continue to jockey for position and the first round concludes with Beisenkhanov working off his back.  The crowd was so loud that the bell to sound the end of the first round was not immediately heard and the round continued a few extra seconds.  Beisenkhanov comes out a little too aggressive in the second round, throws a head kick, misses, and the fight goes to the ground.  Alibabazade works to the top position and works small shots to the body.  Not much damage but scoring points.  Beisenkhanov appears to be in big, big trouble as Alibabazade works a rear-naked choke.  It is tight, but Beisenkhanov works free from the choke but still working not to get submitted.  Alibabazade keeps dominant back position throughout round.  We have a scramble contest here in the third and final frame.  Alibabazade has Beisenkhanov on his back for much of this final round in this bantamweight contest.  Alibabazade holding his opponent down, again no damage, but winning on the scorecards. Farid Alibabazade wins unanimously.
Ruslan Kamzaev and Igor Pesterev locks horns next in a welterweight contest.  Pesterev of Russia comes in against Kazakhstan's own Kamzaev.  Pesterev gets taken down, stands back up and is taken down again.  Kamzaev applies a rear-naked choke, stays with it as Pesterev fights it off.  Eventually he is able to sink it in and force the tap.  Kamzaev moves to 2-1.
Nils van Noord, a full-time security guard, walks to the cage with UFC heavyweight and teammate Stefan Struve.  Van Noord gets his opponent Alexander Poppeck down to the canvas very quick.  The light heavyweight Poppeck remains calm, works out of an early assault, gets to the feet and is able to stand and bang with van Noord.  Poppect clips van Noord with a big right.  The contest moves to the ground and van Noord is fighting off his back and Poppeck throws down big hammer fists.  We move to round two.  Poppeck lands a beautiful spinning back fist.  Minutes later into the contest, van Noord in a dominant position with Poppeck's back to the cage. With one minute left in the round, Poppeck able to stand, throws a spinning elbow, but misses.  Van Noord able to get a takedown in the final second.  Looks to be a round a piece thus far.  Van Noord has the fight down, looking for position in the third frame.  Half way through the round, they work up to feet, it looks like van Noord going to take back and suplex Poppeck, but Poppeck trips up van Noord is now on top landing ground and pound.  Poppeck throws a high kick as both men are standing in final seconds.  This one goes to the judges.  Poppeck wins split decision.
Rafael Fiziev and Nurzan Tutkaev competed next in a lightweight bout. Fiziev, the hometown favorite, walks out to a large pop from the crowd.  Fiziev throws a flying knee one-minute into the contest.  This fight is all power shots.  Down goes Tutkaev from a leg kick.  Fiziev on top in Tutkaev's guard.  We move to round two.  Fiziev continues to chop the tree in round two.  Tutkaev favoring his left leg.  Fiziev connects with a left hook.  Fiziev throws a high kick and Tutkaev throws a headbutt.  Fiziev signals to referee Dan Miragliotta who warns Tutkaev.  The fight resumes.  Fiziev continues a relentless assault on the body and buckles Tutkaev.  Miragliotta jumps in to stop the fight.  What a finish.
Michael Graves and Gregg Ellis are due up next.  Graves connects early with a looping left hook followed by a right.  Graves gets an early takedown on Ellis.  Graves looks fantastic, gets Ellis in a crucifix and starts to pound on Ellis.  Dominant performance.  Grave is in full mount.  Round two a bit more competitive as both men battling for control with over-unders.  Ellis trips Graves down but Graves springs right back up.  Graves gets Ellis back down pretty easily.  Ellis has to finish the fight now to get the win. He is down two rounds to none.  Another technical, dominant round for Graves who pounds away on Ellis in the final frame.  Graves wins unanimously.
Herbert Burns meets Aibek Nurseyit in a short notice fight.  They choose to keep this fight standing and exchange.  Very technical round that could go either way.  Both fighters landing nice, crisp, clear shots. Nurseyit sorts of gets a takedown at the final seconds, he could end up winning the round.  Nurseyit works for a double leg and Burns transitions it to a single leg takedown in the second.  Burns elbows from the bottom.  Moments later Burns locks up a triangle.  Nurseyit picks him up to slam him, choke gets tighter and Burns transitions to an armbar for the tap.  Amazing fight.
The next bout, the co-main event, is for the vacant Titan FC flyweight title.  After a brief exchange of guillotine choke attempts between Juan Puerta and Qazybek Ashimov, Puerta able to gain dominance throughout the latter part of the first round.  Ashimov lands an early takedown and locks up another guillotine choke just one minute into the second frame.  The crowd's roar is silenced once Puerta escapes and gets on top.  Puerta on top, landing ground in pound in the second round of the scheduled five round affair.  Puerta trap's Ashimov's arm but the shots he is delivering are not enough to end the fight.  Ashimov reverses but the round comes to a close.  In the third round, Ashimov shoots in, Puerta stuffs, turns him over, and submits Ashimov by way of D'arce choke to claim the title.
The main event, a point is deducted against Martin Brown in a very, very close fight against Beibit Nazarov.  The fight could easily be a draw going into the championship round because of the point deduction.  Despite the loss, Brown goes on to win the lightweight title by way of unanimous decision.
Complete Titan FC 51 results below:
Martin Brown defeated Beibit Nazarov via unanimous decision (48-46, 47-46, 48-46) for lightweight title
Juan Puerta defeated Qazybek Ashimov via submission (D'arce choke) – Round 3, 1:25  for flyweight title
Herbert Burns defeated Aibek Nurseyit via submission (armbar) – Round 2, 2:35
Michael Graves defeated Gregg Ellis via unanimous decision (30-27, 30-26, 30-27)
Rafael Fiziev defeated Nurzan Tutkaev via TKO – Round 2, 4:09
Alexander Poppeck defeated Nils van Noord via split decision (28-29, 29-28, 29-28)
Ruslan Kamzaev defeated Igor Pesterev via submission (rear-naked choke) – Round 1, 1:32
Farid Alibabazade defeated Salauat Beisenkhanov via unanimous decision (30-27, 30-27, 30-27)
Liu Mengyu defeated Syrym Bektursyn via submission (armbar) – Round 1, 1:15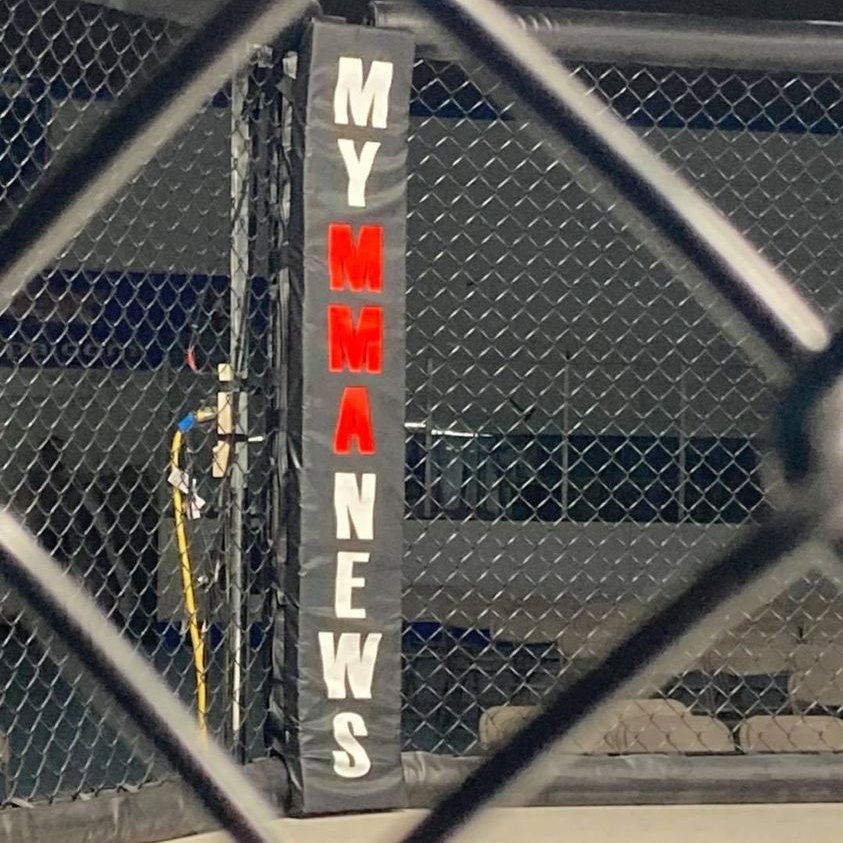 MyMMANews.com – We cover everything from MMA, BJJ, Bare Knuckle, Wrestling, Boxing, Kickboxing, and Judo
News, Opinions, Videos, Radio Shows, Photos and more.