UFC 229 Results – Khabib Nurmagomedov vs. Conor McGregor
The day is finally upon us, one of the biggest UFC events in history, UFC 229.  The T-Mobile Arena hosts Saturday's event, which has a main card on pay-per-view following prelims on FS1 and UFC Fight Pass.
In the main event, UFC lightweight champion Khabib Nurmagomedov defends his lightweight title against former champion Conor McGregor. The rivalry between these two runs deep which has resulted in speculation that this pay-per-view event could break records for the UFC organization.
In the co-main event spot, former lightweight champion Anthony Pettis meets former interim champ Tony Ferguson. The winner of this fight could be looking at a title shot in the near future.
UFC 229 results below:
MAIN CARD (Pay-per-view, 10 p.m. ET)
Champ Khabib Nurmagomedov vs. Conor McGregor – for lightweight title
Round 1:
Nurmagomedov gets the fight to the canvas and that is where it stays.  Completely dominant round for the champ.  Not much damage inflicted, but points scored.
Round 2:
This round could be a 10-8 in favor of the champion.  McGregor is dropped.  Khabib clobbering Conor.  He cannot get up.  The entire round, Nurmagomedov is punishing the Irishman. Conor is not looking good right now.  What can he do?
Round 3:
Conor has no offensive action even though the fight doesn't go to the ground.  Khabib is control.  Commentator saying Khabib is tired, but I don't see it.
Round 4:  
Nurmagomedov attacks McGregor, and forces a rear naked choke, but the entire win for the champion is flawed by what happens next.  The champion jumps the fence and attacks McGregor's teammate and coach Dillon Danis.  Then a man, who is reportedly Khabib's teammate jumps the fence and punches Conor.  Complete chaos.
Nurmagomedov def. McGregor via submission (rear-naked choke) – Round 4, 3:03
Tony Ferguson vs. Anthony Pettis
Round 1:
Ferguson's knee which was operated on just six months ago seems to be a factor already.  He's limping. These two are coming at each other with shots, left and right. Pettis throws a crazy cartwheel type kick, and Ferguson follows up with the "Pettis superman" punch off the cage.
Round 2:
Crazy start to round 2.  Pettis drops Ferguson twice.  Blood squirting all over from Pettis somehow.  He's cut.  Blood everywhere.  Fight temporarily halted for a cageside physician to look at the fighters.  They resume and it is an all out brawl.  Pettis and Ferguson are going to a brawl.  Pettis is leaking.  The fight goes through the round, to the bell.  Duke Roufus talks to Pettis mid-round and knows his fighter is hurt.  Pettis says his hand is broken and Roufus says his fighter cannot continue.
Ferguson def. Pettis via TKO – Round 2, 5:00
Dominick Reyes vs. Ovince Saint Preux
Round 1: 
Reyes looking good on the feet.  OSP wanting to go to the ground.  Pretty significant round for Reyes.
Round 2:
Another big round for Reyes.
Round 3:
Reyes splits OSP open.  OSP bleeding heavily.  Reyes lands a big shot that floors OSP right at the bell.  Reyes walks away and then the horn rings.  The fight goes to a decision in favor of Reyes but should likely be a knockout.
Reyes def. Saint Preux via unanimous decision (30-27, 30-27, 30-27)
Derrick Lewis vs. Alexander Volkov
Round 1:
The only heavyweights on the card entered the octagon.  Alexander Volkov starts off strong with the strikes, using his reach to hurt Lewis.  Lewis appears to get poked in the eye, and it is Volkov who sportsmanly like signals to the referee to temporarily stop.  Then commentator Joe Rogan says he believes that Volkov might have been fishhooked.  The fight resumes and Lewis comes back, Lewis comes on strong.  With Volkov on the ground, Lewis lands heavy ground and pount.  The crowd cheering for Lewis.
Round 2:
Volkov coming forward with more pressure.  Lewis dropping hands but not backing up.  Lewis strikes hard, but Volkov comes forward with uppercuts.  Volkov loses his mouthpiece.  The round comes to a close.
Round 3:
Good Lord….. does Derrick Lewis have a chin or what?  Volkov was punishing Lewis to the point where Lewis is bending over and it looks as if he will crumble.  Lewis bounces back, connects with Volkov, floors him.  Volkov's head rocks, his head bounces and Lewis follows up to knock Volkov out.
Lewis def. Volkov via KO – Round 3, 4:49
Felice Herrig vs. Michelle Waterson
Round 1:
Felice Herrig and Michelle Waterson opened up the first fight on pay-per-view.  This bout was contested at strawweight with the winner inching closer to a title shot.  The round was fought entirely in the stand up position with each fighter finding their own variations of success.  Herrig might have the slight edge in the striking game, while Waterson utilized more kicks to her advantage.
Round 2: 
Waterson comes alive this round.  Big kick that rocks Herrig.  Waterson tosses Herrig to the canvas and lands on top.  Waterson working the body, Felice working off the ground.  No significant damage done on the mat, but round goes to "Karate Hottie."
Round 3:
Herrig gets an early takedown in the third and final frame.  Waterson unleashes a bucket load of elbows and punches from the bottom while Herrig presents no offense from the top.  Referee Jason Herzog forces them to the feet.  Waterson lands a front kick.
Waterson def. Herrig via unanimous decision (30-26, 29-28, 30-27)
PRELIMINARY CARD (FS1, 8 p.m. ET)
Jussier Formiga vs. Sergio Pettis
Round 1:
The main event on FS1 is a closely contested flyweight bout as Formiga and Pettis stand and trade.  Not much damage but Pettis might win the round.
Round 2: 
More in favor of Formiga who is controlling the fight on the ground.
Round 3: 
Formiga is on the back of Pettis.  Commentator Joe Rogan calling Formiga "the best strangulator in the division."  Formiga hanging on the back of Pettis the majority of the round, crowd starts to boo.
Formiga def. Pettis via unanimous decision (30-26, 29-28, 29-28)
Vicente Luque vs. Jalin Turner
Round 1:
This fight contested mostly on the feet in the first round.  Turner lands a spinning elbow, but Luque counters, and knocks Turner to the canvas.  Luque follows up with brutal ground and pound and knocks Turner out before referee Dan Miragliotta calls an end to the contest.
Luque def. Turner via KO – Round 1, 3:53
Tonya Evinger vs. Aspen Ladd
Round 1: 
HUGE victory for Aspen Ladd who made very quick work of former Invicta FC bantamweight champ Tonya Evinger.  Evinger seemed to be bullying Ladd up against the cage early in the first round, then all of a sudden Ladd began to maul Evinger on the ground.  Ladd has full back control and begins the ground and pound as well as a rear-naked choke attempt.  Evinger attempts to roll out, but Ladd continues the assault before the referee steps in to call an end to the contest.
Ladd def. Evinger via TKO – Round 1, 3:26
Scott Holtzman vs. Alan Patrick
Round 1:
Holtzman catches Patrick early on and follows up with a kick.  Patrick gets flashy and clips Holtzman.  Holtzman lands a nice inside kick.  Holtzman fires a heavy head kick that lands.  Patrick comes in with a left and misses and Holtzman connects with a right.  Holtzman lands an inside leg kick that trips up Patrick who falls to the canvas.  Good top control from Holtzman.  He lands some ground and pound.  Good first round for the underdog.
Round 2:  
Big round for Holtzman, who uses his wrestling to his advantage.  Holtzman, the former hockey player is winning in the striking realm as well.
Round 3:
Holtzman drops Patrick in the third and final round and gets a dominant top position.  He gets a big knockout victory.  Holtzman believes he broke hands in the fight.
Holtzman def. Patrick via KO – Round 3, 3:42
PRELIMINARY CARD (UFC Fight Pass, 6:30 p.m. ET)
Yana Kunitskaya vs. Lina Lansberg
Round 1:
Kunitskaya gets first takedown in the first minute of round one. Once she established position on the ground, she went for an old school can opener. Halfway through the round and Kunitskaya took Lansberg's back but allowed Lansberg to get back to the feet.
With one minute left, Kunitskaya scored her 2nd successful takedown. Kunitskaya landed some big elbows at the end of the round.
Round 2:
The second round is very slow moving. Lansberg landed a big shot three minutes in but turned it into nothing beyond that. Lansberg got a choke in at the end of the round but Kunitskaya was able to escape. Lansberg may have gained back some ground after this round.
Round 3:
Round three shows both fighters come out with more strike attempts. Kunitskaya went back to the cage to work Lansberg. Against the cage, Kunitskaya threw several knees to the body of Lansberg. The end of the fight was in the center of the ring and Kunitskaya takes a very dominate performance.
Kunitskaya def. Lansberg via unanimous decision (30-27, 30-27, 30-27)
Nik Lentz vs. Gray Maynard
Round 1:
Lentz comes out early to eye down Maynard with a couple pf power shots. Maynard is struggling in round 1 just to survive. Lentz is controlling Maynard against the cage halfway through the round. Lentz got the goultine choke in at 2 minutes left but Maynard escaped. Lentz absolutely dominated the 1st round. Maynard was lucky to survive.
Round 2:
Lentz came in the early part of the round and accidentally caught Maynard with an eye poke. Quick break in the action to check Maynard's eye. Maynard set up a quick come back cutting Lentz in the second round, but Lentz ended it with a head kick and a victory.
Lentz def. Maynard via 2nd round TKO (1:19)
Ryan LaFlare vs. Tony Martin
Round 1:
Ryan LaFlare starts out aggressively with back-to-back Superman punches to counter Martin's distance. Martin got a couple of takedowns against LaFlare in the first round with no follow up to the ground. LaFlare ends the first round with a nice head-body combo then to clinch to end round 1.
Round 2:
Martin comes out in the first minute of round two to counter another LaFlare superman punch a tagged LaFlare with a right to the head. LaFlare was cut while Martin works his jui-jitsu and maintain guard position. Martin is smothering LaFlare mid-round while looking for several submission angles. With one minute left, LaFlare avoided a submission and got up from the ground against the skilled Martin.
Round 3:
Tony Martin came out in the third round and dominated LaFlare. Within the first minute, Martin connected with a head kick to LaFlare. A few seconds later the ground-and-pound finished off LaFlare.
Martin def. LaFlare via 3rd round TKO (1:00)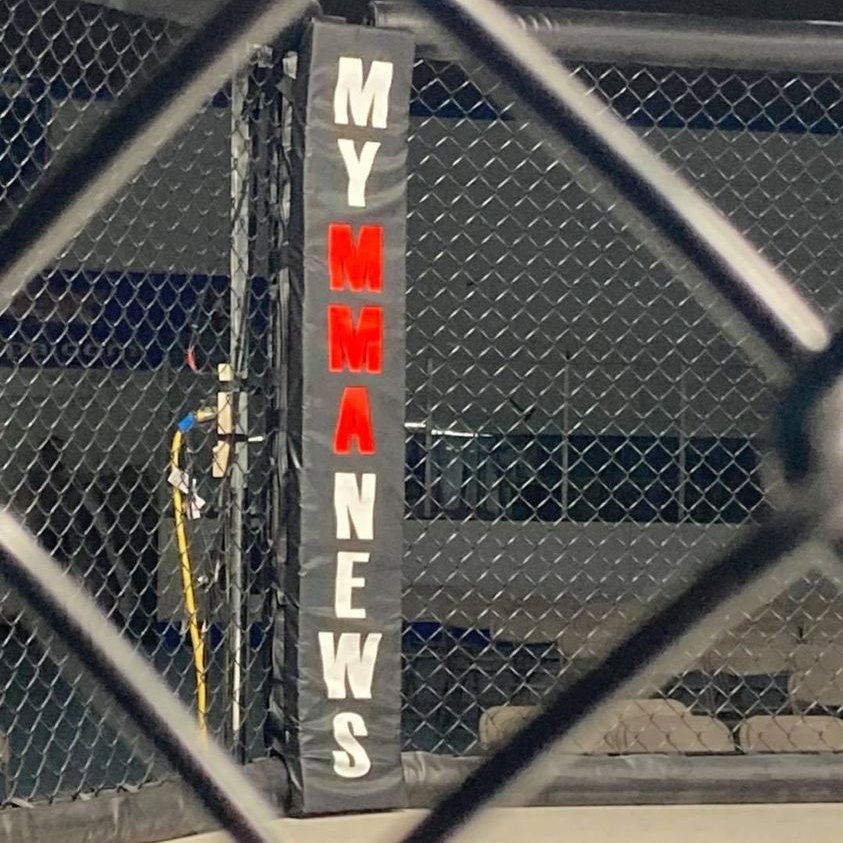 MyMMANews.com – We cover everything from MMA, BJJ, Bare Knuckle, Wrestling, Boxing, Kickboxing, and Judo
News, Opinions, Videos, Radio Shows, Photos and more.