Aggressive Combat Championship 15 Main Event Video – Full Fight – Gonzalez vs. Leon
Aggressive Combat Championship 15 Main Event Video – Full Fight – Gonzalez vs. Leon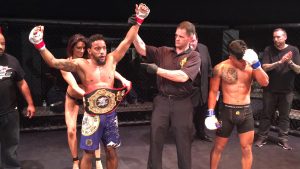 Luis Gonzalez, of East Coast United BJJ, battled Kai's Next Level MMA fighter, Ron Leon. The 135-pound main event was for the Aggressive Combat Championship title. The title bout took place at ACC 15 in the Queens Theater in Flushing Meadow Park.
On Saturday night, June 25, 2016, Gonzalez and Leon went two and a half rounds of nonstop action in front of ACC's sixth sold out show. After a war of words, these two fighters left everything inside the cage to deliver one of My MMA News' selected Fight of the Night honors.
Fights are sanctioned by the USMTA. The gold standard for MMA sanctioning bodies in New York.
Luis Gonzalez def. Ron Leon via TKO in Round 3, at 1:27.
Below is the video of the bout. Please enjoy!
Gonzalez TKO's Leon for the 135-pound championship! Aggressive combat championship 15 in queens, NY.
Kyle Carroll is a Long Island, N.Y. native and avid MMA and amateur wrestling fan. He has been a part of the wrestling community for nearly 20 years. Carroll has six years of experience coaching high school wrestling. His father coached high school wrestling over 35 years, passing on his strong knowledge. Carroll has been reporting MMA news since January 2011. The former wrestler's coverage includes the 2012 U.S. Olympic Wrestling Team Trials, 2013 & 2016 NCAA D1 Wrestling Championship, and numerous MMA events (Bellator MMA, King of the Cage, North American Fighting Championship, and Glory).