Brye Anne Russillo To Fight On World Series of Fighting China Card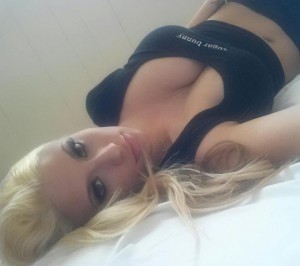 Brye Anne Russillo is the female amateur kickboxing fighter that has been plastered all over newspapers, radio shows, and the internet for the last week. Last night Russillo fought for on the Aggressive Combat Championship 150-pound catch-weight kickboxing title. Although Russillo came up short in the three round battle, she once again has turned what could be a negative into a positive.
The 29-year-old female fighter mentioned on Facebook the day after the ACC 12 event about her offer to fight in China on a World Series of Fighting card. The 1-2 fighter was offered to fight on their card taking place in January over seas in China. "Was invited to fight at the world series of fighting in China!!! for January… I'm on cloud 9 right now.. so amazing!!!!!!!! China!!! HERE I COME!!!" Russillo wrote on her Facebook wall.
The Valhalla Muay Thai fighter was offered an opportunity to fight in an amateur kickboxing bout. She was contacted on Sunday and forwarded the call to her Head Coach and gym owner Eric Olsen. Olsen confirmed he was sending over the necessary information WSOF requested and they will be headed to the world's most populated country.
"They are all pro fights but they want me so bad they are willing to let me do an amateur kickboxing fight!" Russillo said. "So insanely amazing to be given the opportunity to do this."
"I think it's great," Said Olsen, who mentioned he might also receive an opportunity to fight as well. Olsen had two fighters last night that fought on the card and they participated in fifty percent of the title bouts taking place on the ACC 12 card. Both fighters, Brye Anne Russillo and Rebecca Carnage displayed great heart and toughness going all three rounds in their losses.
Many of the details are still to be figured out, but it seems the WSOF is jumping on the opportunity to hire an individual who clearly turns heads and grasps the attention of not just the MMA community, but the entire world of sports. Last night at ACC 12, it was clear by the overwhelming number of individuals holding the phone to record her fight. Her opponent is still unknown.
"We know what we have to work on," Russillo said. Russillo returns to the gym on Monday to begin training. She mentioned her and Olsen will be traveling to numerous gyms to spar and train with other fighters to help improve her stills.
Follow My MMA News for future information regarding Brye Anne Russillo, who has been the topic of the largest MMA story over the last week.
Kyle Carroll is a Long Island, N.Y. native and avid MMA and amateur wrestling fan. He has been a part of the wrestling community for nearly 20 years. Carroll has six years of experience coaching high school wrestling. His father coached high school wrestling over 35 years, passing on his strong knowledge. Carroll has been reporting MMA news since January 2011. The former wrestler's coverage includes the 2012 U.S. Olympic Wrestling Team Trials, 2013 & 2016 NCAA D1 Wrestling Championship, and numerous MMA events (Bellator MMA, King of the Cage, North American Fighting Championship, and Glory).