Catherine Marino: I Love Fighting, I Love the Pain of Training
Catherine Marino:  I Love Fighting, I Love the Pain of Training
At 23-years of age, Catherine Marino has already made a name for herself on the jiu-jitsu mats.  Now, on June 18, Marino will step into the cage for the first time as an amateur mixed martial artist.
The New Jersey native will fight Victoria Whitbred at X Fights 2, at the Sands Bethlehem Event Center, part of the Sands Casino.
Marino currently holds a blue belt with one stripe in Brazilian Jiu-Jitsu and trains under the Migliarese Brothers at Team Balance and a yellow belt in Judo, training at Judo Movement, under David Osaghae.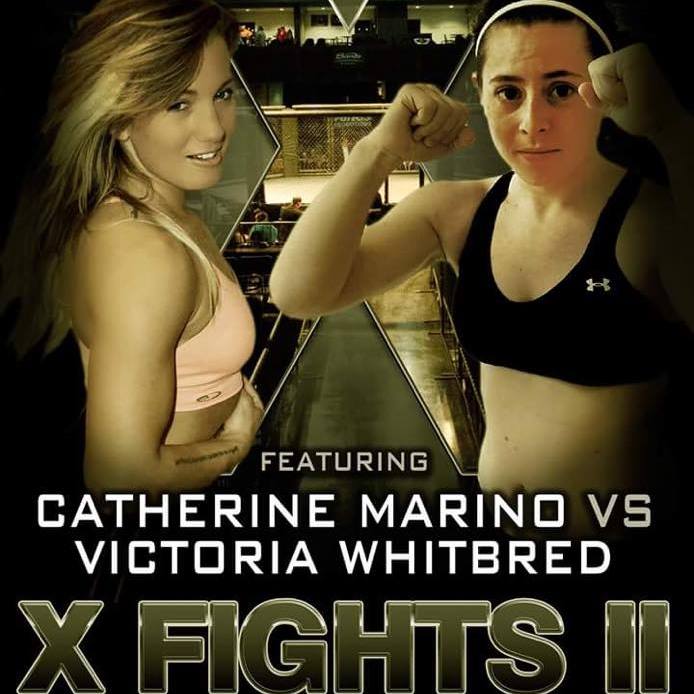 MyMMANews.com caught up with Catherine Marion to discuss her transition into MMA.
MyMMANews – Tell us how Catherine  Marino, the martial artist came to be:
Catherine Marino:  "I moved out my house when I was young.  I grew up on Long Island, New York.  I moved to Philadelphia, Pennsylvania with my sister when I was 18-years old.  I've been living on my own for a very long time.  Everybody goes through trials and tribulations in life.  I had a lot of things thrown my way and martial arts was one thing that definitely helped me dig my way out of that hole I put myself in.  It just makes me feel alive.  I'm a full-time student studying psychology and I love going to school.  I would love to one day be able to help people with their mental health but fighting is something that I feel I've been doing my whole love as far as whether it be from the time I was born or all the things I went through to be on my own, and survive on my own.  Everyday is a fight.  It's a fight.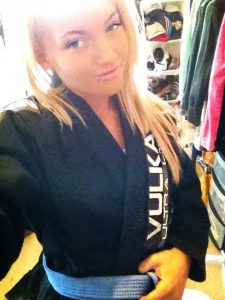 Martial arts and jiu-jitsu just made me feel so alive when I first tried it and jiu-jitsu was the first thing that was introduced to me through my ex-boyfriend.  He was into it.  We had broken up but I kept up with it and I have always an aggressive girl. I have always been the type of person that never backed down from a challenge and after going through some of the challenges I went through with life I felt there was nothing that could stand in my way in the cage.  So after jiu-jitsu I was introduced to judo and wrestling so I love my ground game.  I think it's beautiful.  It's an art. I love everything about the ground.  Then I was introduced to Muay Thai and boxing.  I've done a little of everything; Jack of all trades, you know as an MMA fighter.  But my favorite would be wrestling and jiu-jitsu.  I love it…. and boxing is beautiful.  The footwork is absolutely amazing to look at."
MyMMANews – Are there any significant achievements you have had in any of the martial arts in which you train?
Catherine Marino:  "I don't have any achievements as far as fighting, but in each of my tournaments, the latest ones, I've never placed anything below 'gold.'  Like New Breed, I won the absolute, I won gi, then no-gi, then absolute no-gi, then absolute gi.  The tournament after that, the Good Fight submission only tournament, I won again.  My biggest accomplishment in my opinion as far as jiu-jitsu goes was a Super Fight between me and Amanda Leve.  Amanda Leve is a very powerful girl.  She is also extremely talented on the ground.  At the time, it was a super fight so no match up or belt experience needed, but I was just happy I survived.  I was put in a really bad situation where I was in a rear-naked choke, several times, and I was able to survive.  I didn't tap so that right there is what I'm most proud of as far as jiu-jitsu.  
MyMMANews – This is your first MMA fight.  You were originally scheduled to fight Valentina DeConza but she pulled out of the fight due to injury and now you are fighting Victoria Whitbred.  This is a two part question.  First, has the opponent change in your very first fight affected you at all in any way, and second, what do you know about your new opponent, if anything at all?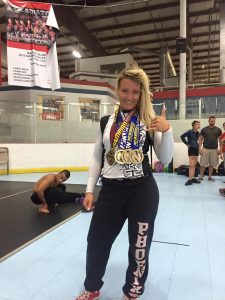 Catherine Marino:  I was really looking forward to fighting Valentina even though I have no idea who she is.  I just know that she was coming off a 14-second knockout and I wanted to make a statement and I knew that, that would be a statement.  Knocking someone out in 14-seconds is a statement in itself, so a a person and beating them, I was mentally focused on fighting her, but switching opponents doesn't really matter, because I'm not just training for her, I'm training for the fights that are to come after her.  She's just and no offense to her or any opponent, but they are a stepping stone for my career.  She's going to get me where I need to be whether win or lose.  
I always see myself coming out victorious and either way it doesn't really matter who I face.  The only thing I know about my current opponent (Victoria) is that she is a Lacrosse player and she played Lacrosse in college and that she was at the New Breed tournament that I was at as well and she came in third place.  That is the only thing I know that will never make me underestimate my opponent.  Just because I have a lack of knowledge or saw one picture on social media, I will not underestimate any of my opponents."
MyMMANews – With this being your first MMA fight, what made you wake up and say to yourself  'Ok, now I want to take my training into the cage."?
Catherine Marino: "The training and jiu-jitsu and watching my ex fight, I guess were inspiring but I was going through my own battles outside of the cage, in life and I apply the same thing outside to in the cage.  I really love fighting.  I really love it.  It's something I enjoy to do.  I love the feeling.  I love winning.  I love the pain of training.  I love putting myself through hell just for one night to have my hand raised. I know I work hard.  I dedicate my life to it.  I feel superior.  It makes me feel good.  I know its something I am talented at.  I feel like I found my thing.  I belong here."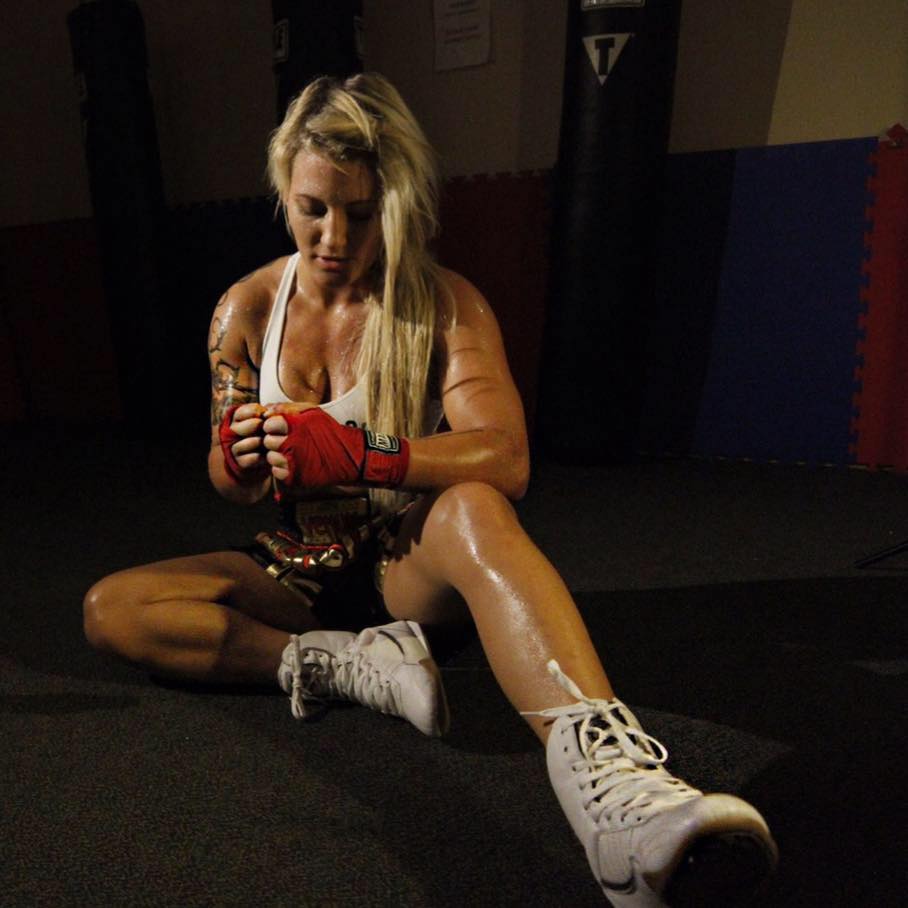 MyMMANews – We talked about how jiu-jitsu is your bread and butter, the first art that you fell in love with.  Have you stepped up your striking game a lot more lately since you are getting in an MMA fight or have you kept the training somewhat the same?
Catherine Marino: "I went to wrestling practice consistently until wrestling season ended over at the high school because I was able to wrestle there at the high school near where I live with the team there.  I always work on my ground game.  I did take a significant amount of time to work my striking.  I took off two semesters from school to dedicate to my boxing and Muay Thai. I wouldn't say that it is my strongest point but I have taken time to work on it.  To be a champion you need to be well rounded and work on it and you can't leave any stone unturned.  There's no harm in learning something new."
MyMMANews – We kind of talked about this already, and since you don't know much about your opponent, do you think your ground game is enough to nullify what she has in store for you?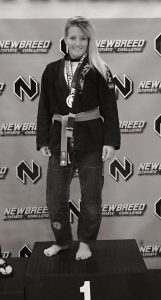 Catherine Marino: "100 percent.  I'm not underestimating.  I'm just extremely confident in my abilities.  If she tries to stand with me, then she can try to stand with me.  I don't see her trying to stand with me.  I'm just a very powerful woman and I don't know….. we will see.   I don't know a lot about her so it is hard to judge where it will go but I see it going to the ground though…. and rear-naked choke or armbar."
(laughs)
MyMMANews – I interview a lot of fighters and you don't get that a lot, especially from the amateurs fighting in their first fight, calling how the fight will end.  That was a first for me, so thank you. (laughs)
Catherine Marino: "Only because I just have practicing and again, my bread and butter.  Some people have been telling me 'you should go with what you know.'  And when I ask myself 'What does Catherine know?' The past like eight matches I have won by armbar so it might go the same way.  I will take whatever comes my way.  If the guillotine is there, or the knockout, if she leaves her chin there or doesn't put her hands up.  Whatever is there, I'm gonna take it."
MyMMANews – Lastly, anyone you want to thanks, sponsors, social media pages to follow, anything, the floor is yours.
Catherine Marino: "I have a Facebook page.  But I would to thank BadBoy, Breakpoint, South Coast Mitsubishi, and Judo Movement, and Team Balance."