Diego Brandao released from UFC following battery charges
Diego Brandao released from UFC following battery charges
Ultimate Fighter season 14 winner Diego Brandao was released from the UFC on Thursday.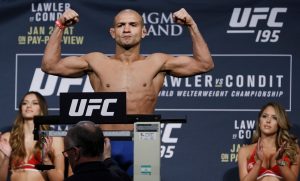 Brandao (20-11) was arrested April 15 on four charges to include aggravated battery with a deadly weapon and aggravated assault with a deadly weapon, after he allegedly pistol-whipped a man outside of a strip-club.
Brandao was also looking at a possible suspension for testing positive for marijuana following UFC 195.
The UFC has not officially released a statement on Brandao's release.