"Don't sleep on me," : Paige DiBartolo Places NY Female Division on Notice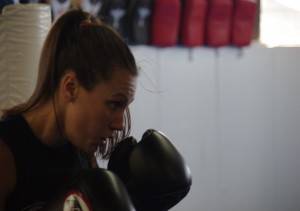 On October 3rd, 2015, Paige DiBartolo stepped inside the cage at Aggressive Combat Championship 12, where she faced a game opponent in Brye Anne Russillo. After three rounds of intense action, DiBartolo earned a unanimous decision victory behind her stiff straight that continually rocked Russillo's head back. DiBartolo won the three round K1 bout, taking home the ACC 150-pound catchweight title.
Leading up to the ACC 12 title bout, Dibartolo's opponent received a great deal of publicity for a quote taken from a My MMA News article and twisted by a Hawaiian MMA news outlet. During this whole ordeal, Paige DeBartolo continued to fly under the radar as she prepared for her title match. Her preparation was evident by her ripped physique on fight night.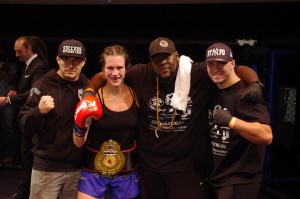 DiBartolo, fights out of American Top Team, in Whitestone, Queens, New York. The champion trains under head coach Jay Isaac. When looking to aid her bullied cousin six years ago, a door opened, and she fell in love with a sport unlike any other on the planet. DiBartolo took to the lifestyle very quickly. Standing at 5 feet 9 inches tall, the kickboxing fighter explained her lifestyle transformation as she went from weighing over 240-pounds, to a chiseled 145-pound athlete.
The 28-year-old fighter found her sanctuary inside the gym. Training seven days a week, she starts her mornings off with a run or a bike ride. After working her full-time job as a medical assistant, Paige makes her way over to the gym to train into the evening hours, arriving around 6 p.m. and exiting roughly around 10:30 p.m.
"I just want to fight," DiBartolo said, when asked about the headlines leading up to her fight. The American Top Team fighter remained silent leading up to the bout, and denied our request for a pre-fight interview. "I know what I need to do to fight, and I think I proved it,"
DiBartolo is a rising star in the Tri-state area as she continues to win K1 bouts. The lifestyle lived by the Queens native screams dedication and perseverance. She constantly moves forward inside the cage guided by her fists.
"Don't sleep on me," said Dibartolo, warning her opponents to take her serious when she enters the cage. The 2-0 amateur kickboxing fighter looks to remain undefeated. She steps back in the cage November 21, 2015, on the Bobby Cambles' Jackhammer promotion's show "Fall Brawl" in Deer Park. She will take on Elysha Giatras. Expect DiBartolo to step inside the cage in excellent shape and with a solid game plan.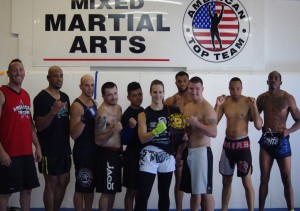 Head fight team coach, Jay Isaac mentioned the special bond he has with DiBartolo, as they talk nearly every day via text or the phone, whether it's about fighting, or just to share a laugh.
After walking into the American Top Team – Whitestone gym, it only took a few minutes to feel acclimated. ATT – Whitestone possesses a unique family atmosphere. The bond between the fighters was instantly noticeable. It resembled much of how siblings interact. An intense competitive edge sought to be won during practice, but after training, the joking and laughing begins. I have walked through many gyms, but ATT stands out among them, and definitely has something special happening there with their fight team.
She defeated a fighter that had one of the largest draws on the amateur level. The spotlight and attention of the bout couldn't knock DiBartolo off her path of destruction. What or who can?
Her technique improves everyday. Her fighter IQ increases with every training session. Her heart is full of passion. Emotion lasts for a short period of time, passion lasts forever.
"When I set my mind on something, it's going to get achieved!" – Paige DiBartolo.
American Top Team Whitestone fighter Paige Lian post-fight (Oct. 3rd, 2015) interview. She won the Aggressive Combat Championship 150-pound catchweight K1 title.
Kyle Carroll is a Long Island, N.Y. native and avid MMA and amateur wrestling fan. He has been a part of the wrestling community for nearly 20 years. Carroll has six years of experience coaching high school wrestling. His father coached high school wrestling over 35 years, passing on his strong knowledge. Carroll has been reporting MMA news since January 2011. The former wrestler's coverage includes the 2012 U.S. Olympic Wrestling Team Trials, 2013 & 2016 NCAA D1 Wrestling Championship, and numerous MMA events (Bellator MMA, King of the Cage, North American Fighting Championship, and Glory).