Fighters Against Spousal Abuse – GPG18 – Victorium IV
Fighters Against Spousal Abuse – GPG18 – Victorium IV
Global Proving Ground (GPG) and The Victorium mixed martial arts (MMA) family have a long and storied history together. As a team, GPG and Victorium have brought some of the best talent in MMA to the great fans of Virginia and now they're doing it again.  It is set to be the biggest showcase yet!
On February 21st, 2015 GPG & Victorium MMA will bring New Jersey a hard-hitting statement about the vile and heinous crime of spousal abuse. They will show what real fighters look like when they pick on someone their own size, gender, and skill level in the only environment where fighting should take place – in the GPG cage. Featuring the best in MMA talent, GPG and Victorium MMA will strengthen their bond and offer the masses and card not to be missed!
GPG Co-Founder James Jefferson said, "Whenever I hear of crimes against women or even men for that matter, it always made my blood boil. Crimes against a person that can't defend themselves, especially by those that "love" them are the worst kind. Sadly these people often times comes to accept the abuse as their life and that's just wrong. We at GPG want to bring awareness to this ugliness and show what real men look like as they dish and receive blows in an appropriate, and controlled environment. This is the way it should be done!"
The GPG Event Center is located at 1444 Route 73 N in Pennsauken, New Jersey. Doors open at 6 PM and tickets are still available.
Be sure and visit both www.GlobalProvingGround.com and www.LocalMMATickets.com for ticket availability and sales.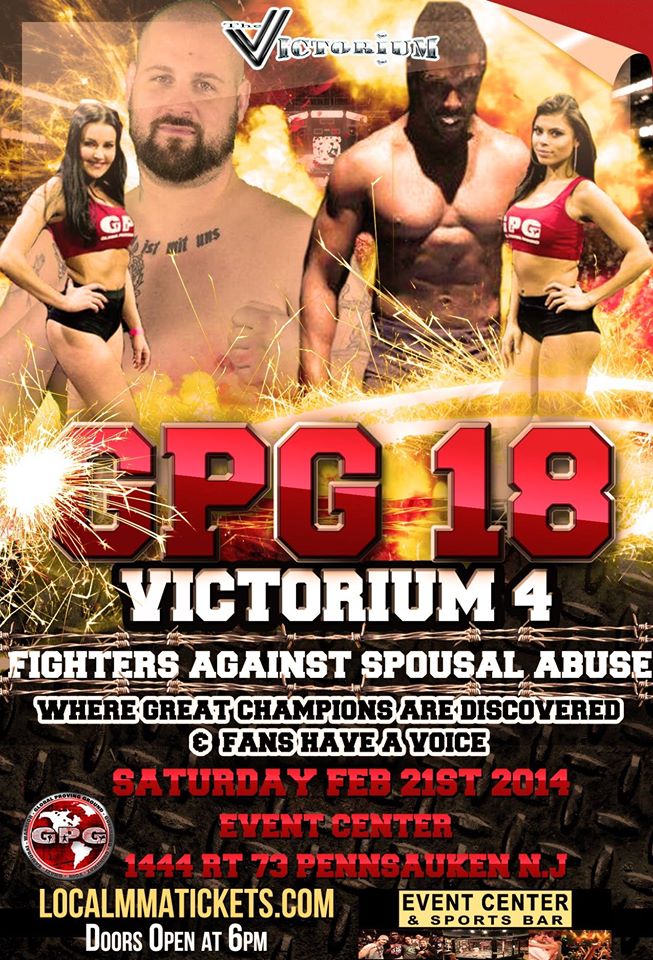 Follow MyMMANews.com on Social Media
The following two tabs change content below.
Founder of MyMMANews.com - After writing for Ultimate MMA magazine and serving as the editor for U.S. Combat Sports, both of which went on hiatus, I decided to venture out on my own and enlist a staff of writers and photographers that could help me achieve my goal of telling stories that would otherwise go untold. We pride ourselves in taking a deeper look into the fighter, and understanding what makes them tick. - #1 Dad, Marine Corps Veteran, 80's and 90's Pro Wrestling Fan, MMA Commentator, Beer Lover, and avid movie watcher. Seriously..... I watch a lot of movies.
Latest posts by Eric Kowal (see all)