Amateur MMA Profile: '50Kal' Kal Holliday – Undefeated USMC Vet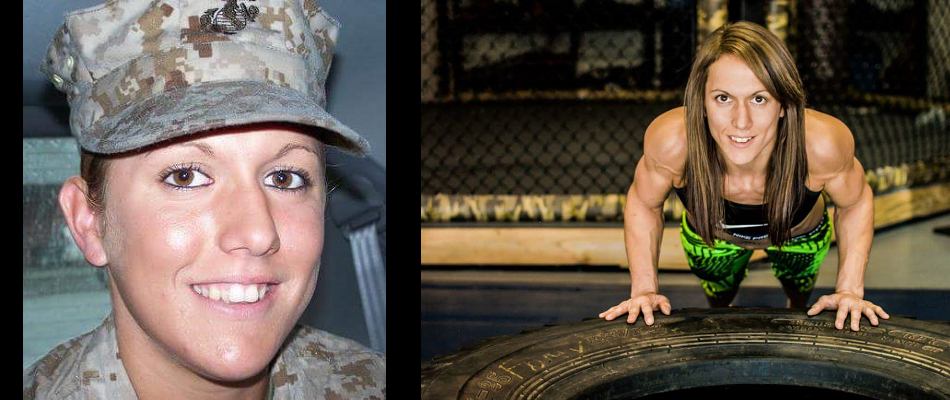 Undefeated amateur mixed martial artist, Kal Holliday (6-0) has held three belts in three different organizations.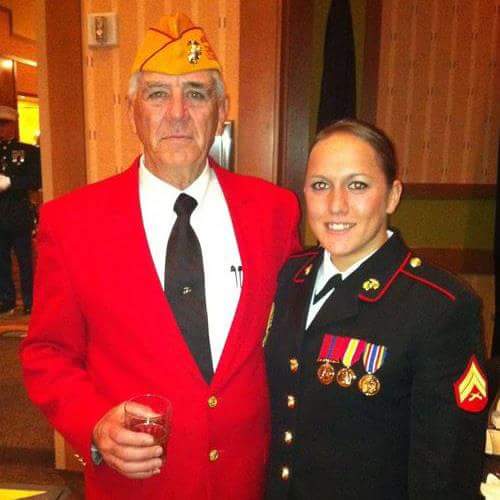 The 26-year old Marine Corps Veteran held the Rogue Fights bantamweight title, FCFF bantamweight title, and King of the Cage (KOTC) strawweight title.  She recently decided to vacate all titles.
Holliday co-owns and operates the gym Rogue Combat Academy in Central Point, Oregon where she partners with her fiance Chris Holliday and their best friend Nick Illanes who coaches and runs the combat sports programs and fight team.
The story behind the name(s)
"My birth name is Kalyn Schwartz but years ago I shortened it to Kal.  Chris and I are getting married in Vegas this coming February, so I figured I'd take the last name already since it flowed better," she said.
The prior enlisted USMC Corporal served in the crash fire rescue MOS (military occupational specialty or job field) but left the military in 2011.
She now teaches fitness and personal training.  Her nickname '50Kal' could not be more fitting.
"My fight name: 50Kal Holliday – the "Fifty Kal" came from Nick. He is undoubtedly the best nickname giver I've ever met. My fighting style has always been heavy handed, especially in my first fights where all I threw were hay-makers. I've often been criticized for my lack of submission attempts in fighting, but I'm far more comfortable repeatedly trying to knock your block off than hunting for subs. Nick came up with 40 Kal, since I am smaller, but I argued the 40 only reminded people of 40 ouncers (beer). So 50 it was, after the Ma Duece M2 Browning. With my military background, it fit so perfect," she said.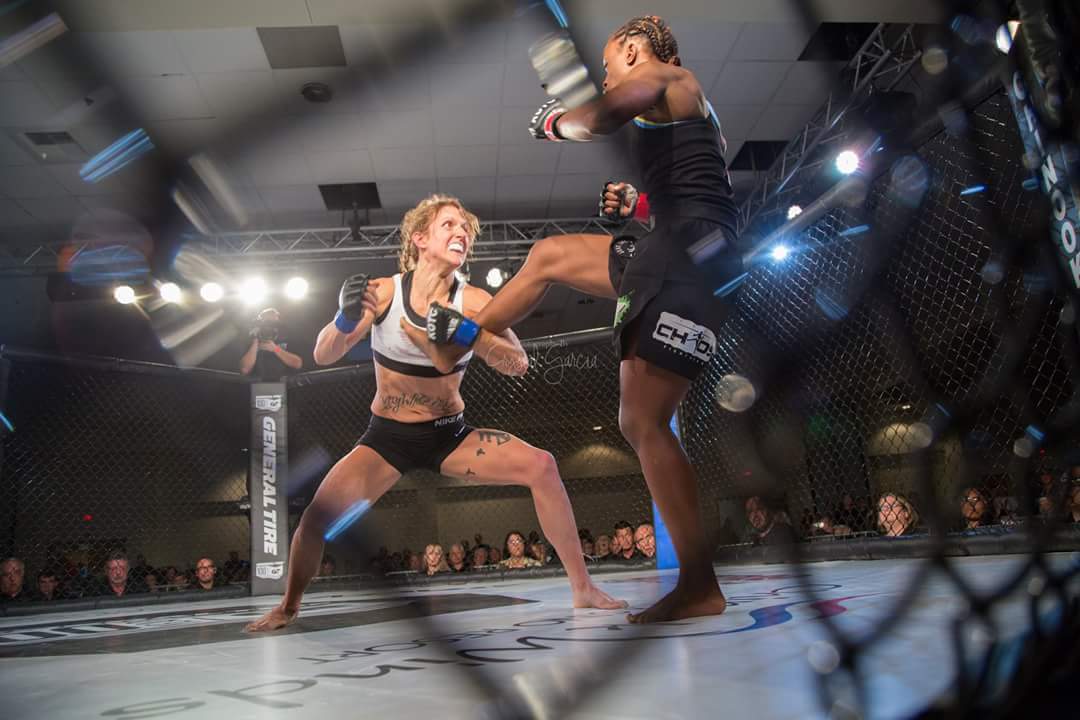 "Before MMA I did not have any experience in combat sports other than being a Grey Belt Warrior through the Marine Corps Martial Arts Program (MCMAP) in the Marines. I met Chris a little over three years ago and he shared his passion of fighting with me. At that point in my life I was a heavy drinker and smoker, two years out from the Corps. I didn't have a clue what I wanted to do with my life and spent most of my time dragging my feet burning through my G.I. Bill. Once I had my first fight, I was hooked, and convinced I could make it to the top. I had graduated at a local Community College as a Fitness Technician in 2015 and decided to get my bachelors at Southern Oregon University. This year was the inaugural season of their brand new Women's Wrestling Program. I had no prior experience other than the MMA wrestling I had learned from Chris and Nick. After my first year I ended up taking 6th at Nationals in OKC. Wrestling was a fun experience, but comes in second to my true passion and calling… fighting."
Below '50Kal' wins the very first women's wrestling match at South Oregon University.
Kal tearing it up and making history
Owe it all to Chris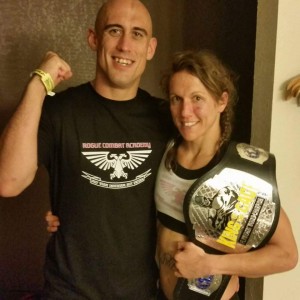 "I've never met anyone with such a true passion for the sport of MMA and coaching (as Chris). He has a spectacular way to break down even the most complicated techniques. He learned everything he knows from Alliance MMA in San Diego, California where he spent several years learning all the tricks of the trade from the greatest fighters of our day. I remember when I first started training, I was very stubborn and hard headed, and out of shape to say the least. He was patient and convinced me I could do it.
He inspired me to change everything about myself that I hated. My physique, the drinking/smoking, low self-esteem, you know, all that bullshit that people hold onto for their whole lives because no one ever believed they could change," she said.
Plans to turn pro
"This June I'm looking to debut. Invicta has expressed interest in me, but with the months spent wrestling for SOU I need time to get ready for that venue."
FOLLOW KALYN '50KAL' HOLLIDAY ON FACEBOOK
FOLLOW KALYN '50KAL' HOLLIDAY ON TWITTER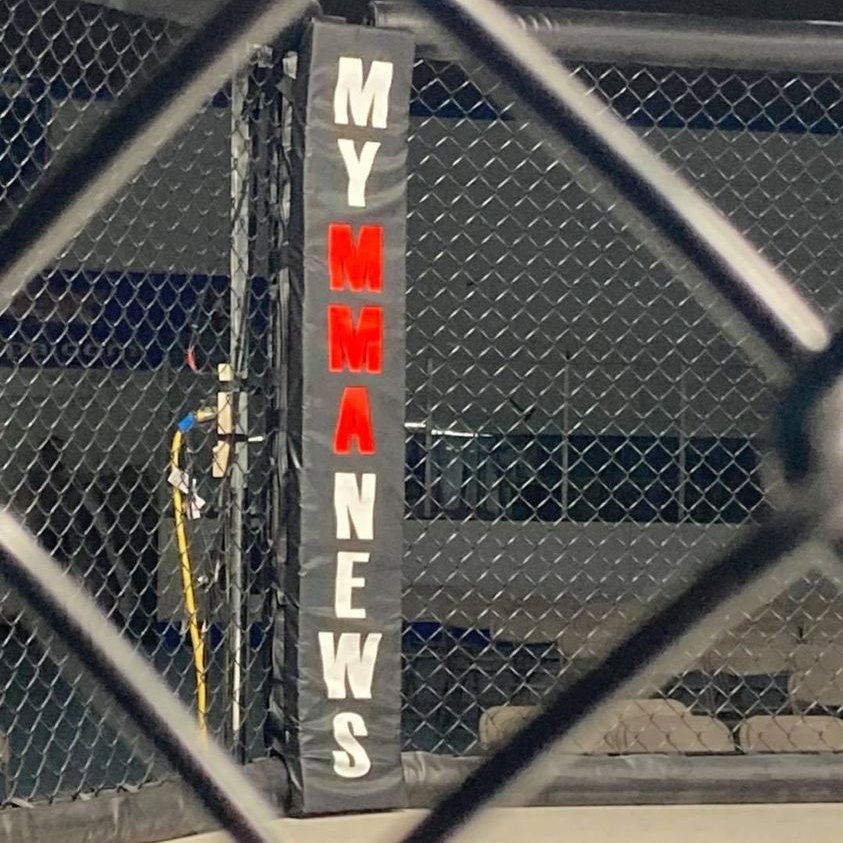 MyMMANews.com – We cover everything from MMA, BJJ, Bare Knuckle, Wrestling, Boxing, Kickboxing, and Judo
News, Opinions, Videos, Radio Shows, Photos and more.