Maverick 13 results – Heckman vs. Stirn
Maverick MMA holds Maverick 13 on Saturday, June 1 from the historic Sherman Theater in Stroudsburg, Pennsylvania.  The main event was supposed to be a title defense for featherweight champion Scott "The Animal" Heckman, but unfortunately yesterday, opponent Jesse Stirn, could not make weight.  As a result of the failure to the 145-pound mark, Stirn cannot win the title, and the fight will not be recorded as an official title defense for Heckman although he will keep the belt, win or lose.
Stirn told MyMMANews.com that he knows this fight against Heckman cannot go to the judges, that he has to beat the hometown favorite with his hands or feet, or with a submission.
In the co-main event, Gracie New Jersey prospect, LJ Reboli meets the ever-dangerous Kaheem Murray.
Travis Foster gets a short notice opponent as Paul Sims steps up for Travis Creamer who pulled out less than two weeks ago.
Wallace Wins
The action kicked off with a 175-pound catchweight bout between Obinna Egbebike and the man with the best beard on the card, Frank Wallace.  Wallace has an interesting stance, kind of weaving in and out, as he feels his opponent out.  Once the contest hits the mat, Wallace listens to his corner, looks at the lights and turns into Egbebike, to get back the dominant position.  The second frame starts and the two men must have thought this was a WWE match and our media station was the Spanish announce table.  They hit the cage which bounces off the media table and nearly collapses our workstation.  The fight goes on to the third and final round, where Egbebike is pulling out the legs of Wallace, placing him on his butt.  Egbebike working a submission, Wallace fights through it, and gets back on top.  This fight goes to the judges where Wallace wins a split decision.
Fahey Fights To Bell
The next scrap featured the only two women on the card as Taylor Samarco would look to test her hands against the young submission specialist in Brooke Fahey.  The fight was contested at a catchweight of 110-pounds. Fahey wouldn't be intimidated as she stood and traded with Samarco for the majority of the first round.  The only fault Fahey had was she had her left hand low and as a result Samarco kept finding a home for her right hand.  Fahey ends the round with a take down.  Going to be interesting to see if the judges favor Samarco's strikes or Fahey's takedown in that round.  Fahey gets another takedown to start round two and works to side control.  Samarco looking for a kimura, but Sean "Shorty Rock" Santella tells Fahey to sit heavy on her heels and "throw a punch and go, throw and go."  Fahey listens and throws and continues to throw.  Should be a solid round on the scorecards for her.  We move to the final frame.  Samarco letting her hands fly.  About half way through the round she slips but Fahey doesn't take advantage.  She stands, they trade.  Samarco attempts a takedown, backing Fahey up against the cage, but it doesn't hit the mat.  This fight one goes to the judges as well and Fahey pulls off a unanimous decision victory.  Good outing for her first time in the cage as an amateur.
D'Arce You Serious?
Tyler Bayer of Miller Brothers MMA gets a big reception as he makes his way to the heptagon.  Liam Anderson of Rochester, New York, surprisingly has a crowd that traveled with him here to Pennsylvania as well.  Heavy hands between these two middleweights.  Bayer throws a kick, followed by a big right, and Bayer takes him down.  They pop up and are fighting off the cage because Bayer gets and ankle pick to bring the fight down to the canvas.  Bayer smashing the face of his opponent with short shots and as Anderson looks to pop up, Bayer sneaks his hands for a choke.  With 1:30 left in the round, Anderson is free from the choke but he's getting punched once again.  I can here them laughing and talking to each other in the corner.  They stand and duke it out to the bell.  Bayer gets hit with a big right hand in the second round, so he sneaks in to shoot for a takedown and now has Anderson up against the cage.  The fight to the other side of the cage.  This fight is anybody's game.  Bayer going for the takedowns, while Anderson throwing the short elbows and heavy hands.  We go to the final five minutes.  What a crazy ending to the fight as Bayer is high on Anderson's back, falls over top, and lands just right where Anderson is able to easily scoop his hands in for a D'Arce choke and finish the fight in just seconds.
Worthy Win for Chaka Whorty
Pittsburgh's Chaka Worthy connects early with Albany's Chris Disonell, which prompts Disonell to land briefly on his butt.  He stands but is met with an uppercut.   Worthy popping around, making Disonell work.  Worthy touches him and moves.  It doesn't help that Worthy's corner is talking smack, which might be getting into Disonell's mind.   Disonell attempts a flying knee but misses.  He is going to have to connect here, otherwise this round is going to go to Worthy.  Worthy rips and connects two more big shots, but somehow Disonell continues to be unfazed.  He throws another flying knee.  This one connects.  Disonell coming to life, push kicks.  He grabs Worthy's ankle, brings him down.  Disonell gets on top and lands a shot.  Worthy starting to realize he is in a fight as the round closes.  Worthy's corner continues the assault.  The fight is highly entertaining but it has become even more fun trying to predict what they will say next.  Both fighters are extremely sweaty, takedown attempts are not working so they exchange hands and feet.  In final round the two combatants touch gloves and they go to work.  We have a dog fight here.  Disonell is here to make a statement.  He comes forward and will not let Worthy's corner get to him.  This young man believes in himself as he should.  He clips and hurts Worthy.  Worthy throwing from a distance, avoiding a clinch.  The referee steps between them as the bell rings.  This fight could go either way.
Abdullah Calls For Title Shot
Donny Bush traveled from Florida tonight to step inside the Maverick heptagon against Ahsan Abdullah.  After a brief exchange of hands the fight is temporarily halted after an inadvertent low blow to Abdullah.  The action resumes and the Bush comes forth with leg kicks.  Abdullah connects with a big right hand to which Bush recognizes as a threat and then goes to the body.  Abdullah loses his mouthpiece but the referee doesn't see it and the action goes to the bell.  He has a small laceration to the corner of his left eye.  Blood flowing, but nothing serious…yet.  Rock Em' Sock Em' Robtots here in the second frame as the two men throw a shot, receive a shot.  It goes on like this for several minutes before Bush pushes Abdullah up against the cage and attacks the leg.  Bush throws an uppercut in the center of the cage, but it is a miss.  Abdullah connects and moves, connects and moves.  More of the same in the third.  Bush throws a big knee that was just an inch from finish the fight but instead misses the head.  No slip in the action here as it is a constant back and forth brawl.  They fight to the bell and it is Abdullah who wins a split decision.  Following his win, Abdullah called for a shot of the belt.
Foster Finishes
Paul Sims traveled up the Pennsylvania Turnpike from Philadelphia to take on Travis Foster, and judging by the aggressiveness in the fight, I'm guessing the ride wasn't enjoyable.  Sims comes out like a bull.  The action in this insane.  Brutal shots from both.  Sims is picked up and slammed.  He comes to, and slams Foster himself.  Eye for an eye.  The continue to scramble and brawl.  No rest for these two. Not sure they can keep the pace up.  Foster applies a rear-naked choke, and it is tight.  Somehow Sims survives, stands, and gets caught with an upkick.  He moves to mount and throws a shot.  Foster works out, takes Sims' back, but nothing doing.  No idea how these two are working their way to the second round.  That was an intense five minutes of action.  Foster lands a spinning elbow in the second, just as Sims connect.  They fight to the canvas.  Sims is in Foster's guard.  Foster works off his back, gets to a standing position, throws up a whizzer, grabs hold of a leg and moves to a dominant position.  He applies a choke, but Sims won't give up.  Foster places his knee on Sims' throat and throws a punch.  Time expires and we move to the final round.  This final round is all Travis Foster.  Foster has the back the entire round, working for chokes, landing ground and pound, and then back to the choke where he finishes the fight.
Reboli Keeps on Rolling
HUGE pop for LJ Reboli as he makes his way to the cage against Kaheem Murray.  The feeling inside the Sherman Theater is electric.  Reboli shoots in, gets Murray to the canvas and goes to work.  After a few shots to the body, Reboli moves to side control.  He's now in Murray's full guard, smothering his face, throwing down elbows.  Murray has a massive knot on his forehead.  Reboli is relentless in his assault, and transitions to a leg submission before times expires.  Doctors check on the swelling in between rounds but the fight is allowed to continue.  After they touch gloves, Murray swings, misses.  Reboli ties him up against the cage.  Reboli working to get the fight to the ground but it isn't easy.  When he finally does, he is in Murray's guard.  Murray's corner at Royal Striking insisting that he create space and open his legs.  Reboli working on that tender spot, consistently throwing down elbows.  Murray's corner applying ice before we head into the final round.  Ryan Cafaro tells Murray to go out on his shield.  Says he needs to knock Reboli out.  Easier said than done as Reboli gets the fight back down to the ground.  As Murray tries to stand, Reboli climbs his back.  Reboli pins Murray's right arm, applies a rear-naked choke, and forces Murray to tap.
Heckman Announces Retirement
In the main event, Scott Heckman and Jesse Stirn feel each other out for more than a minute before Heckman nabs a kick and trips Stirn to the canvas.  Heckman shoots in for a takedown.  Stirn getting fancy with his footwork.  He goes to the body of the champion as he is pressed up against the cage.  They break, Stirn throws a kick and now has Heckman up against the cage.  Heckman reverses and casually walks off into the center.  It appears as if something is affecting Heckman's eye.  Bit of swelling and he is blinking quite often.  He comes forward with a right, throws a kick, it is caught by Stirn, and he spins out.  In the final 10 seconds of the round Stirn brings the fight up against the cage.  We have a fight ladies and gentlemen.  Stirn getting even more aggressive in the second round, coming forward and letting Heckman know he is here for business.  Heckman lands a combo but Stirn keeps looking him dead in the face and coming forward.  Heckman having issues with finding his opponent, slipping, but then shoots in to get Stirn down.  Stirn places his feet on Heckman's hips and pushes him off, not once, but twice.  Heckman moves back in and stacks Stirn.  Stirn moves to his knees and Heckman is looking for his patented D'Arce choke but can't pull the trigger.   Final round starts and Heckman throws a big right but misses.  Stirn lands a head kick.  A moment later he throws a big kick to the champion's ribs.  Heckman feels it.  Heckman shoots across the cage and takes Stirn down.  Heckman keeps looking up at the clock.  Stirn throws a head kick and it lands as Heckman shoots.  Stirn looking to keep it on the feet but Heckman keeps shooting in.  Heckman has him pressed against the cage and with 10 seconds left Stirn breaks free and works for the win.  This is going to the judges.  Extremely close fight.  Heckman wins a unanimous decision and retains the title.
"This is fight number 40.  I've appreciated every single one of you," Heckman said as he announces his retirement.  Says it is time to hang them up and be a dad.  Congratulations Scott "The Animal Heckman."
Maverick 13 results below:
Pro Bouts:
Scott Heckman defeated Jesse Stirn via unanimous decision (29-28, 30-27, 30-27)
LJ Reboli defeated Kaheem Murray via submission (rear-naked choke) – Round 3, 1:39
Travis Foster defeated Paul Sims via submission (rear-naked choke) – Round 3, 3:04
Ahsan Abdullah defeated Donny Bush via split decision (29-28, 28-29, 29-28)
Chaka Worthy defeated Chris Disonell via unanimous decision (30-27, 30-27, 29-28)
Liam Anderson defeated Tyler Bayer via submission (D'Arce Choke) – Round 3, 0:49
Amateur Bouts:
Brooke Fahey defeated Taylor Samarco via unanimous decision (30-27, 29-28, 30-27)
Frank Wallace defeated Obinna Egbebike via split decision (29-28, 28-29, 29-28)
Photo gallery by MyMMANews.com photographer William McKee below: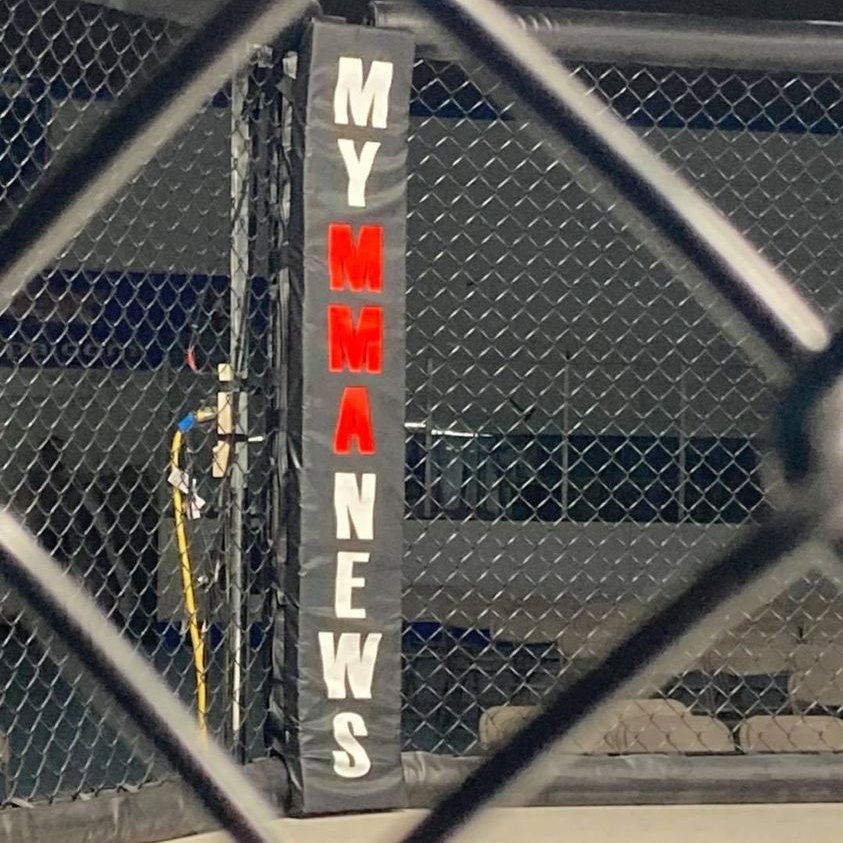 MyMMANews.com – We cover everything from MMA, BJJ, Bare Knuckle, Wrestling, Boxing, Kickboxing, and Judo
News, Opinions, Videos, Radio Shows, Photos and more.