Stipe Miocic vs. Daniel Cormier III – The Final Chapter
This Saturday night at UFC 252 comes the final fight of Daniel 'DC' Cormier's legendary mixed martial arts career. He'll be facing Stipe Miocic in their trilogy bout for the UFC Heavyweight Championship to declare the greatest heavyweight fighter of all time.
In their first two bouts, they each went 1-1 with knockout wins over the other. During their first encounter, Cormier was the UFC Light-Heavyweight Champion going in, and came out of the fight a double champion. He defeated Miocic via KO (punches) at 4:33 of round one.
Their second bout showed a much different story. Though Cormier won most of the fight, the end result wasn't what he was going for. Miocic did exactly what he needed to do. 'DC' opened up with some nice leg kicks, followed by some great punches he started landing on Miocic.
Some of those punches were even harder than the one in the first fight that knocked Miocic out, but Miocic's chin may not have been too recovered going into their first fight, given he'd just fought five hard rounds with Francis Ngannou earlier that year.
Cormier then took Miocic down with a beautiful single leg slam and was on top of him for the majority of round one, it was a very dominant round for 'DC'. The second and third rounds showed a striking battle, Cormier was just standing in front of Miocic with his hands down, and was doing well. He was picking Miocic apart pretty successfully, and he was tying up with Miocic and grinding him on the fence for much of these two rounds as well.
However, the lack of respect for Miocic's power caused him immense problems in round four, as Miocic made the perfect mid-fight adjustment and started throwing nasty, accurate shovel hooks to Cormier's liver. He didn't throw a single one until two minutes into the fourth round, but he landed thirteen of them inside of that two minute span, and got the TKO finish at 4:09 of round four to become the new UFC Heavyweight Champion.
Both of these men have incredibly storied careers. Miocic on one hand is the most successful heavyweight fighter in UFC history with three title defenses during his first reign, surpassing Brock Lesnar, Tim Sylvia, and Cain Velasquez, all three of which had two.
Velasquez was considered the best heavyweight to ever compete in the sport prior to these two, considering the man he was tied with, he'd beat very convincingly, and the other was champion while the division was literally at its weakest. However, Velasquez's career was far too riddled with injuries for him to keep that claim today, sadly.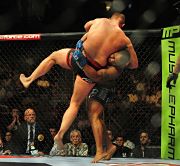 Cormier started out his mixed martial arts career in the Strikeforce organization after a long career of wrestling. He also had two fights in XMMA, and one in KOTC, but eight of his first eleven fights were with Strikeforce. He ended up becoming the Strikeforce Heavyweight Champion by winning the gran prix with victories over Jeff Monson, Antonio Silva, and Josh Barnett.
He defeated the 42-11 Monson via unanimous decision (30-27, 30-27, 30-27) while Monson was on an eight-fight win streak with five finishes. He defeated the 16-2 Silva via KO (punches) at 3:56 of round one while Silva was on a three-fight win streak and had only lost to Fabrício Werdum in Strikeforce prior. Lastly, he defeated the 31-5 Barnett via unanimous decision (49-46, 50-45, 50-45) to win the tournament.
This one in particular was by far his most impressive to date. Barnett was the former UFC Heavyweight Champion, as well as the former three-time Pancrase Heavyweight Champion. He was also on an eight-fight win streak with seven finishes coming in, not to mention, 'DC' was only two-and-a-half years into his MMA career at that point, and he just tossed Barnett around and handled him at will. This fight really showed how truly special of an athlete he is.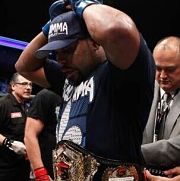 Cormier had one more fight under the Strikeforce banner against the 28-7 Dion Staring, a fight he won via TKO (punches) at 4:02 of round two. Notice the records of everyone he fought, this was all while he still had single digit fights, aside from his fight with Staring, which he went into with a 10-0 record. Cormier also defeated 29-2 professional boxer Lucas Browne via TKO (punches) at 4:35 of round one in his third fight, Browne was 5-0 in MMA at the time.
He also defeated the 10-2 Soa Palelei via TKO (punches) at 2:23 of round one in his sixth fight. Palelei went on to win his next eleven fights, all by knockout, including a 4-2 run with the UFC before retiring. Mind you, this is all at heavyweight, and without even having a UFC fight yet.
Cormier made his UFC debut against former two-time UFC Heavyweight Champion Frank Mir, who he defeated via unanimous decision (30-27, 30-27, 30-27), though it wasn't a fight we were used to seeing from him. He wasn't as dominant as usual, due to the octagon jitters, he admitted afterward that he fell victim to them. He then fought and defeated The Ultimate Fighter 10 winner Roy Nelson via unanimous decision (30-27, 30-27, 30-27), before dropping down to the light-heavyweight division.
We won't go too in-depth into his 205 lb fights, considering his upcoming trilogy with Miocic will declare the best heavyweight mixed martial artist ever, so we'll focus mainly on his heavyweight fights. However, he did go 7-1 (1 NC) at 205 lbs with five finishes, capturing, and defending the UFC Light-Heavyweight Championship three times over the top guys of the division not named Jon Jones.
Once he moved back up though, everything changed. He immediately won the heavyweight title in his first fight back, and defended it later that fall against Derrick Lewis, who he defeated via submission (rear naked choke) at 2:14 of round two. However, as 'DC' put it himself, he fumbled badly his last time out.
He has to right this wrong in order to go out on top. Henry Cejudo and Georges St-Pierre are the only two mixed martial arts fighters to ever go out on top, will Cormier become the third?
Miocic has really done it all in this sport, and turning 38-years-old this month, he's better than he's ever been. It's kind of crazy to see someone in their late thirties at their peak, but Cormier's the same way; he's half way to 42-years-old, and he's also at his best.
Miocic, like Cormier, started out his one-on-one career with wrestling, being an NCAA Division I wrestler from Cleveland State. He was actually a multi-sport athlete, and even got numerous offers from Major League Baseball teams while in college.
He got into MMA out of college, only to switch to boxing. After eight months of training in boxing, he was beating guys with far more experience, and he became a Cleveland Golden Gloves Champion, also making it to the quarter-finals at nationals, before going back to MMA. This makes perfect sense when you see him fight, especially in his last fight. It's not often at all you see someone down in a fight pull it all together inside of two minutes like that.
Since Miocic's first loss to Stefan Struve when he was just 9-0, he's avenged his only two losses since, to two of the best heavyweights to ever do it. He's an incredibly special talent.
In winning the heavyweight title, he defeated Fabricio Werdum via KO (punch) at 2:47 of round one, and followed it up with first round knockouts over Junior dos Santos and Alistair Overeem, before mauling Francis Ngannou for five rounds.
As far as Cormier's wrestling credentials, there are almost too many to list. He's a two-time Junior College National Champion with a 61-0 record those two years. He spent his next two years at NCAA Division I school Oklahoma State University, where he completed a 53-10 record, achieving All-American status, and six of those defeats came to Cael Sanderson, one of the best freestyle wrestlers ever.
After college, Cormier stuck with wrestling, becoming Senior US National Champion every year from 2003 to 2008, he also represented the USA at the world level all of those years. He ended up taking fourth place in the 2004 Olympics, and was going to compete at the Olympics again in 2008, but was pulled from the tournament due to kidney failure. That 2008 season where he couldn't compete however, he was team captain.
'DC' has also won the Pan American Championships twice, won the Pan American Games once and came in third once, he's a World Cup silver medalist, a World Championships bronze medalist, a two-time Big 12 Championships silver medalist, and an NCAA Division I silver medalist. As you see, by his credentials and by watching him fight, he's one of the best wrestlers to ever compete in this sport.
Stipe Miocic (19-3) vs. Daniel Cormier (22-2) 1 NC III
By time these two are inside the octagon with one another, it'll have been two days shy of a year since their last encounter, and neither have fought since. This one however will be in the smaller cage, unlike their first two. 'DC' says his gameplan is to wrestle Miocic this time around, the smaller cage may help that, but it may also hurt.
If he's tired because he's constantly shooting on takedowns and can't get out of the way of Miocic's strikes, like in their last fight, it may be harder for him to stay composed, keep his energy, and not get finished. That's exactly what happened last time. He was too tired to move out of the way anymore, and he got finished considering.
In their first fight, Cormier barely out-landed Miocic 31-29 in total strikes, while in their second fight, Cormier out-landed Miocic 230-135 in total strikes. Fifteen of Miocic's nineteen wins come via knockout, while ten of Cormier's twenty-two wins come via knockout with five submissions (all rear naked chokes).
'DC' stands just 5'11" with a 72.5" reach, while Miocic stands 6'4" with an 80" reach. It's crazy the amount of success Cormier has been able to have given his frame, it just doesn't seem fair, but he's made it work his whole career.
Also, something else that could be a factor is their weight. In their first fight, both fighters weighed in heavier, with Cormier at 246 lbs and Miocic at 242.5 lbs, while in their second fight, Cormier weighed in at 236.5 lbs, and Miocic weighed in at 230.5 lbs.
It's kind of strange how that happened, how Miocic was about five pounds lighter than Cormier each time, yet their weights were completely different from their first fight. It's a wonder what weight they'll each come in at this time, and how that'll effect the fight.
How do you see the biggest trilogy in mixed martial arts history going down? And still, or and new?
I became a fan of combat sports when I was 12 years old. I was scrolling through the channels and landed upon versus, where WEC was televised. Urijah Faber fought Jens Pulver for the second time that night. That's the first fight I saw, and the fight that got me hooked on the sport. Since then, the sport has grown so rapidly, and my goal is to enlighten everyone on what's going on in the sport today.