Ode Osbourne Breaks David Rhoads Mentally and Physically for the Victory
Last night at the North American Fighting Championships (NAFC) Ode Osbourne went to work inside the cage as he delivered a lopsided beat down on his opponent, David Rhoads. The event occurred at the Waukesha County Expo Center in Waukesha, Wisconsin. Former UFC fighter, Mike "Biggie" Rhoads headlined the NAFC event. Osbourne showed zero mercy for Rhoads after he missed the agreed upon weight for the professional bout. Osbourne forced his opponent to verbally tap out, in the first round, due to strikes.
Osbourne improved his professional record to 3-0 after last night's victory.  Osbourne once again displayed his hand speed. He landed a combination early in the first round to deflate his opponent's will, which Rhoads never recovered from. While on the ground, the former collegiate wrestler, Osbourne, controlled every position.
Ode Osbourne….VICTORIOUS!!!!!

Posted by Dan Gonzales on Saturday, 30 January 2016
Rhoads, a former high school wrestler, failed on every takedown attempt. Osbourne's sprawling, and whizzer defense, prevented any opportunity for his foe to bring the fight to the canvas.
"He came from a strong wrestling family," Osbourne told My MMA News after his victory. "So i figured he was going to wrestle me, but I wrestled competitively in college and if there's one thing I learned, that sometimes it's not about what you've done, it's what you can do now and I simply visualized myself stuffing his takedown's over and over."
Osbourne showed up to the bout in the best shape of his fighting career. Rhoads showed up to weigh-ins overweight, but the fight remained on schedule. Inside the cage, Osbourne controlled every position and was never in danger at any point of the fight. Osbourne even let Rhoads stand up, but if took far longer than it should have for Rhoads to climb to his feet. The Roufusport fighter forced his opponent to verbally tap out due to strikes.
On the Facebook status of Rhoads, he wrote "either I tap from illegal elbows to the back of the head or I talk them waiting on the referee until I risk serious injury,"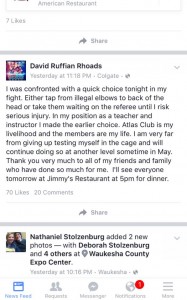 "I'm not one to trash talk because I speak with my hands, but I will say this. This guy broke within the first minute and half. He mentally gave up and didn't want to fight anymore. I looked into his eyes and I saw the broken look. It's funny when people make excuses to justify an outcome that was clearly dominate." Osbourne stated on Facebook.
The Roufusport bantamweight fighter continues to demolish all of his competition in the first round. According to Tapology.com, Osbourne is ranked #3 in Illinois and #5 in Wisconsin. A solid match up for Osbourne next bout would be between the 7-5 Team Curran MMA bantamweight fighter Cory Galloway. Galloway has a strong BJJ game that could test Osbourne and heavy hands. We'll have to wait and see what match maker Jeremy Bjornberg has in store for Osbourne and the fans of the rising star.
A win for Osbourne over a fighter like Galloway could spring the undefeated fighter into a promotion such as RFA.
Follow us social media @MyMMANews for the latest news and up dates regarding undefeated MMA Professional Ode  "The Oddity" Osbourne.
Milwaukee's adopted son won his third professional bout with a finish inside the first round. It's a matter of time before Osbourne is signed with a new promotion that receives national attention.
See posts, photos and more on Facebook.
Kyle Carroll is a Long Island, N.Y. native and avid MMA and amateur wrestling fan. He has been a part of the wrestling community for nearly 20 years. Carroll has six years of experience coaching high school wrestling. His father coached high school wrestling over 35 years, passing on his strong knowledge. Carroll has been reporting MMA news since January 2011. The former wrestler's coverage includes the 2012 U.S. Olympic Wrestling Team Trials, 2013 & 2016 NCAA D1 Wrestling Championship, and numerous MMA events (Bellator MMA, King of the Cage, North American Fighting Championship, and Glory).