Why Ovince Saint Preux and Not Anthony 'Rumble' Johnson
When news of UFC light heavyweight champion Daniel Cormier's injury was made public everyone wondered who would step up to the plate to fight former champion, Jon Jones. The first name that came to the minds of many was Anthony Johnson.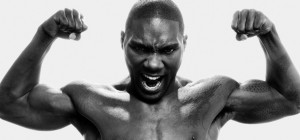 While 'Rumble' was the first likely choice the UFC went with Ovince Saint Preux instead.  Here's why:
"Obviously, the number one choice would be Anthony Johnson, who is the number two ranked guy in the world, and a fight that everybody wants to see," UFC President Dana White told ESPN's SportsCenter on Saturday.
"But Anthony Johnson just had surgery on his mouth and can't even put a mouthpiece in for at least three weeks," White said.
Jones and Rumble were scheduled to fight last year however 'Bones' was involved in the hit and run car accident and was sidelined with legal matters stemming from the incident.
Saint Preux currently sits at the number six seed in the UFC light heavyweight rankings and will fight Jones at UFC 197 on April 23 in Las Vegas.