We have an incredibly exciting main event coming to us this weekend, July 24, 2021, at UFC on ESPN 27.
That incredibly exciting bout comes in the bantamweight division between former multi-time UFC bantamweight champion TJ Dillashaw and former SCL featherweight champion, No. 2 ranked UFC bantamweight contender Cory
Sandhagen.
These two were initially slated for a main event bout at UFC on ESPN 24 back in May, however, the bout was postponed until this weekend due to a cut suffered by the former champion.
That of course prolonged his return even longer..
For those of you who are unaware, if any, TJ Dillashaw is widely considered the greatest, if not the second-greatest bantamweight mixed martial artist to ever live. Up until early 2019, he was as dominant as anyone we'd seen at 135 lbs, aside from Dominick Cruz.
In January of 2019, Dillashaw dropped down to 125 lbs to challenge then champion Henry Cejudo for the flyweight
championship.
Though the fight was stopped quite early, and controversially, Dillashaw was a shell of his former self in that fight, and going into that fight.
That'd be why he's been out over two years. He was given a two year suspension by USADA for failing his pre-and-post-fight drug tests for EPO. This drug aided him in keeping his energy while dropping nearly 30% of his body weight.
However, he's finally ready to return in the middle of 2021, and he couldn't have been given a more dangerous opponent.
Cory Sandhagen has been on fire lately; his distance management is incredible and he can knock his opponents out with seemingly any strike. He's great at striking while switching stances, just as the former champion is.
That'd be because Sandhagen came up at Elevation Fight Team while Dillashaw was still there.
Their training and sparring sessions went different ways, depending on who you ask:
Dillashaw will say he won those rounds, Sandhagen will say he did, and most peers that witnessed them spar said
that Sandhagen got the better of the exchanges.
If Dillashaw was active coming into this fight, it'd be much more difficult to pick. He hasn't been though.
Sandhagen also fought that night Dillashaw challenged Cejudo for the flyweight belt.
So, including their respective bouts from that night, Dillashaw has gone 0-1 since 2019, and Sandhagen has gone 5-1 since 2019, that only defeat coming to current UFC bantamweight champion Aljamain Sterling.
Dillashaw comes into this bout being tied with Marlon Vera for the most stoppage victories in the UFC at 135 lbs with
eight, he became the first man to finish opponents in round five of back-to-back title fights, securing fifth round head kick knockout victories in both, and he's tied with Dominick Cruz for the most consecutive bantamweight title defenses at two (three straight title-fight victories).
If he didn't get suspended, he may have been able to add to that.
On the contrary, Sandhagen defeated multiple-time world champions in his last two outings, knocking both of them out.
The first came against former six-time WSOF bantamweight champion Marlon Moraes, and the second over former
four-time UFC lightweight champion Frankie Edgar.
The Moraes victory he won via wheel kick 63 seconds into round two, and the Edgar bout of which he won via flying knee just 28 seconds into round one.
Now, if he defeats Dillashaw on Saturday, he'll add a five-time UFC bantamweight champion to that impressive resume.
It'd appear that Sandhagen has the advantage on the feet. Dillashaw has been known to get cracked before, and we can't help but imagine his timing won't be there like it has been in the past, due to inactivity, not to mention how active and successful Sandhagen has been as of late.
However, when looking at Sandhagen's lone octagon defeat, he was taken down, got his back taken, and he was submitted not long after.
If Dillashaw can use his wrestling effectively in this fight, which he's had success with in the past, that may be the path of least resistance for him in this fight.
On the contrary, he hasn't used his wrestling much over his last handful of fights, and he has been known to get hit in his fights.
However, Dillashaw is usually able to recover once being hurt. The only two times he didn't were arguably early stoppages, and his only other two defeats come via split decision; one against longtime top contender Raphael Assuncao, which he later avenged, and the other against bantamweight GOAT Dominick Cruz.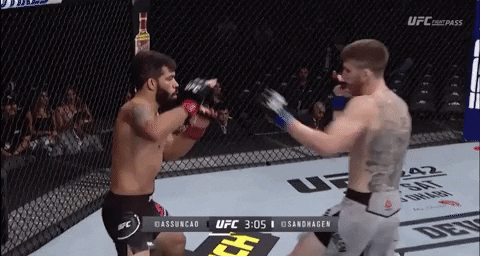 Both bouts he could've easily gotten the nod in. That being said, if Sandhagen connects clean with him, Dillashaw most likely won't have a chance to recover, it may be over right then and there.
This is such an incredible contest between two of the true elite-of-the-elites. Both are dangerous strikers that use every limb as a weapon, and they're the two best talents in the entire sport at striking while switching stances.
Who do you see walking away the victor in this epic bantamweight main event?
If you enjoyed this piece, please feel free to share it on social media!
I became a fan of combat sports when I was 12 years old. I was scrolling through the channels and landed upon versus, where WEC was televised. Urijah Faber fought Jens Pulver for the second time that night. That's the first fight I saw, and the fight that got me hooked on the sport. Since then, the sport has grown so rapidly, and my goal is to enlighten everyone on what's going on in the sport today.