After shocking the world and dethroning Ronda Rousey from the top of the UFC women's bantamweight pecking order, Holly Holm not only became the top female fighter in the world but she also earned a place in the UFC pound-for-pound rankings as well.
Also finding a spot back on the list, former UFC light heavyweight champion Jon Jones who was removed from the list earlier this year after legal issues sidelined him from the sport.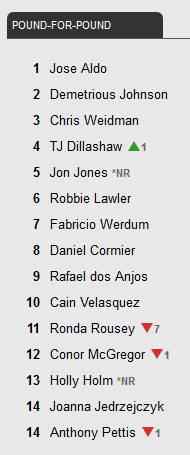 Jones comes in at No. 5 in the pound-for-pound ranks and becomes the No. 1 light heavyweight contender. "Bones" had successfully defended his light heavyweight belt eight times and was reinstated in the UFC last month after being stripped of his belt in April.
Holm enters the pound-4-pound ranks for the first time at No. 13. She's the first ever UFC women's bantamweight champ not named Ronda Rousey.
Dropping is former bantamweight champ Ronda Rousey from No. 4 in the pound-for-pound ranks to 11th. Rousey also surrenders her top spot in the women's bantamweight ranks for the first time since early 2013. She remains the No. 1 contender.


The other biggest shuffles include bantamweight champion TJ Dillashaw climbing one spot to No. 4 in the pound-for-pound rankings and Robert Whittaker moving up five spots to No. 9 among the 185 pounders. Whittaker defeated Uriah Hall – who drops only one spot to No. 11 – by unanimous decision on Saturday in Australia.
Valerie Letourneau, who lost her title fight to Joanna Jedrzejczyk at UFC 193, climbed two spots to No. 6 among strawweights after her spirited effort.