Venator FC 3 Results: Palhares vs Weber Meek
Venator FC 3 Results: Palhares vs Weber Meek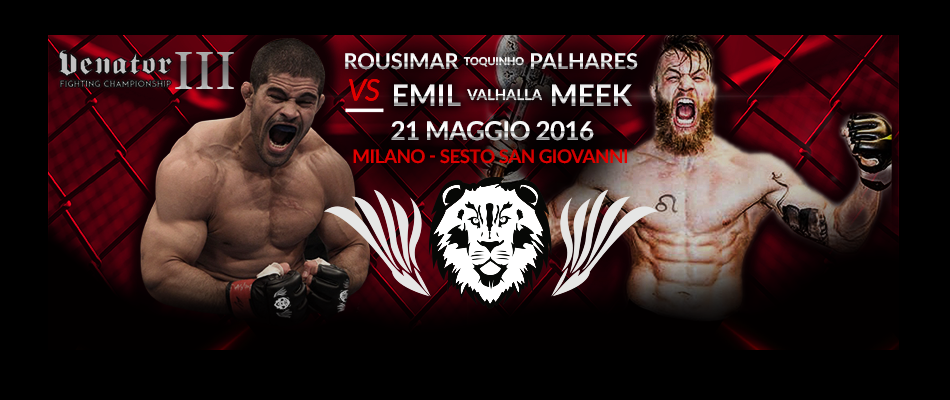 It has been a strange 24-hours in Milan, Italy.  First Jason 'Mayhem' Miller was out the Venator FC middleweight title fight against Luke Barnett after coming in 24-pounds overweight yesterday.  Then he was off the card all together, now he's back on the card.
Stefan Croitoru then took Miller's place in the title bout.  Croitoru's originally scheduled opponent, Mattia Schiavolin, was going to be without opponent and off the card however this morning Mayhem came in just around the light heavyweight mark, enough to save both fighters to be removed from the card.  Miller then fought Schiavolin.
Miller was in control of the first round, however you could tell he was tired and gassed from the extra weight and four year layoff.  In the second round, Miller came out strong with a takedown but ended up eating some shots from Schiavolin.  Mayhem was in trouble, but Schiavolin looked up to the ref to stop the fight.  That mistake allowed Miller to capitalize but lucky for Schiavolin, he was able to gain back control and submit Miller with a rear-naked choke.
In the main event, former World Series of Fighting weltwerweight champion Rousimar Palhares took on Emil Weber Meek.  Emil was the underdog by far but it only took him 45 seconds to TKO his opponent, shock the world, and win the title.
Barnatt successfully defended his middleweight title, defeating Croitoru via TKO in round two.
Official Venator FC 3 Results:
Main Card:
Emil Weber Meek defeated Rousimar Palhares via TKO – Round 1, 0:45  (Weber Meek wins welterweight title)
Luke Barnatt defeated Stefan Croitoru via TKO  – Round 2, 2:32 (Barnatt remains middleweight title)
Rameau Thierry Sokoudjou defeated Matt Hamill via KO – Round 1, 0:37
Marvin Vettori defeated Igor Araujo via submission (guillotine choke) – Round 1, 1:13
Mattia Schiavolin defeated Jason Mayhem Miller via submission (rear-naked choke) Round 2, 3:10
Karl Amoussou defeated Giovanni Melillo via TKO – Round 1, 4:51
Jack Hermansson defeated Ireneusz Cholewa via TKO – Round 3, 1:05
Cody McKenzie defeated Valeriu Mircea via submission (rear-naked choke) Round 2, 1:30
Che Mills vs. Terry Montgomery declared a no-contest after accidental elbow to back of head – Round 1, 2:58
Preliminary Card:
Leonardo Zecchi defeated Alessandro Bad Botti via split decision
Cristian Binda defeated Davide Baneschi via split decision
Federico Mini defeated Ciro Molosso Ruotolo via KO (head kick) – Round 2, 2:58
Danyel Pilò defeated Luca Puggioni via TKO (punches) – Round 2, 4:55
Pietro Cappelli defeated Franco De Martiis via submission (keylock) – Round 1, 1:01
Danilo "Caterpillar" Belluardo defeated Daniel Miceli via KO – Round 1, 0:25
Cristian Magro defeated Giuseppe "Ares" Ruotolo via TKO – Round 1, 1:52
Stefano Paternò defeated Andrea "Il Barbaro" Fusi via submission (rear-naked choke) – Round 3, 1:15
Zecchini Manolo defeated Dennis Coste via TKO (punches) – Round 1, 3:22
Founder of MyMMANews.com
– After writing for Ultimate MMA magazine and serving as the editor for U.S. Combat Sports, both of which went on hiatus, I decided to venture out on my own and enlist a staff of writers and photographers that could help me achieve my goal of telling stories that would otherwise go untold. We pride ourselves in taking a deeper look into the fighter, and understanding what makes them tick.
– #1 Dad, Marine Corps Veteran, 80's and 90's Pro Wrestling Fan, MMA Commentator, Beer Lover, and avid movie watcher. Seriously….. I watch a lot of movies.