9 UFC Veterans Fight This Weekend in Italy – Why Did We Forget?
9 UFC Veterans Fight This Weekend in Italy – Why Did We Forget?

Venator Fighting Championship holds their third fight card this weekend from Palasesto, Milan, Italy.  On the docket are 19 scheduled mixed martial arts bouts to include, 38 fighters, nine of which are former UFC fighters.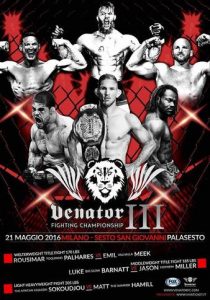 In the main event, former World Series of Fighting welterweight champion Rousimar Palhares (19-6) takes on Emil Weber Meek for the organization's 170-pound title.
Moving into the co-main event you have a former Ultimate Fighter coach in Jason 'Mayhem' Miller, going up against a former TUF contestant in Luke Barnatt.  Put aside all the recent legal issues that Mayhem has had for just a minute.  Can't do it?  Ok, so then ask yourself, where is the media on this one?  TMZ and every other news source loves to kick the man when he is down, but when he steps back into the cage, there is no coverage of it.  #MediaForMayhem – By the way, this fight, also for a title (middleweight).
The only man to hold a professional mixed martial arts win over current UFC interim light heavyweight champion Jon Jones is also on the card.  Matt Hamill, a TUF 3 veteran who has fought some of the world's best will fight Rameau Thierry Sokoudjou.  Sokoudjou came to the UFC from Pride Fighting Championships as one of the most feared strikers in the light heavyweight division.
Other UFC fighters on the card include Che Mills, Simeon Thorenson, Igor Araujo and Ultimate Fighter contestant Cody McKenzie.
Karl Amoussou never fought in the UFC, however he is an M-1, Strikeforce, and Bellator Veteran.
With this many high profile fighters on a fairly new fight promotion, why hasn't there been much talk about it here in the United States?
Frank Merenda, one of the founders of Venator Fighting Championship does not believe in turning his back on fighters who may be considered past their prime or not good enough for the UFC anymore.
"I was born with the myth of the United States of America," the Venator President told MMAjunkie. "I thought it was a country about big dreams and giving people opportunities. Now I see some things I don't like. I don't want to criticize anyone, but I see people saying, 'Hey, just leave these guys alone.' But what are they supposed to do? Do you really want to see them abandoned, everybody turning their backs on them?"
Should these fighters or Venator as a whole be getting more American eyes on their product?
"Of course they're attracting attention, but our strategy, we believe that there are a lot of fighters out there who are severely underrated," Merenda said. "We want to send the message that there's not only UFC out there. Right now, if you have a quarrel with (UFC President) Dana (White), you're basically (expletive) up. That's the reality. You're finished. So we wanted to pick up fighters who deserve better treatment. I want to send a message to the people in North America to think again about a lot of these people."
Venator FC III – 21 May 2016, Milan, Italy (PalaSesto)
▶ INTERNATIONAL CARD (starts at 9pm, local time)
Welterweight Title Fight: Rousimar Palhares (18-6) vs Emil Weber Meek (7-2-1,1 NC)
Middleweight Title Fight: Luke Barnatt(10-3) vs Jason Mayhem Miller (23-9, 1 NC)
Light Heavyweight Fight: Sokoudjou (16-14) vs Matt Hamill (11-6)
Middleweight Fight: Igor Araújo (25-8, 1NC) vs Marvin Vettori (9-2)
Welterweight Fight: Peter Queally (8-2) vs Giorgio Pietrini (5-3)
Welterweight Fight: Karl "Psycho" Amoussou (21-7-2) vs Gianni "the punisher" Melillo (4-0)
Middleweight Fight: Jack "The Joker" Hermansson (11-2) vs Ireneusz Cholewa (10-7-3)
Welterweight Fight: Cody McKenzie (15-9) vs Valeriu Mircea (9-2)
Welterweight Fight: Ché Mills (Official Fan Page) (16-8, 2NC) vs Terry Montgomery (5-0)
▶ NATIONAL CARD (starts at 5pm, local time)
Lightweight Title Fight: Leonardo zecchi (13-8-1) vs Alessandro Bad Botti (12-5)
Bantamweight Title Fight: Cristian "mano di pietra" Binda (10-10) vs Davide Baneschi (7-3)
Featherweight Title Fight: Federico MINI (4-0-1) vs Ciro Molosso Ruotolo (4-3-1)
Middeweight Fight: Stefan Croitoru (6-1-1) vs Mattia Schiavolin (12-2-2)
Featherweight Fight: Danyel Pilò (3-1-2) vs Luca 'Shoto' Puggioni (9-9-1, 1NC)
Light Heavyweight Fight: Pietro Cappelli (1-1) vs Franco De Martiis (2-4)
Lightweight Fight: Daniele Miceli "The Cyborg" (4-1) vs Danilo "Caterpillar" Belluardo (5-1)
Middleweight Fight: Cristian "JACKHAMMER" Magro (8-4) vs Giuseppe "Ares" Ruotolo (3-2)
Welterweight Fight: Stefano Paternò (3-1) vs Andrea "Il Barbaro" Fusi (0-0)
Lightweight Fight: Zecchini Manolo (3-0) vs Dennis Coste (2-1)
Follow MyMMANews.com on Social Media
The following two tabs change content below.
Founder of MyMMANews.com - After writing for Ultimate MMA magazine and serving as the editor for U.S. Combat Sports, both of which went on hiatus, I decided to venture out on my own and enlist a staff of writers and photographers that could help me achieve my goal of telling stories that would otherwise go untold. We pride ourselves in taking a deeper look into the fighter, and understanding what makes them tick. - #1 Dad, Marine Corps Veteran, 80's and 90's Pro Wrestling Fan, MMA Commentator, Beer Lover, and avid movie watcher. Seriously..... I watch a lot of movies.
Latest posts by Eric Kowal (see all)