AOW 25 results – Art of War Cage Fighting – Brady vs. Graham
Art of War Cage Fighting holds AOW 25 today, July 16, from the Newtown Athletic Club in Newtown, Pennsylvania.
In the main event, fan-favorite Patrick Brady will look to continue his winning ways as he meets the extremely hard-hitting Cameron Grahom at heavyweight.  Don't blink on these one folks, these boys are packing heat.
In the co-main event slot, Martinez BJJ prospect Matt Turnbull, another Art of War Cage Fighting staple, will meeting the visiting Pittsburgh native, Chaka Worthy.  Turnbull, arguably the best in his weight class on the northeast regional scene, knew that he would one day be facing his opponent, the younger brother of former UFC fighter Khama Worthy.  Let's see how this one plays out on July 16, because the winner is the fans, obviously.  This has 'Fight of the Night' written all over it.
Those who can't make it to Newtown can order the pay-per-view event on the StarFund App.  Bell time is at 7pm ET.
In the first fight of the night, Bradley Eisenhauer of Moser's Mat Club opened up the card with a thunderous leg kick that echoed throughout the Newtown Athletic Club.  While the echo drew a pop from the crowd, Eisenhauser found himself on his back just moments later, eventually fighting his way out of an armbar.  Both Eisenhauer and his opponent, Daniel Mullan, came swinging out the gate to open up round two.  Eisenhauer again fighting out of trouble, this time off his back and looking to stay away from a guillotine choke.  Mullan is on top throwing hammer fists down to the body and has to be reminded by the referee not to deliver strikes to the face of his ground opponent as per amateur rules.  Time concludes in the second frame and these two fighters will head to a third round in their debuts.  A beautiful start to the final round as a takedown is averted, followed by a slam that looked like something out of a pro wrestling show, followed by a transition to an armbar.  Daniel Mullan is now 1-0 as an amateur mixed martial artist.
Stephen Gresko and Christopher Molina were up next in a lightweight amateur contest.  Gresko of Martinez BJJ connected immediately with a perfectly timed left hook and then pressed his opponent up against the cage where he looked to go to work.  Something happened in the exchange and Gresko drops to the canvas.  Molina swarms in with a flurry of punches and Gresko is forced to tap due to injury.  It appears as if he may have dislocated his should, an unfortunate injury that halts the action early in the first round.
While Gresko was sent to a nearby medical facility for treatment, Coach Will Martinez was not immediately cageside for Jeorge Morgan's fight against Alexander Estevez. Fortunately for Morgan, UFC heavyweight Chris Daukaus and Combate Global atomweight Criszaida Adames were able to fill in, a testament of just how talented the Martinez BJJ gym is.  These two bantamweights are extremely quick on their feet, making for an extremely entertaining first round of standup action.  In round two both athletes had moments of success and if you blinked, you missed it.  We move to the third and final round and these two athletes look as fresh as they did when they started.  Morgan connects multiple times with Estevez who smiles back.  The round and fight conclude with Morgan on top.  Very close, extremely entertaining fight.  This one goes to the judges for a decision. Morgan gets the nod on all scorecards.
Ladies Throw Down – Back-to-Back
Next up, Laura Turzenski and Christine Williams are set for three, two-minute rounds of amateur MMA action at a 150-lb catchweight.  These two ladies came to throwdown.  Both women are throwing everything they have in their toolbox in both the punching and kicking departments.  Not stop back and forth exchange from bell to bell.  Turzenski catches Williams early in the second, backing her up after a combo.  Williams doesn't back down and continues to press forward.  Williams gets stunned with a left jab, but again does not back down.  Williams now finding a home with her striking.  Both women are wearing the damage on their faces.  The ladies pick up where they left off to start the third and final round.  This has 'Fight of the Night' potential written all over it thus far.  Williams has a small abrasion near her left eye, but the blood flow doesn't seem to be impacting her pace at all.  Time expires and the judges will turn in their scorecards.  Turzenski picks up a unanimous decision victory in a hard-fought battle.
Another women's bout would soon follow, this time in the flyweight division.  Eden Stieber and Alaina Dutull were light on their feet, in and out with their strikes.  They wouldn't tangle up against the fence until a few minutes into the fight where they each fought for control in reversals.  Tough first round to score as the action was fairly even.  A quick tussle between the two bloodied the nose of Stieber and the crowd goes wild.  The women are once against fighting for control off the cage as we head to the third and final round.  Once again, we have another 'Fight of the Night' candidate as this is a back-and-forth brawl at 125-pounds.  The two women hug it out after the bell tolls, and they await their decision. Dutill is awarded a unanimous decision victory.
Petroski to the AOW Hall of Fame
Prior to a brief intermission, Andre Petroski is inducted as the first fighter in the Art of War Cage Fighting Hall of Fame.  Currently undefeated in the UFC, Petroski also fought seven times for AOW, three times as an amateur and four times as a professional.  Congratulations Andre Petroski.
The active-duty Marine, Dylan Beever storms out the gate and connects with his opponent Eric Beitz.  Shortly thereafter, Beitz is working for a takedown to which Beever looks to turn into a guillotine choke.  The fast-paced action continues with shots traded back-and-forth between the combatants.  Beever throws a perfectly timed leg-kick, right-hand combo before the fight goes to the canvas where he once again looks for the choke.  Beitz now on top, peppering the body with shots.  Beever is fighting off of his back.  With no strikes allowed to the head while on the ground, not much damage is being done, but Beitz will win the round.  Beever makes the mistake of ducking while throwing shots and lowering his level for a takedown.  Beitz catches him and quickly submits him with a choke.
Brandon Bohannon and Eric Naples are up next in a flyweight bout.  Naples gets hold of his opponent while pressed up against the cage and using his knees to soften the thighs of Bohannon.  They break free and Bohannon goes to work just before the clock runs out on the round.  Naples shoots in but Bohannon finds a home with his hands.  Naples finally gets what he is looking for, locks up Bohannon's leg and applies some torque.  Naples is looking to take his opponent's foot home with him but is reminded several times by the referee that there are no heel hooks.  We head to the third and final round.  Naples continues to shoot for takedowns but not finding any success as Bohannon has an answer for every attempt.  Naples is on the ground while Bohannon attacks the legs with kicks.  The scorecards determine that Bohannon won the fight unanimously.
Air Time
In the only advanced amateur rules of the night Joseph Coles and Dominic Parker clashed at lightweight.  What an incredible feat as Dominic Parker lifts Joseph Coles up over his head and body slams him down to the canvas.  The crowd erupts as Coles bounces off the mat and Parker lands on top.  From there Parker delivers a few small shots to the body but nothing as significant as that slam.  Coles is going to have to sign up for frequent air miles because Parker once again lifts him up and throws him back down to the canvas.  Coles back to his feet and Parker drags him back down before attempting a knee in the final seconds of the round.  Parker, standing southpaw throws a kick to the body followed by a punch to the mid-section.  Coles sensing that he needs to do something here to win the fight, presses forward with a right hand, shoots, and gets Parker down to the canvas.  Coles is working from the top before his mouthpiece falls out.  The fight is temporarily stopped but once it resumes there are only seconds left in the fight.  We go to the judges for another decision.  Dominic Parker picks up a unanimous decision victory.
It's Turnbull Time
Matt Turnbull and Chaka Worthy are up in the first of two pro fights on the night.  Both fighters are skillfully looking for their opening.  Turnbull attacking with kicks early on.  Worthy catches one halfway through the first round and follows up with a punch.  The two men exchange punches and Worthy complains of an eye poke.  It is not immediately clear how bad the unintentional foul is.  After a brief pause and a check from the doctor, the fight continues.  Turnbull connects with a big right hand.  Worthy throwing left jabs.  There is a small abrasion on Turnbull's right cheek.  The fight heads to the cage wall in the final seconds and Turnbull gets a takedown followed up with a few punches before the time expires.  Turnbull opens up the second frame immediately with a takedown, looking to capitalize on the momentum from the end of the first.  He takes Worthy's back while standing and forces the tap with a rear-naked choke submission.
Finally, the main event has arrived, and the big men, Patrick Brady and Cameron Graham have entered the cage.  This was an interesting one.  Brady connects with a right, gets the fight to the ground and is working continuously for a submission.  Eventually the fight is stopped and Graham protests the calls stating that he did not tap.
View this post on Instagram
AOW 25 results:
Pro Rules
Patrick Brady defeated Cameron Graham via submission (Americana but announced as kimura) – Round 1, 4:06
Matt Turnbull defeated Chaka Worthy via submission (rear-naked choke) – Round 2, 1:00
Advanced Amateur Rules
Dominic Parker defeated Joseph Coles via unanimous decision (29-28, 29-28, 29-28)
Amateur Rules
Brandon Bohannon defeated Eric Naples via unanimous decision (30-27, 29-28, 30-27)
Eric Beitz defeated Dylan Beever via submission (rear-naked choke) – Round 3, 0:46
Alaina Dutill defeated Eden Stieber via unanimous decision (29-28, 29-28, 29-28)
Laura Turzenski defeated Christine Williams via unanimous decision (30-27, 29-28, 30-27)
Jeorge Morgan defeated Alexander Estevez via decision (30-27, 30-27, 30-27)
Christopher Molina defeated Stephen Gresko via submission (strikes) – Round 1, 1:03
Daniel Mullan defeated Bradley Eisenhauer via submission (armbar) – Round 3, 0:59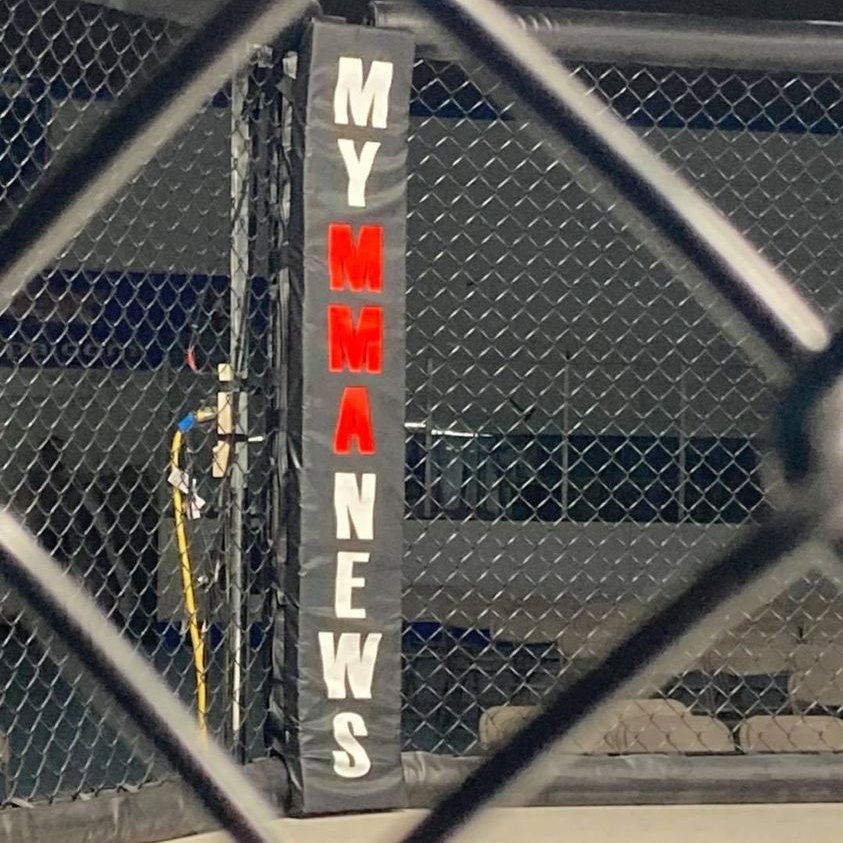 MyMMANews.com – We cover everything from MMA, BJJ, Bare Knuckle, Wrestling, Boxing, Kickboxing, and Judo
News, Opinions, Videos, Radio Shows, Photos and more.