Brett "The Pikey" Johns – Coming to America: Bantamweight title shot at Titan FC 33
Brett "The Pikey" Johns – Coming to America: Bantamweight title shot at Titan FC 33
Mixed martial arts has successfully gone mainstream, globally. There is a deep talent pool continuously pouring into the U.S. mixed martial arts organizations, and as of late, many from the United Kingdom and Ireland.
Brett "The Pikey" Johns is looking to continue this successful trend. At only 22 years of age, the Welsh native will be making his debut on U.S soil when he fights at TITAN FC 33 in Mobile, Alabama on March 20th.
Johns will be fighting for the vacant bantamweight title against former UFC fighter Walel "The Gazelle" Watson (13-7, 2-0 in TFC). George from MYMMANEWS had a chance to catch up with "The Pikey" to discuss his upcoming fight, and his career in the CWFC.
MyMMANews: Brett you will be making your debut in the U.S. for TITAN FC in March and this will be the first time you fight outside of Wales. Does that add any pressure for this bout?
Brett Johns: "I'm not too sure if this will add much pressure. I have a big following out here in the U.K. that will be cheering me on. It can be a factor fighting outside of Wales, but the crowd noise will not affect me, I look forward to fighting in the United States."
MyMMANews: You will be fighting against a UFC vet in Walel Watson. Watson is 13-7 overall, and 2-0 in the Titan organization. What is your game plan for this fight?
Johns: "I am a wrestler with a grappling background and I am ready for this fight. The game plan never changes regarding my opponent. I stay constantly busy at the gym and never take off for an extended period of time. The longest I have taken off was a week. I am ready for this fight and I feel confident with my wrestling and grappling background."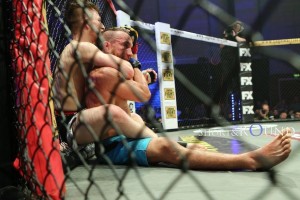 Johns looking for a rear naked choke. Photo courtesy of Brett Johns' Facebook fanpage
MyMMANews: Where do you feel you hold an advantage (or advantages) in this matchup, and where do you feel Watson may have the edge on you?
Johns: "I like to wrestle and I am confident in my ground game against Watson. He has great technique in his striking and he could land the knockout with the right form, I am not too concerned with his punching power. I respect his striking and with the right technique he can be dangerous with his hands. I have fought some guys with heavy hands and punching power, so we are preparing for his stand up at the gym with my team. He's (Watson) got a lot of heart, and so do I. It's going to be a good fight."
MyMMANews: Brett, you were the former bantamweight champion of Cage Warriors, and in your last fight you came in above the cutoff for the bantamweight division, you were fined and stripped of the title. Do you feel that was too harsh of a punishment?
Johns: "Personally, it's the rules. It was on my contract and I did not make weight so it had to be done. I understand why they had to do it. I have no problem cutting weight and making it to 135. It was just a silly mistake and it won't happen again. I don't have to cut much to make it to 135, I am not a massive 135er. This is also why I am taking this fight and jumping back in for a title shot. It's not that I can't physically do it (fight at bantamweight)."
Johns fighting in the CWFC. Photo courtesy of Sherdog.com
MyMMANews: So it is safe to say we will see more of you in the bantamweight class?
Johns: "135 is my weight class. Like I said, I am not a massive 135er. You see a lot of these guys cutting a lot of kilos to make weight. I am not cutting much at all. I am comfortable at bantamweight. If the money is right, I would go up to 145 to take a fight. For now, I am happy as a 135er and feel natural at that weight."
MyMMANews: Are there any hard feelings now between you and the owners of Cage Warriors?
Johns: "No hard feelings at all. They (CWFC) treated me like family and took good care of me. This is just a change of scenery and I am looking forward to fighting for Titan."
MyMMANews: Brett you are only 22 years old and a perfect 10-0 in pro MMA; do you feel that you could become the next big name out of the CWFC to compete in the United States, like Michael Bisping and Conor McGreggor, for example?
Johns: "Certainly, there is a huge wave of British fighters coming into the U.S. Look at guys also like Neil Seery and Ross Pearson who also came from the CWFC and are now succeeding in the UFC. I am confident in coming to the U.S., and try to do what these guys are doing. There is a lot of talent from here (the U.K.). I am the guy who could do the job."
MyMMANews: Where can our readers and American fans of MMA follow you through social media?
Johns: "On Twitter I am @36Johns and on Instagram I am @ThePikeyMMA"
MyMMANews: Brett, good luck on your upcoming fight in March, again that is Titan FC 33 at the Brookley Complex in Mobile, Alabama. Safe travels and an early welcome to America from us at My MMA News.
Johns: "Thank you George, cheers!"
TITAN FC 33 will be held at the Brookley Aeroplex in Mobile, Alabama on March 20, 2015. The current card is stacked with three title fights, 12 fights overall. Here is the fight card:
Desmond Green (c) vs. Kurt Holobaugh for Titan FC Featherweight Championship
Jon Madsen vs. Chase Gormley for vacant Titan FC Heavyweight Championship
Walel Watson vs. Brett Johns for vacant Titan FC Bantamweight Championship
Pat Healy vs. Kurt Kinser
Cody Bollinger vs. Andre Harrison
Anthony Gutierrez vs. Austin Lyons
Ben Brewer vs. Keith Johnson
Brian Davidson vs. Estevan Payan
Belal Muhammad vs. Colton Smith
Elias Garcia vs. Matt Schnell
Bobby Cooper vs. Le'Ville Simpson
Robert Washington vs. Luciano dos Santos