Chazz Walton – "Had time to lick my wounds, back, Hybrid 2.0 ready to go"
Chazz Walton has five professional mixed martial arts fights under his belt with a total combined fight time of 5:27.
He has won a fight in just 7 seconds but he has also been in the cage as long as 2:05 as a pro.
To put it another way, once the Chazz Walton's music hits the speakers, stay in your seat, put the phone down….. heck, don't even blink.
He has finished all five of those pro fights by way of knockout or submission and when the 28-year old Georgia native steps into the Titan Fighting Championships cage for the very first time he doesn't expect much to change.
Walton will be fighting Raush Manfio (9-2) for the organization's lightweight title at Titan FC 46 on November 17.  The event from the Pembroke Pines Civic Center in Pembroke Pines, Florida will stream live on the UFC's digital media service, UFC Fight Pass.
MyMMANews caught up with Walton to discuss his early successes and the upcoming Titan title fight.
Is there anything that you can attribute these five consecutive quick finishes to?
"Honestly I just go out there and fight man.  I try not let anything hold me back.  I try not to put too much pressure on myself.  I just go out there and do what I love and do my best at it.  I've been blessed thus far to get early finishes.  It's cool to get those quick finishes and get in and out of there clean, not get too many miles."
Fighters obviously want to go in, get the job done, and get out in tact, but does any part of you regret that you have been finishing the fights so quickly and you have not really been able to test your stamina in the cage as a pro?
"I feel like I went to plenty of decisions as an amateur.  Granted that was a long time ago but I know I can go the distance.  I train hard and if need be I am always prepared to go all rounds, whether it is three rounds or five rounds, so I'm ready for anything.  Once that bell rings it could be over in 45 seconds, it could go the distance.  I'm never really looking for the knockout.  I'm always looking for the finish.  I mean, there's never a moment that I'm not looking to finish someone.  I don't think any fighter is in there looking to go to a decision.  I just think some fighters lack finishing ability or stylistically they might not match up well with their opponent so getting that finish is a little harder than they might expect.  It just comes naturally to me to be honest.  I'm just very blessed."
This is your first fight with Titan.  How did this come about where you immediately are granted a title shot?
"I originally was supposed to be coming back to defend my 155-pound title here in Georgia, which I had vacated due to an injury.  That was my plan to come off of this injury and go and fight for that title that I never lost and get it back.  My opponent ended up pulling out of the fight.  A couple of days later the opportunity at Titan presented itself and I couldn't turn that down.  It is too good of an opportunity."
You mentioned an injury.  Are you completely injury free now heading into this title fight?
"Definitely.  It was about a year ago.  My injuries are healed.  I've had time to lick my wounds and I'm ready to get back in there and be better than I was before.  The injury that I carried into my last two fights.  I finally got it taken care of.  Took the time I needed to do proper recovery and now I'm back.  Hybrid 2.0 ready to go."
How did the Hybrid nickname come about?
"The Hybrid thing was just my ability to take the different martial arts and just apply them and adapt to my opponent.  I think the definition of a hybrid is two things coming together to make something new.  So it just kind of is a testament to my martial arts ability and my ability to adapt to any kind of fight."
How long have you been training in martial arts?
"I've been in martial arts my entire life.  I was in Karate as a kid.  I took a little break from that and did a little bit of backyard boxing.  I don't know if that even counts as a martial art.  Still getting punches thrown at ya.  I did some backyard boxing for a lot of my high school career.  Then coming out of high school I went right into training at the gym because I was planning on joining the military.  I figured there wasn't any other way to get tougher than to get punched and kicked and choked, and thrown around.  That's what kind of got me back into martial arts and back into training steady and that was all she wrote from there.  I fell in love with the sport.  I've always been a scrappy guy, not afraid to fight.  I enjoy fighting as weird as that sounds.  Now I have the ability to do that on a great platform and collect a check at the end of the night.  It's pretty awesome."
Any YouTube hits out there like Kimbo Slice with the backyard boxing?
"There might have been some tapes floating around but nothing ever made it on the internet.  It was before social media was as big as it is."
Your opponent, Raush Manfio, has several fights under his belt with Titan FC.  He also has experience on the Ultimate Fighter Brazil.  Does him having that bigger stage experience over you play any part into the fight game or your preparation and readiness?
"Absolutely on my paper this is my toughest fight.  He's got the best record.  He's got the best stats.  It's definitely going to be a tough fight but I don't see it going any differently than the rest of my fights have.  But that's just a testament to my training and who I surround myself with.  His experience on TUF is cool but I've trained with and sparred with plenty of guys who have been on TUF.  That doesn't really mean anything."
Where are you training at for this championship bout?
"Currently I train out of Knuckle Up Fitness owned by CJ.  It's a small gym.  We are not national.  It's a regional gym.  We're not as branded as ATT (American Top Team) or a gym like that but that's kind of what I love.  I have that smaller gym to focus on my skill and the people around me that can focus in on me.  That's one thing with a big gym you might have 30 or 40 studs in the room so you are just a number to those coaches."
You don't have a crystal ball in front of you, but how does Chazz Walton see this fight going down now that we are less than a month away?
"I really don't go in with a game plan.  I just listen to my coaches and I trust my natural instinct.  That usually results in a quick finished. I expect the same but I'm prepared for anything."
Thanks
"I just want to shoutout my gym Knuckle Up Fitness, my coaches, Johnny Dunn, and Steve.  Both of those guys have put in a lot of work.  And last but not least, my wife because she is my main support system.  As you know the fight game isn't the most lavished life until you get to the top levels. She makes a lot of sacrifices so I can do this, so my wife for sure."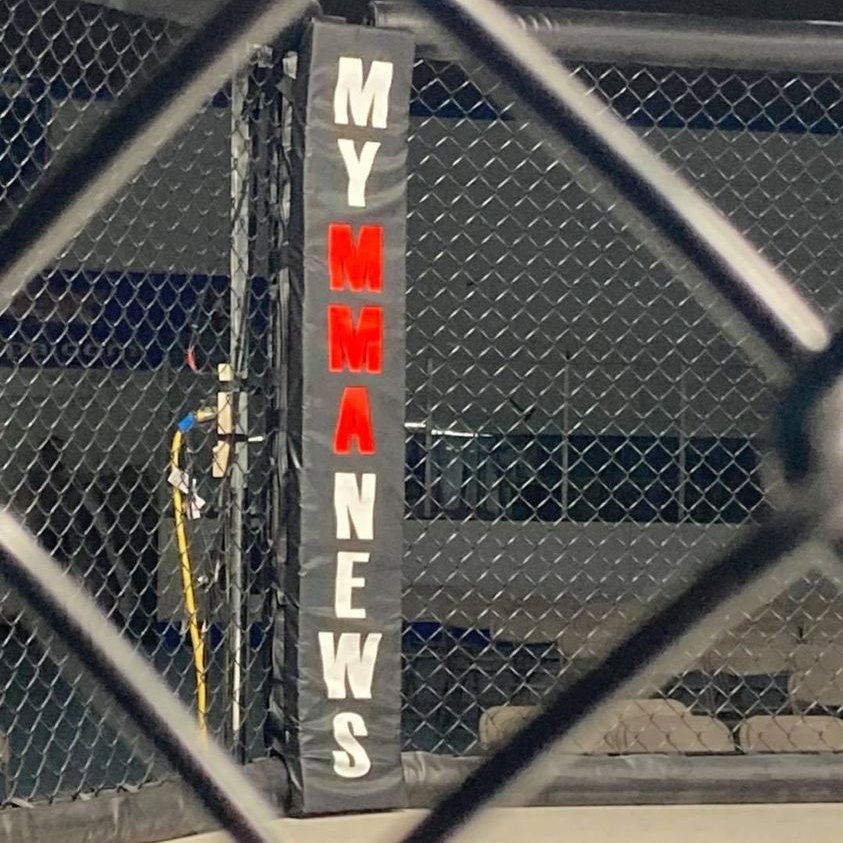 MyMMANews.com – We cover everything from MMA, BJJ, Bare Knuckle, Wrestling, Boxing, Kickboxing, and Judo
News, Opinions, Videos, Radio Shows, Photos and more.