GLORY fighter Chris Tramell fighting for life in Thailand hospital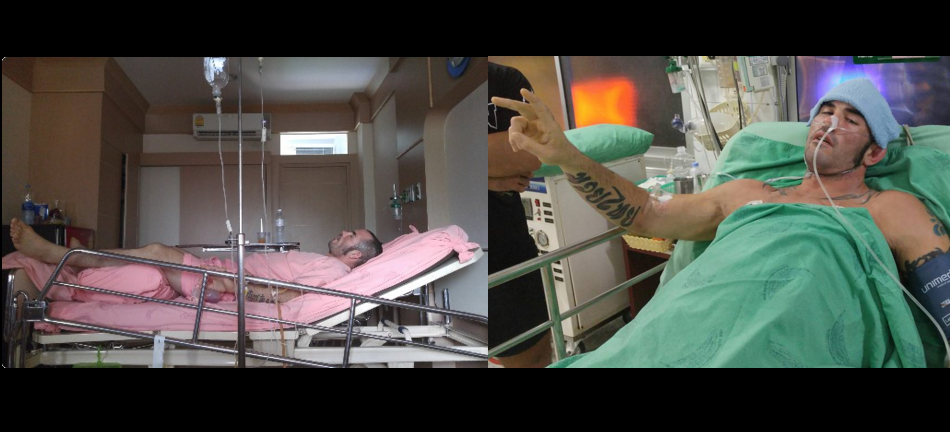 Updates continue to pour in from Invicta FC fighter, Maureen Riordon, girlfriend of GLORY kickboxer Chris Tramell, who is in serious condition at a hospital in Thailand without many answers as to how or why.
Below is information that Riordon has posted on a Go Fund Me page set up to help Tramell while recovering. (UPDATE: The link has seen been taken down).
"This is me down on my knees pleading for help for the man I love. 
Unbeknownst to anyone, including Chris, something has been very wrong inside his body for sometime. We have been out in Thailand training together for the last month. He came home in a severe state of confusion after on antibiotic treatment he was receiving the other day for a staph infection we each caught while training (for those outside of the martial arts world, this sounds gross, but is a very normal thing all gyms deal with). Long story short, his heart quit beating and he stopped breathing in my arms. I got him breathing again and then had him taken to the hospital yesterday morning (Nov 17). He was in kidney failure by the time we reached the hospital. They put a catheter in and he filled a quarter of the bag immediately with blood. His blood pressure then later dropped "dangerously low" according to the doctor. They said there were several other things majorly wrong inside him, but they didnt understand. They ran every test possible and he just kept getting worse and worse. 
They admitted him to ICU at 8:00 last night, and made me leave despite what was an inappropriate scene on my part that probably almost got me in a lot of trouble. 
At midnight his spleen ruptured and they did an emergency removal. He is now in the "surgery ICU" department where they're treating the kidney failure that they still don't understand. He's having kidney dialysis daily for the week. If that doesn't work, they may have to remove a kidney next week. With his spleen already gone and depending on what's wrong with one or both kidneys, I've already decided to volunteer to give him one of my kidneys provided we're granted the miracle of being a match. 
He is also getting a blood transfusion from losing so much last night, is eating through a feeding tube, and breathing entirely through a machine."

Riordon continues to post updates on her Instagram page.