"You couldn't like Cody Garbrandt even if you raised him!" – Rhys McKee
Rhys 'Skeletor' Mckee is one of the most laid back, chilled guys I've ever had the pleasure of having on the Podcast.  His fighting style is kind of a personification of that to some degree.  Very relaxed, calm inside the cage, nothing seems to phase him.  When we spoke ahead of his next fight at Cage Warriors 102 in London, we went off topic a wee bit and the subject of dodgy tattoos came up.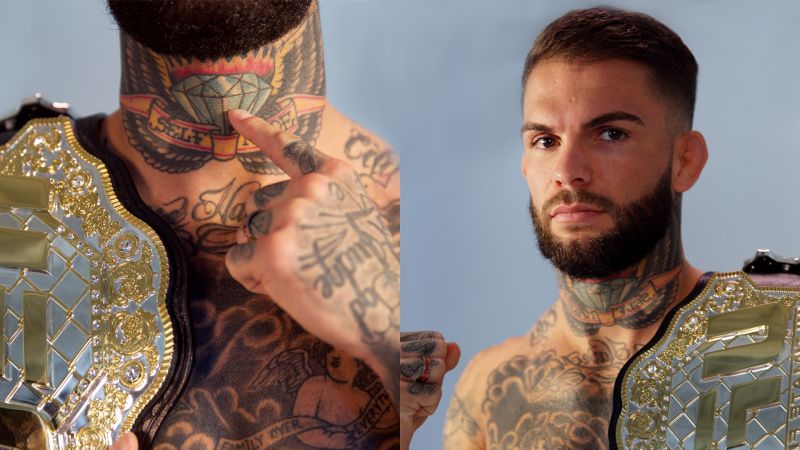 In MMA we've seen some shockers over the years, Alan Belcher's Johnny Cash Tattoo comes to mind, but when I asked Rhys, 'who has some of the worst tats he'd ever seen?' his response was-
"I don't like Brock Lesnar's, for obvious reasons, but Cody Garbrandt has some of the worst.  I think he has 'Grim' written on his neck… In fact I just don't like him as a person!  He's just smug… smug-arrogance about him know? You couldn't like him if you raised him!"
I had no idea the Irishman felt so strongly about Garbrandt! But on the subject he didn't pull punches! Rhys is set to take on Perry Goodwin a Cage Warriors veteran and coming off a huge KO viking Alex Jacobsen.  London is set to be a cracker with so many top UK fighters on the card including ; John Maguire, Deccy McAleenan, Steve O'Keefe and in the main event it's the middleweight title fight James Webb vs Thomas Robertsen… We speak with ALL the big fighters on our latest episode of Martial Arts Chat Podcast, so come check it out!
Listen to "Cage Warriors 102: Rhys Mckee, James Webb, Steve O'Keefe, Deccy McAleenan" on Spreaker.
Martial Arts Chat Podcast are LIVE every Sunday on Spreaker.com… we chat with all the big names in MMA and Martial Arts. Download on iTunes