This Day In MMA History: Pennsylvania Holds First Sanctioned Fight Card – April 19, 2009
Sunday, April 19, 2009, will arguably go down as the biggest day in MMA history, as far as the state of Pennsylvania is concerned.
It was on that day, 13 years ago today, that the first legally sanctioned mixed martial arts fight card was held in the Keystone State.
Central Pennsylvania Warrior Challenge, spearheaded by Mark Jovich, was the promotion that took the helm and paved the way for others that would soon follow.
The event was held at the Wisehaven Banquet & Expo Center in York and would feature 34 fighters competing in 17 fights.
Below is video of the very first sanctioned amateur MMA bout to take place in PA. It featured Joshua Aarons taking on Brent Kroh.
Fast forward to today and only one of the competitors on that first card is still actively competing today.  Lewis Rumsey now holds a professional MMA record of 13-15 and most recently competed in a bare-knuckle bout for Bare Knuckle Fighting Championship.
Looking back at this rare Sunday afternoon fight card from 13 years ago has been interesting because I was able to speak with two men who were vital in putting on that first event and setting the landscape for the future of combat sports in Pennsylvania.
Greg Sirb has served as executive director of the Pennsylvania State Athletic Commission since 1990.  His office regulates boxing, wrestling, mixed martial arts, and kickboxing throughout the commonwealth.
Jovich on the other hand was a lifelong martial artist and U.S. Marine Corps Veteran, who just happened to be in the right place at the right time.  Still in his possession is a letter signed by Sirb authenticating him as being in receipt of the first promoter's license in Pennsylvania.
More than a decade removed from the event, their recollection of how things unfolded is extremely similar, yet comical in a way, because it almost didn't pan out the way it was intended, and things may be very different today.
"About a year and a half prior to the first event, the regulatory commission was drafting all the rules for Pennsylvania," Jovich recalled.  "Ohio and New Jersey on both sides of us had already done both amateur and pro MMA events," he continued.
"Pennsylvania and New York still didn't have MMA.  That's why everyone was going into Virginia beause their rules were a little more advanced than in these other states.  In Virginia you could do ground and pound and some of the other things you couldn't do in New Jersey and Ohio at the time.  When the state of Pennsylvania finally approved it the regulatory committee had to finalize the rules and that's when Greg (Sirb) called me because I was located right across from his office."
Jovich was teaching at the Dallastown High School when the call came through.
"He said, 'Do you mind if you come over?'" Jovich recollected of the initial call that put things into place.
The purpose for Jovich attending the meeting was because many of the regulators had no prior combat sports experience.  They needed instruction and someone to explain what each kind of strike or submission can do and how the contests should be laid out.
"They weren't martial artists, or fighters.  They were just policy people," Jovich said.  "They needed to know, what's a punch?  What's a kick?  What's a takedown?  There was all this terminology that was foreign to them."
Jovich said that the policy makers spent the next 6-8 months in and out of gyms learning the ins and outs of the sport.
"The rules that were developed mirrored those of New Jersey and Ohio, which I agreed with," Jovich said.  "They leaned a little in favor of the amateur fighters.  They needed to be weaned in to it.  You can't just throw them to the wolves.  The point of being an amateur boxer or amateur MMA fighter is to develop your craft over a period of time."
It was during that process between Jovich, Sirb, and the other regulators that the Marine Corps Veteran said, "You know what?  It would be cool to put on the first fight."
Jovich applied for the license and the rest was history.
Sirb and his officials have now overseen hundreds of fight cards in the commonwealth, but it all started on that faithful Sunday afternoon in 2009.
"I didn't know if the crowd was going to be there," Sirb recalled of the first event in the state.  "I knew Pennsylvania had a huge wrestling fraternity, obviously.  But we didn't have many MMA gyms popping up.  And then of course, Mark Jovich picks a Sunday afternoon to hold the event.  I was like 'what the …..  Is this going to take off?  I had two or three state Senators there to help me get this bill through.  We had the Secretary of State there.  My big boss to help me with the bill.  I remember saying, 'Man, I hope everybody shows up.' And then man…. when I got there around 1 o'clock, these people were just lining up outside the door, and it was standing room only."
The funny part about that is, Jovich said the event almost wasn't the first and that holding the card on a Sunday afternoon wasn't necessarily his choice.  He jokingly said, "I didn't choose a Sunday, Greg is forgetting."
"What happened was, I was not a promoter.  I was a martial artist and an instructor.  This was a new thing for me.  I originally had the Saturday before that week.  Then Greg called me and said, 'I have good news and I have bad news.'"
Jovich chose to hear the bad news first.  According to him, Sirb told him he could no longer have that date because Bellator MMA was planning to come in and hold a televised fight card on the same date which would trump the new promotion of Central Pennsylvania Warrior Challenge from happening on the same day.  The good news was that he was still going to be able to hold an event, just at a later date.
With tickets already sold and less than a month before showtime, Jovich had to scramble to move the card to another date. When they went through the calendar the only thing left was a Sunday afternoon.
With the originally scheduled date now given to Bellator MMA, it looked like Jovich would no longer be the guy to put on the first MMA show in the commonwealth.
"What was the kick in the head was, a day or two after we made all the changes, Bellator pulled out," Jovich recalled with laughter in his voice.  "Central Pennsylvania Warrior Challenge is still the first event," he said.
Regardless of how it happened, Jovich and Sirb got the job done together and laid the foundation for other promoters to make their mark on the sport.
Attempting to get an entire state on board with a new sport is no easy task.  I continued to speak with Sirb about the early days of what is now one of Pennsylvania's most thriving spectator sports in mixed martial arts.
"I think one of the biggest challenges was getting all the gyms to make sure that their guys (fighters) were ready for a debut fight; that this wasn't play time," Sirb said. "I expected all the debut fighters to be able to handle themselves.  The one thing I didn't want, that was pretty much impressed on me by some of the state senators and legislators who looked at this was, they didn't want to see a lot of injuries, especially a serious injury.  That could have really hurt the sport there in the beginning.  The more I impressed that upon the promoters, the promoters them impressed that upon the trainers and cornermen to say 'hey look, this is what we're doing.' Then I really had to fight for those novice rules, that was no ground and pound.  That was difficult because a lot of people didn't like it.  Virginia had pro rules for the amateurs, Ohio had their rules, and we were one of the first states to have these rules to help this young fighter hopefully learn his craft before he got hammered.  That was a fight.  There was no question about it.  Promoters didn't like it, and the fighters really didn't like it.  But, I think over time, that was one of the best things I ever did."
UFC comes to Pennsylvania
With just a few fight cards in the books, Sirb would get a call just a few short months after Jovich's first card.  He would learn that biggest promotion in MMA history, the promotion that got it all going in 1993, the UFC wanted to hold a card in Pennsylvania.
"I was very surprised.  I never expected that," Sirb said.
UFC 101 would go down at the Wells Fargo Center in Philadelphia, on August 8, 2009, not even a full four-month after Central Pennsylvania Warrior Challenge 1.  The card featured some of the sports most notable competitors of all-time to include BJ Penn and Anderson Silva as well as future champions Forrest Griffin and Johnny Hendricks.
"When we had that show it not only opened up my eyes, but I think a lot of people's eyes," Sirb said. "The restaurant people, the sponsorship types.  They quickly realized, 'this is a huge sport.' There was 17,000 people in the Wells Fargo Center that night.  I've never seen anything like that.  Wells Fargo wasn't expecting it either.  They didn't anticipate that it was just going to overwhelming.  They could have sold another two or three thousand tickets that night.  People at the Wells Fargo Center said, 'We've had Springsteen here.  We've had the Rolling Stones here.  We haven't seen anything like this.'  It was just crazy, I mean we had 5,000 plus people at the weigh-ins the night before.  That was just an eye opening experience where I said, 'Wow, this is huge.'"
In the 10-plus years since its inception, promotions in Pennsylvania have come and gone, all cementing their piece in MMA history.
Mixed martial arts continues throughout Pennsylvania today with promotions such as 247 Fighting Championships, Art of War Cage Fighting, Cage Fury Fighting Championships, Maverick MMA, among others.
---
In the military Veteran community, we often talk about how small a world we truly live in. It seems everybody knows somebody, somehow.  It is even smaller when your worlds collide and MMA mixes into that military comradery.  I have known Mark Jovich since the early days of his shows in Pennsylvania.  My younger brother had competed on several of his cards in the Poconos, all while I was working for other MMA news organizations prior to the start of MyMMANews.
Jovich, a Marine Veteran like myself, worked in the recruiting command in my area just a few short years prior to my enlistments in the 1990s.
On that very first Central Pennsylvania Warrior Challenge fight card led by Jovich, one of the 34 competitors was a young man named James Chappell.  The fight community would refer to him as "Jimmy."  If you guessed that Chappell too was a Marine, you would be right.  He would serve several tours overseas in the infantry.
Upon his return home, Chappell went on to compete four times as an amateur mixed martial artist before turning to officiating.  During his tenure as a referee, Chappell would oversee hundreds, if not thousands of fights.
I would become good friends with Jimmy over the years.  Neither myself, Chappell, or Jovich were directly connected with one another as we all served in different eras, but it was MMA that brought us all together.
Unfortunately, Jimmy passed away in 2019, just two months short of his 35th birthday.
"Jimmy turned out to be one of the top young referees on the east coast," Sirb told MyMMANews. "Jimmy was a great fighter too.  If he didn't get hurt in training, Jimmy would have turned pro and he would have been a handful for anybody.  He was a great kid and really turned out to be one of my top referees."
This article is dedicated in honor of our dear friend, Jimmy Chappell.  We miss you buddy!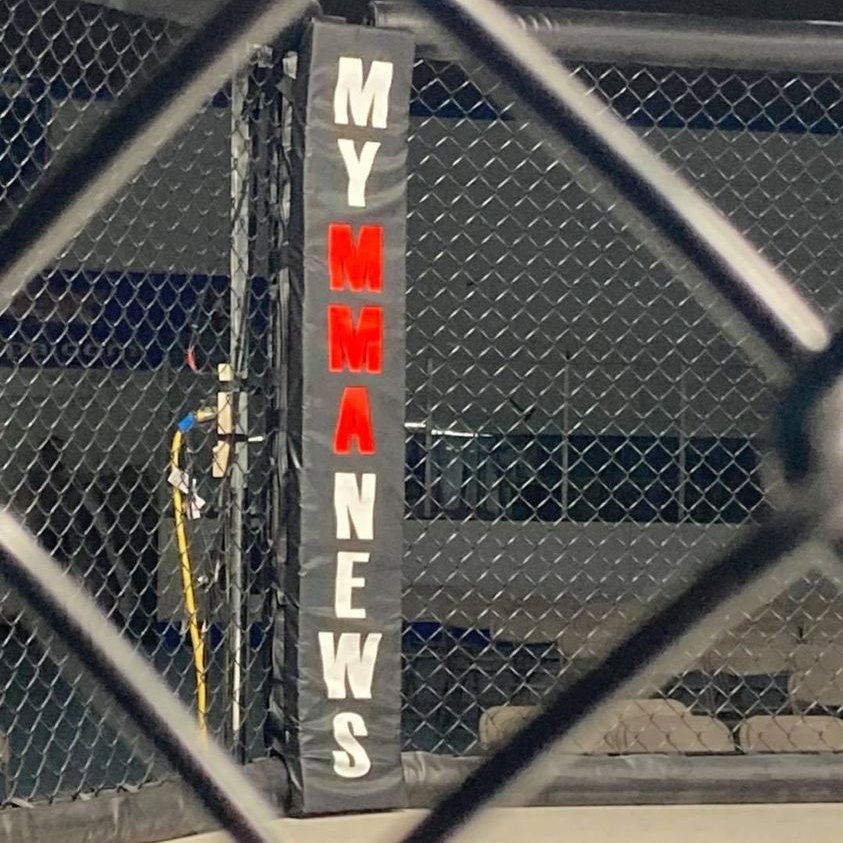 MyMMANews.com – We cover everything from MMA, BJJ, Bare Knuckle, Wrestling, Boxing, Kickboxing, and Judo
News, Opinions, Videos, Radio Shows, Photos and more.