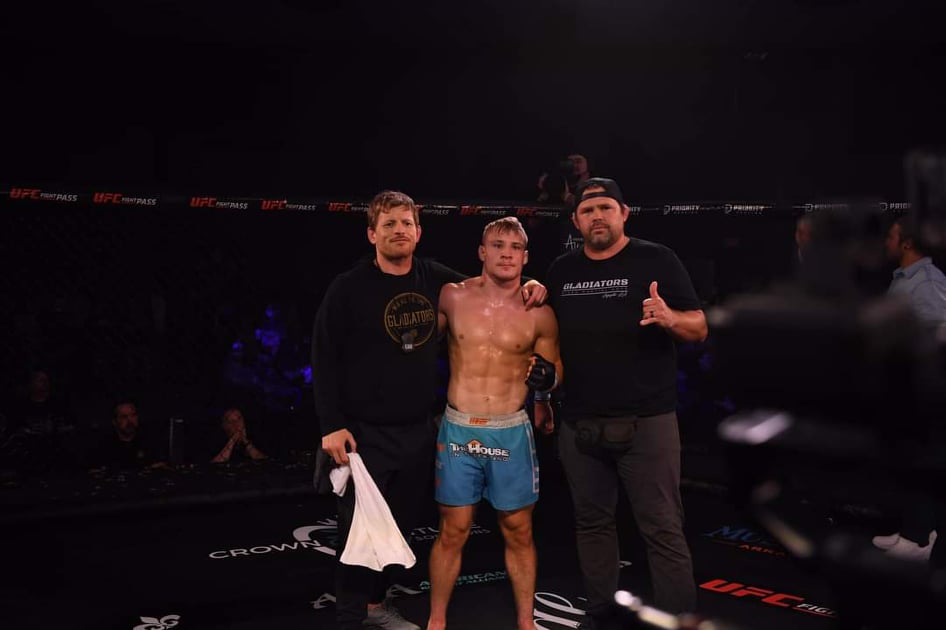 AJ Fletcher Given Opportunity to Showcase on Contender Series
The time has finally come for arguably Louisiana's hottest prospect to showcase his skills at the highest level. Gladiators Academy's own AJ Fletcher will appear on the Contender Series on August 31, 2021. Since turning pro in May 2019, it has been nothing but perfection for "The Ghost" going a perfect 8-0. Showing nothing but promise since his days in the amateur ranks, Fletcher has continued to grow as a fighter, improving at every aspect of the sport. Under the tutilge of UFC veteran and Louisiana legend, Tim Credeur, Fletcher's future looks to contain many more UFC bouts. The event will air on ESPN+ worldwide.
Path to the UFC
Fletcher stated it best two years ago when he talked to MyMMANews and stated, "I've been in deep water, I've been tested, and I know how I respond. In adversity, some look for a way out and some look for a way through. I know which I am." Since that interview when he was 4-0, Fletcher has gone on to win four more bouts. All four of those victories came by a submission. Not only has he remained undefeated, but done it with flair. Fletcher's last outing was a first-round submission win at AKA 14 in April 2021. Mixing between the high and low kicks, Fletcher eventually scored the takedown, worked his ground game, and locked in the submission for the win.
A standout athlete in both football and soccer at St. Michael the Archangel High School in Baton Rouge, Louisiana, the path to MMA came after the conclusion of these sports in Fletcher's final year of high school. In search of that continuous drive for competition, Fletcher found a small gym in Baton Rouge before making the move to Gladiators Academy in Lafayette. Fletcher took his first amateur bout in September 2016, turning pro just a touch under three years later.
The Opportunity Has Come…
If you have ever watched an AJ Fletcher bout, you know he is not afraid to call out the boss of the UFC, Dana White. Finally, the boss has heard the words of Fletcher, and more importantly, seen the domination he displays in the cage. The opportunity will come on ESPN+ inside the UFC Apex on Tuesday, August 31, 2021. The opponent across the Octagon will be Italian submission specialist, Leonardo Damiani (10-2-1). Six of Damiani's professional 10 wins have come by submission, but his two career losses have also come by submission. Many of those submissions, wins or losses, have come early in the contest in the first or second round of action. Damiani is currently on a six-fight undefeated streak, winning five and earning one draw. His last outing was a second-round submission in February 2021. Damiani's home-base of training is located in Rome, Italy at Aurora Mixed Martial Arts.
I am a life-long MMA fan who has been a fan since UFC 1. I was born in Illinois but raised in South Louisiana, home of many great mixed martial artists. I started martial arts at the age of 4 and continued into my adult years where I served nearly 10 years in law enforcement. I feel my job is to convey the stories of the MMA fighters we enjoy to watch and share their stories with the world.
Follow me on Twitter @LAknockoutMMA