Cyborg believes Conor McGregor helped get her in UFC
Cris "Cyborg" Justino is finally fighting in the UFC after years of speculation, trash talk, weight cutting issues, contractual obligations and more, but now the Invicta FC featherweight champion believes that UFC featherweight champion Conor McGregor played a vital role in the UFC offering her a fight.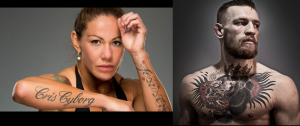 Cyborg will face Leslie Smith at UFC 198 in Brazil and will be contested at a 140 pound catchweight.
According to ESPN's Brett Okamoto : "Justino says that taught the UFC the value of promoting big fights — regardless of how they factor into the overall picture of specific weight classes.
"'Conor McGregor opened the door for catchweight fights,' Justino told ESPN.com. "His last fight was at 170 pounds. I think the UFC finally understood that catchweight fights can happen.
"'I'm getting this opportunity now and what's changed? It's the same company, same commission. Everything is the same. If Ronda and I never fight, it's because she never wanted it happen, because look at what McGregor is doing in the same promotion.'"