Grappling Industries at Baruch College – Eddie Cummings defeats Mansher Khera in Super Fight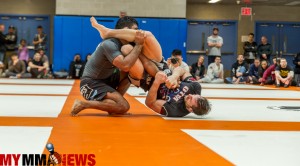 On Saturday afternoon, Grappling Industries made their debut in the Big Apple as they held a Brazilian Jiu Jitsu tournament at Baruch College in Manhattan. The CUNY School's gym was packed with competitors, coaches and fans to witness the action taking place across 12 mats. Divisions ranging in all ages and levels of belt degree filled the mats before and after the highly-intense Super Fight took place between Eddie "Wolverine" Cummings of Team Renzo Gracie and Marcelo Garcia Black Belt, Mansher "Munch" Khera.
The main event of the afternoon was a Super Fight between two prominent jiu jitsu black belt artists. Cummings and Khera battled in a 40-minute war, which came down to a referee decision in favor of the Renzo Gracie fighter. Throughout the four ten-minute rounds, Khera fought from the top position trying to get past Cummings guard. Cummings displayed his hip dexterity as he surrender points to Khera for passing to side control. Cummings' knee and hand control created much difficulty for the Marcelo Garcia black belt.
Cummings latched on to Khera's legs and ankles' several times seeking his well-known heel hooks. Khera spun around using his hands' and free foot to allow him to escape, what appeared to be very tight submission attacks.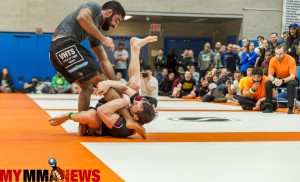 At the end of the second, third, and fourth round, Khera seemed to come close to passing Cummings guard, but each time, the Renzo Gracie black belt managed to find a way preventing Khera by using his flexibility. At one point in the match, "Munch" nearly scored two points for passing when it appeared he grasped onto a head and arm and had side control, but the referee didn't award any points and the time ran out on the round.
Both competitors had their teams in their corners cheering and supporting them as the entire gym huddled around the mat and watched silently in respect to the fighters. After multiple exchanges, the crowed showed their appreciation for the intense bout as they broke the silence with applause. Cummings head coach John Danaher sat in his corner giving him direct instructions throughout each position.
Once the four ten-minute rounds of war ended, zero points or advantages by either fighter were awarded, Cummings earned the referee decision victory. Cummings leglocks and heel-hooks earned him this victory, even though it wasn't the direct result of the win.
Cummings earned his black belt under John Danaher of Renzo Gracie in five years. John Danaher is the BJJ coach for George St. Pierre and Chris Weidman, Whom both won UFC titles at their respective weight classes. Cummings has compiled a list of accomplishments. He won the Gracie Nationals SupeFight against Denny Prokopos, won the Grapplers Quest Sub Only 150-pounds and under, a four-time Grapplers Quest Champ, two-time Good Fight Sub Only Champion, PGL IX: Open Weight Champion, PGL VIII: Middleweight Champion, and earned a silver medal at ADCC East 170.
Khera earned his black belt under Marcelo Garcia. The Marcelo Garcia Academy fighter also has a long list of accomplishments. In 2013, Khera won gold medals at the No GI Pan Ams in the lightweight division, and at the No Gi Worlds lightweight division and Absolute champion. In 2014, at the Abu Dhabi Pro he won a silver medal in the lightweight division, and bronze in the Absolute. At the Worlds, he took home a bronze in the lightweight division. At the No Gi Pan Ams Khera was the lightweight division champion, and at the No Gi Worlds he was the lightweight division champion, plus the Absolute close out. In 2015, the Marcelo Garcia Academy fighter took home a silver medal in the lightweight division at the Pan Ams.
These two artists put on a fantastic show for everyone in attendance at Grappling Industries event at Baruch College. It was a strong display of high level BJJ. Below is the video of the Super Fight.
Video Courtesy of Decater James.
Part 1-
Eddie Cummings vs Mansher singh Super fight grappling industries at barach college. Enjoy this 4 part series shot in HD. PART 1
Part 2-
Eddie Cummings vs Mansher singh PART 2 Super fight grappling industries at barach college.
Part 3-
Eddie Cummings vs Mansher singh PART 3
Part 4 of 4-
Eddie Cummings vs Mansher singh PART 4
Kyle Carroll is a Long Island, N.Y. native and avid MMA and amateur wrestling fan. He has been a part of the wrestling community for nearly 20 years. Carroll has six years of experience coaching high school wrestling. His father coached high school wrestling over 35 years, passing on his strong knowledge. Carroll has been reporting MMA news since January 2011. The former wrestler's coverage includes the 2012 U.S. Olympic Wrestling Team Trials, 2013 & 2016 NCAA D1 Wrestling Championship, and numerous MMA events (Bellator MMA, King of the Cage, North American Fighting Championship, and Glory).