Mark Hunt on Brock Lesnar:  I think he's juiced to the gills
Unless you have been living under a rock the past week or so you may have heard that Brock Lesnar is making a return to the UFC.
The pro wrestler and former UFC heavyweight champion will fight Mark Hunt in the newly announced co-main event at UFC 200 on July 9 in Las Vegas.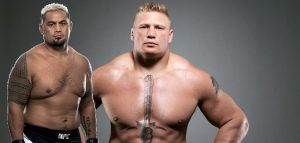 Lesnar has been granted an exemption for drug testing by the United States Anti-Doping Agency (USADA) for the fight.  Normally testing starts four months out from the fight but since we are just 30 days away, Lesnar is excused.
Mark Hunt has expressed an unfavorable opinion on the decision as per his interview with FOX Sports.
"I don't think that's fair. I think it's load of bulls***, I think it's rubbish," Hunt told UFC FIGHT WEEK on Fox Sports in an exclusive interview. "I don't think anyone should be exempt from testing. If they're trying to clean the sport up — mixed martial arts — this is a bad way to do it. I don't care who you are. It's ridiculous.
"I don't think it's a great move. I think he's juiced to the gills — and I still think I'm going to knock him out. So I don't think that's correct. I don't think he should be allowed to get a four-month exemption otherwise everyone else should. Otherwise I should start juicing.
"How are you going to clean the sport up doing that s***? It won't happen. I don't think it's fair."
"I've already voiced my opinion to (UFC boss) Dana (White) about it but apparently he (Lesnar) has been getting tested but he's probably been off a couple of cycles anyway.
"I think everyone should be tested equally and fairly. Make it an even playing field otherwise you might as well get everyone juiced up and have the juicing UFC competition and the non-juicing (competition)."
"I'm always going to fight anyway, it doesn't matter," Hunt said. "I love competition but I just don't think it's fair. I mean, I don't think it's an even playing field.
"But it doesn't mean you're not going to get knocked out. Frank Mir was juicing and he got knocked out.
"The same thing's going to happen with Brock Lesnar.
"Shucks. I don't give a rats what you take. I'll knock your face off, that's what I'll do. I'll teach you for taking that s*** anyway."