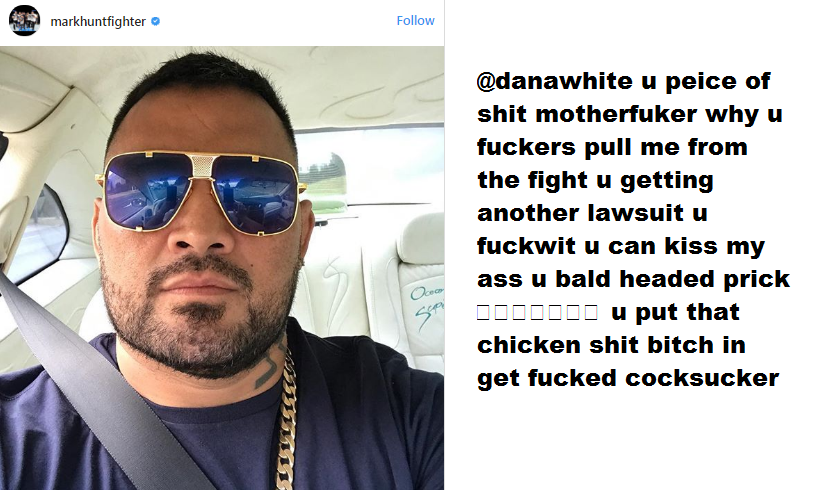 Mark Hunt to Dana White: U peice of S**t Motherf***er
Mark Hunt is pissed off!
The UFC heavyweight was slated to fight Marcin Tybura in the main event at UFC Fight Night 121 on November 19 at Qudos Bank Arena in Sydney, Australia.
UFC officials today announced that Hunt was being removed from the card, citing "medical concerns." Hunt was replaced by Fabricio Werdum who just competed and won via first round submission over Walt Harris at UFC 216.
That was when Hunt lost it.
Hunt went to social meedia to post: "@danawhite u peice of shit motherfuker why u fuckers pull me from the fight u getting another lawsuit u fuckwit u can kiss my ass u bald headed prick🖕🖕🖕🖕🖕🖕🖕 u put that chicken shit bitch in get fucked cocksucker"
Hunt recently penned a piece for PlayersVoice.com.au entitled "If I die fighting, that's fine," in which he admitted trouble sleeping and said he's begin to stutter and slur his words. That prompted UFC officials to pull the 43-year-old slugger from the card.
"Following a recent first-person article published by UFC heavyweight Mark Hunt, UFC has taken the precautionary steps of removing Hunt from a previously announced bout in Sydney, Australia," a statement first issued to News.com.au read. "The health-related statements made by Hunt in the article represent the first time UFC was made aware of these claims. Athlete health and safety is of the utmost importance to the organization and it would never knowingly schedule an athlete complaining of health issues for a fight. The organization will require that Hunt undergo further testing and evaluations prior to competing in any future UFC bout."
Poland's Tybura is riding a three-fight win streak, most recently earning a unanimous decision win over former UFC heavyweight champion Andrei Arlovski in June.  Tybura, the former M-1 heavyweight champion lost his first fight in the UFC via decision to Timothy Johnson but bounced back with a spectacular headkick knockout win over Viktor Pesta, followed by a TKO win over Luis Henrique Barbosa de Oliveira.