Paulie Malignaggi: "No balls Conor McGregor will look for a way out in Nurmagomedov fight"
Paulie Malignaggi is known in the pro boxing world as one of the most charismatic, flamboyant competitors to ever grace the ring, but is also known as one the sport's most outspoken.
And hey, when you have multiple boxing world championships to your name, you can be that.
Around this time last year, Paulie Malignaggi was one of the many boxers on-hand when Conor McGregor made pro boxing debut against undefeated pound-for-pound great Floyd Mayweather.
Not only did he provide coverage as an on-air analysts in the Showtime special of he and Mayweather's media tour, but later on it was revealed he was actually acquired by McGregor himself as a sparring partner in preparation for Floyd.
Once the news broke of McGregor an Malignaggi sparring together, another interesting story began to surface from McGregor, with McGregor claming he had done more than just "hung" with Malignaggi.
In hearing Conor's description of their training session, Malignaggi took offense and thus causing their relationship to unravel.
Malignaggi denied Conor's claims of busting him up in their sparring, but UFC President Dana White provided further evidence releasing a short video clip of McGregor dropping Malignaggi on one occasion when they sparred.
In hindsight of all this, it seemed as if McGregor and Malignaggi were on a collision course to face each other inside the boxing ring in the near future, but after McGregor was pummeled by Mayweather in the 10th round of their bout, the feud apparently looked to be over, until now.
This past weekend, McGregor turned the heat back up on his beef with Malignaggi, as he reposted the infamous sparring footage of Dana White (this time just a photo) on his Twitter, in celebration of it's release, while bashing the former boxing world champion.
Time flies when you are on your ass.
MMA History Today
@MMAHistoryToday
It was one year ago today, when Dana White released a video of Conor McGregor dropping Paulie Malignaggi.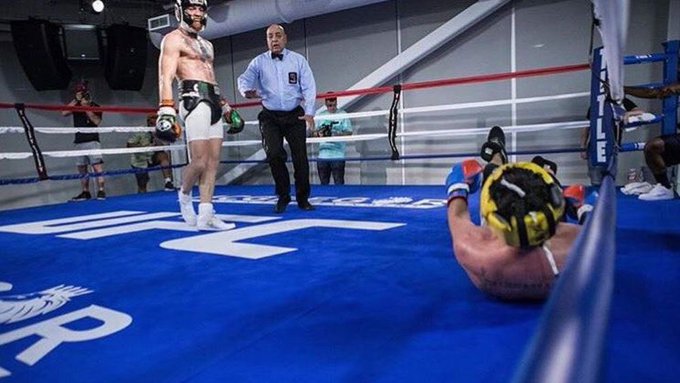 In his response upon seeing this, Malignaggi spoke with SiriusXM Boxing this to give his thoughts on McGregor's tweet and the ongoing rivalry between them, stating Conor  "still thinks about the beating he caught, every day."
"His pride is hurt," Malignaggi opined. "He still thinks about the beating he caught, every day, in the gym last year. He had four seconds of highlights and it's burning him inside that he only has four or five seconds of highlights in 36 minutes. He thinks about me every single day. His personality, his behavior pattern is very consistent with this. A year later he is still Tweeting about me. A few months after we sparred he put his only highlights on the documentary of his that came out as well. He's really, all by himself, coming up with these ideas to think about Paulie Malignaggi"
"I feel bad. I hurt his pride, I hurt him as a man. Sure, he gets his feelings up and his hopes up when all his pussy fans get his back on social media and believe his four seconds of highlights, that gets his hopes up. He needs a pick-me-up so he'll post a Tweet every once in a while about me just to give himself a little pick-me-up just so his fans can tell him, 'Yeah, Conor! You're the man!' But when he lays his head on the bed deep at night, he knows he's one of combat sports' biggest pussies and that's the problem. He knows who he is inside. . .
"Somebody's gotta remind him that he made $100 million. Someone's got to remind him that he's living the good life. He just had a baby. He had a lot of things that really should distract him to not think about Paulie Malignaggi. You make $100 million, you have a couple kids in the past year, you've got a documentary that came out, you just signed a big fight – I don't know. I really feel bad for him."
Looking ahead to McGregor's next fight which will ironically be against another undefeated fighter in MMA, in Khabib Nurmagomedov, Malignaggi says that the Irishman will be in just as much danger in this fight as he was when he fought Floyd Mayweather.
"Here's the thing about Conor, I've said that he has no balls and he has a problem with this fight," said Malignaggi. "Khabib is not a guy that will put you out of your misery. Remember the Nate Diaz fight, when he shot in on Nate Diaz and got submitted? Nate Diaz is a guy you don't want to wind up on the ground with because he's a black belt in jiu-jitsu and he'll submit you right away. If you're gonna fight Nate Diaz, you have to keep the fight standing up. In that fight against Nate Diaz though, he's getting pummeled in round two and he's probably gonna get pummeled for the rest of the fight, so what does he do? He needs a way out of it because he doesn't want to get beat up for four straight rounds. So what does he do? He goes, 'If I take this fight to the ground, Nate will submit me and then it won't look like I quit.' Because if you're fighting Nate Diaz, common sense tells you that you don't want to wind up on the ground. Conor is the one that took that fight to the ground. He shot in looking to take that fight to the ground. Why did he do that? Because he's trying to quit. If Nate puts him in a submission, he can quit and then it looks like 'Oh well, I had to tap out.' But really the decision was made when he shot in that he was quitting already.
"Now, Khabib is not a guy that's known as a submission guy. Now, I'm not a mixed martial arts expert, but Khabib is more of a ground and pound guy, which means you don't have the option to be submitted really because Khabib will just keep you on the ground and punish you and beat you and beat you and beat you. Now, granted, Conor has some skills standing up a little bit and maybe Khabib will have a hard time getting it to the ground, but if the fight ends up on the ground, it's only a beating for Conor. So how is a guy with no balls gonna take a good beating for five rounds when he looks to quit as soon as he gets uncomfortable? That's the question of the day really."
It's been no secret in the past, when Conor has faced elite wrestlers in the octagon, the result hasn't been good, and with Nurmagomedov being one of those well-decorated wrestlers especially in MMA, might the best ever as far as wrestling functionally, and if he finds his stride, Malignaggi believes McGregor will be looking for the easiest way out.
"The fact is he's gonna look for a way out of that fight too," Malignaggi concluded. "Look at round five of the Diaz rematch, he's literally running for his life. Who does that? With the fight hanging in the balance, who runs for the entire final round? He was given the decision in a close decision that could have went either way but who takes that chance though? These are all character flaws of a man with no balls. When you're a fighter you can tell right away who has character and who doesn't. The guy has none so he tries to play it up in other ways so he covers up the fact that he has no balls."
Do you think Paulie Malignaggi has a point in his analysis of Conor McGregor?