Ramazan Emeev talks about Apr. 10 rematch with M-1 Challenge middleweight champion Vyacheslav Vasilevsky at M-1 Challenge 56 in Moscow
Ramazan Emeev talks about Apr. 10 rematch with M-1 Challenge middleweight champion Vyacheslav Vasilevsky at M-1 Challenge 56 in Moscow
ST. PETERSBURG, Russia (Mar. 17, 2015) – Former M-1 Challenge middleweight champion Ramazan Emeev is training for his rematch with reigning titlist Vyacheslav Vasilevsky, April 10 headlining M-1 Challenge 56 in Moscow, Russia.
Another much anticipated title fight rematch between M-1 Challenge featherweight champion Ivan "Buki" Buchinger (26-2-0, 10 KO/TKO, 7 SUB) and challenger Tural Ragimov (11-3-0, 2 KO/TKO)will be theM-1 Challenge 56 co-feature.
In their original title fight last September 7, Vasilevsky (26-2-0, 10 KO/TKO, 7 SUB), took the coveted title belt from Emeev (11-3-0, 2 KO/TKO, 5 SUB) by way of a fourth-round stoppage from punches at M-1 Challenge 51: Fightspirit in St. Petersburg.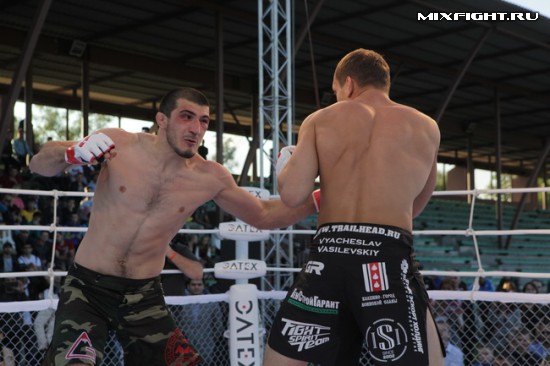 Below read an interesting Q & A with Emeev:
How do you spend your spare time and what is your daily routine?
RE: "Well, if I know that I have an upcoming fight, there's nothing else I can think about. I adhere to a strict schedule: running in the morning, training, then I have my lunch and sleep a little. In the evening, I have my training again, eat and go to sleep at certain times. I visit different gyms, each for a different type of training.
"If I don't have a fight in the immediate future, then, I live my casual life. I go for walks, meet with friends and parents, and spend time with my wife going to the cinema and cafes."
How did you feel when you lost the title belt to Vasilevsky?
RE: "To tell you the truth, I still don't have any relief from that feeling. When you lose the fight, that's okay, but it's another story when you lose the belt. I had a terrible bruise after the fight, so I had to go to my wedding with it on my face (see his wedding picture below). I wouldn't wish that on anyone. I felt extremely bad for myself. Everyone came to me and said something, offering pieces of advice. Everyone told me how wrong I performed and what I should have done instead. So, I was pissed off by all of this. I wanted to tell them, 'Go and fight yourself if you're so smart!' It was clear they wanted to help and support me but, actually, that didn't work then. It was an awful time."
What were the reasons for that loss?
RE: "I made a mistake when preparing for the fight. I didn't have a proper mind frame. Our fight was postponed a couple of times. I trained hard and then and the fight was postponed, again and again. I was like a zombie, already thinking that it wouldn't happen again. Another thing, it was after Uraza (the month-long Muslim fasting), in which you need to adhere to a diet. You lose power. Maybe I didn't have enough time for my mind to be in the proper mood? I just didn't have it. I thought that the fight would be postponed again, but suddenly I found myself in Kolpino (site of his first fight with Vasilevsky in Russia)."
What did you do right after the fight?
RE: "The next day I left for home with my body full of bruises. I started healing myself and that was tough. I had to get through medical examinations, checking my head. I was okay, excluding a small concussion. Still, I took too many hits to my head. I wanted to be okay at my wedding. We started the recovery process and after seven days I was alright. Only my red eyes could help you guess that I had been in a fight."
What have you change in your training process?
RE: "I understand that I need solid conditioning and endurance to fight Vasilevsky. I had to be ready, not only for five rounds, but for seven. Other than that everything was the same. I don't have a game plan, yet, but we'll discuss it when it's closer to the fight. Now, I do only routine training."
What happened with "Gorets" gym after the tragedy with Musail Alaudinov? Did they find the murderers?
RE: "This person, he was like an elder brother for all of us. He led the way for his fighters. I could have been offered a fight with only one-week notice and I knew that he'd have me 100-percent prepared. His glance alone was enough for you to start action. Musail Alaudinov was more than a solid support for all of us.
"They still haven't found the murderer. There was one guy under investigation but he was cleared. I'm glad, by the way, because I wouldn't want him to become a real murderer. I don't even know why police took him. This story is full of dark secrets."
Is your gym, "Gorets," all right for now? Do you have any problems?
RE: "We are okay, no problems. Everything is becoming better and better. We have our small cozy gym, nobody gives us any troubles. Nobody tries to get rid of us. This is our place, where any of us can train, anytime. Our head coach, Shamil Alibatyrov, and others do everything. They work a lot. Day after day it becomes as it has to be. I'm happy with that."
Who is helping you prepare for Vasilevsky rematch?
RE: "We have many guys from the same weight class as Vasilvesky – 89-92 kilograms (196 to 202 1'2 pounds). I have good sparring-partners. I work with Gadzhimurad Antigulov, Magomed Ankalaev, Rashid Yusupov, Rashid Magomedov, and Mutsalkhan Umakhanov. The last one, by the way, is a really gifted athlete. I hope he'll become a top MMA fighter in near future. I cross-fit and have many sparring sessions. I also train in freestyle-wrestling and grappling. I run on the seashore in the morning and sometimes I run in the mountains."
Can you say that your fight with Vasilevsky is more than just a sport? Has it become personal business between you two?
RE: "No. There's nothing personal between us. This is sport and our job. We see each other at different competitions and always talk to each other. We congratulated each other when we both got married. Our relationship is good. Of course, not like close friends, but I can say that we are comrades. Fighting is just a job and it's left in the ring. I don't have any bad feelings for Vyacheslav. I hope this is a mutual feeling."
So what do you think about Vasilevsky as a fighter and person?
RE: "He is kind and an open person. As a fighter, he is very strong. He has good endurance, both in his body and mind. He already has everything he needs for success. He is my most difficult opponent, for now. To tell you the truth, I'm a little bit tired of fighting this guy (laughs)."
Name three things that will help you defeat him this time?
RE: "I have a powerful motivation – to take back my belt and retrieve what was taken from me. I have plenty of time for preparation and that is really good. And the last thing is my knowledge. Now, I know him very well, all of his pros and cons."
Who would you like to fight next?
RE: "I don't think about anyone in particular. Now, I'm thinking about my upcoming fight and that's all. Then, we will see. I'll take any fight; this is my job. I need to fight at least two or three times a year. There're a lot of gifted guys. I think someone will be glad to fight me."
Do you think Alexander Shlemenko will take his Bellator title back?
RE: "I hope so. I'd like to see more Russian fighters at the top of MMA. It's sad that he lost two fights in a row. A loss is always a hard thing to live with but then he got on a two-win streak. I wish that he takes the belt back."
Could you beat Shlemenko if you fought?
RE: "I never thought about that. Well, anything can happen. Shlemenko is a decent striker with very good takedown defense. I can work in stand-up and I'm also a good wrestler. He has effective strikes that can help him win a fight. Still, I've never thought about fighting in Bellator.
"Plus, I've thought about going to another division. My weight is a just bit more than 84 kilograms (185 pounds) after lunch and middleweights are used to cutting 15 kilograms (33 pounds) before their fight. I performed as a welterweight a couple of times and I felt okay. Though, it's just what I think, we will see."
What do you think about the fight between Khabib Nurmagomedov and Donald Cerrone on May 23? Who will win?
RE: "I know Khabib and his father was very good. We have a good, friendly relationship. I hope he'll defeat Cerrone and then take the UFC lightweight title. Russia needs that belt. We need to prove that we have powerful fighters who can successfully compete at the same level with Western opponents. Cerrone is a tough opponent, but I think Khabib's excellent wrestling will help him win this fight."
Do you like soccer? What team do you root for?
RE: "No, I don't like soccer and I can't even play it. Well, maybe on PlayStation, a little. Still I root for 'Anji' (laughs). I used to wear their T-shirts. I hope 'Anji' wins."
What do fans expect from your fight with Vasilevsky on April 10?
RE: "I think we'll have a five-round war. Of course, fans should expect an amazing fight, as we showed last time. I need that belt. I need to take it and Vasilevsky needs to retain it. So, I think it'll be a tough fight for both of us. I'm preparing myself very well, working on mistakes. Come see our fight on April 10 and you'll never be sorry about it."
M-1 Challenge 56 will be streamed live in high definition on www.M1Global.TV. Viewers will be able to watch the preliminary fights and main card by logging on to register at www.M1Global.TV. Fans may watch all of the action on their computers, as well as on Andriod and Apple smart phones and tablets.
All fights and fighters are subject to change. Additional fights to soon be announced
Fight Network will air M-1 Challenge 56 live on Cablevision's Optimum TV, Grande Communications, Shentel Cable and Armstrong Cable in the U.S., as well as nationwide in Canada, Roku devices across North America, and globally in more than 30 countries throughout Europe, Africa and the Middle East.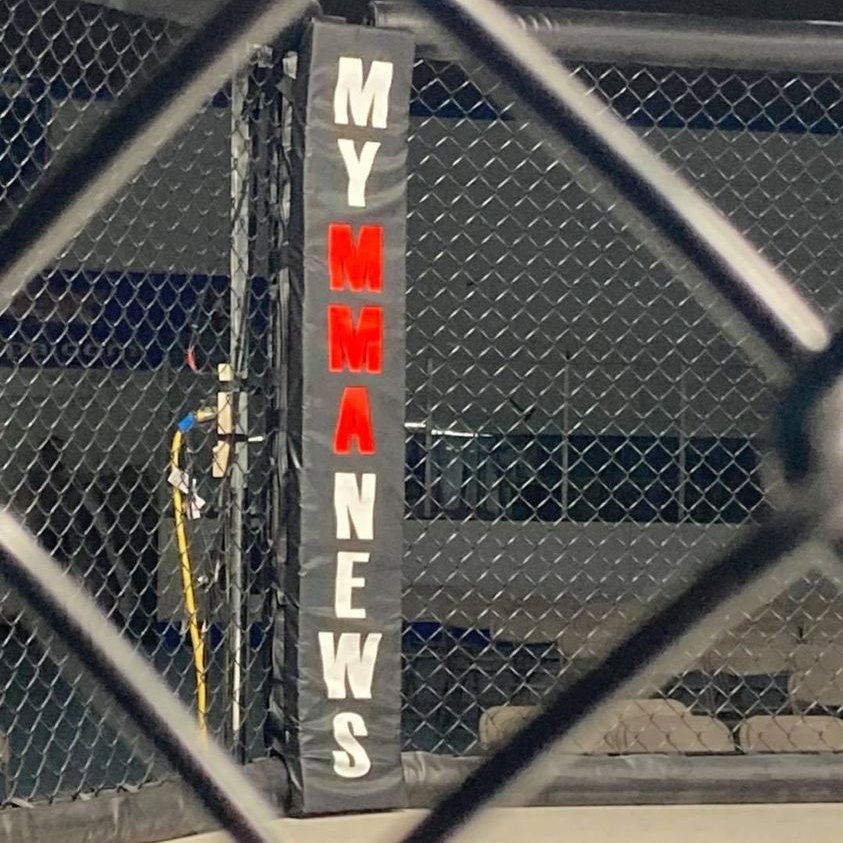 MyMMANews.com – We cover everything from MMA, BJJ, Bare Knuckle, Wrestling, Boxing, Kickboxing, and Judo
News, Opinions, Videos, Radio Shows, Photos and more.