Anderson Silva to have surgery today, out of weekend's UFC 198
Former longtime UFC middleweight champion Anderson "The Spider" Silva (33-7) is out of this weekend's UFC 198 bout against Uriah Hall (12-6).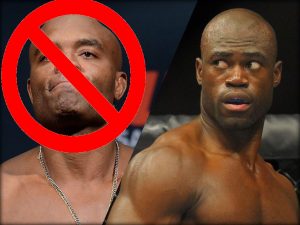 Silva's doctor Marcio Tannure told MMAFighting that the former champion will undergo surgery this morning to remove his gall bladder.
Silva was expected to fly from Rio de Janeiro to Curitiba on Tuesday morning, but was rushed to the hospital four hours before his team was supposed to leave.
"He called me and said 'I'm going to the hospital, but I'll get better', so we came to Curitiba," Silva's coach Luiz Carlos Dorea said. "When we arrived in Curitiba, he said 'Master, I came home but the pain is too much.' I told him to eat something, but he said 'I can't, I'm eating and throwing up.' He told me this afternoon that it was too painful and he had to go back to the hospital."
According to the boxing coach, Silva was only five pounds away from making weight for UFC 198 and excited to be fighting in Curitiba for the first time in more than a decade.
"He was doing great, and this came out of nowhere," Dorea said. "He felt some (abdominal) pain before, but nothing serious. He always came back to train the next day, so we never imagined it would be something like this."
Silva is the UFC's number five ranked middleweight.  "Primetime" Hall is currently sitting at the number 10 spot.  No replacement has been named to compete against Hall as of press time.  It is possible that the fight be pushed back as Silva is expected to be able to begin training again in four to six weeks.