Bellator 207's Alex Potts: "You may have been doing it longer, but I've been doing it better"
Two fighters will each be looking to record their second professional mixed martial arts victory, and second under the Bellator MMA banner when Alex Potts and Michael Kimbel meet inside the decagon on October 12 at Bellator 207.
Potts, who recorded his first pro win last year at Bellator 182, is 24-year native of Syracuse, New York.  Before transitioning to the professional side of MMA, Potts built up an impressive record of 6-0 as an amateur.
His opponent, Kimbel, saw success more recently in February with a first round knockout at Bellator 194, but split his win-loss record at 4-4 as an amateur.  Of course anything can happen going into a fight, but with the incredible finish rate that Potts has and dedication to his craft, the motivation factor is definitely on his side.
Potts words as a fork lift operator on the docks and reports to work before the sun rises at around 4 a.m. and finishes his work day before most are event sitting down for lunch.
"The winter months out on the docks are not pretty," Potts said.  "Six layers on the top, five on the bottom.  Just trying to stay warm."
He endures the unfavorable cold during the winter, and heat during the summer so that he can keep his MMA dreams alive.
"I need a slow, steady income so that I can make a go of this mixed martial arts thing," Potts said. He originally quit the job to pursue a full-time MMA career but later returned to help fund his venture.
He began wrestling around age 13 or 14 while in the eight grade.  He approached legendary coach Gene Mills and said he just wanted to wrestle and do jiu-jitsu.  One day the coaches needed a wrestler to help a fighter prepare for upcoming bout when they asked Potts "hey, do you want to try this?"
"Since then, it's been two-a-days, three-a-days, four-a-days, just fell in love with it from the get-go," Potts said.
Now that he is off to a fantastic start in the sport and competing on fight cards with some of the biggest names in the sport, Potts admits that part of him is excited just as any fan of the sport would be.  The next time he walks to the cage will be on a card headlined by Matt Mitrione and Ryan Bader who are competing in the semi-finals of the Bellator heavyweight Grand Prix.
"I think that is one of the coolest things of being able to fight for Bellator as a young pro fighter.  My first pro fight was on a Bellator card.  It just makes it so much cooler.  There are some great promotions out there that I could fight for, and that I would have a fantastic experience with.  But going to people and saying 'Yeah, I'm on a Bellator card in October.'  They are like 'What? You are fighting for Bellator?'  Everybody knows what Bellator is.  It is very cool to see the names of the fighters that I might share a locker room with."
On paper both Kimbel and Potts match up fairly well.  Each with a pro win a piece, somebody's "0" has to go.
"I think it is an exciting fight going into it for both of us.  Much respect to him.  He goes out there and looks for a finish.  That's exactly what I look for every time I go out there.  There was only one fight that I haven't finished in my pro and amateur career.  Every time I step out there I'm looking to not fight that full length of time. That's what I'm going for."
Come fight day on October 12 it will be near a full 14 months since Potts last stepped into the cage to compete.  Despite the inactivity the young fighter says he has not been sitting on the sidelines doing nothing.
"Training.  I ended up leaving Syracuse and going down to Houston for about five months.  I got to work with some truly great guys down there at 4oz. Fight Club.  There were a couple of times where I almost had a fight and it didn't work out, almost had a fight and then it just didn't work out.  But that's the fight game.  I came back and I was really eager.  I got the call.  I wasn't expecting the call and I am just really excited that I was able to get a full camp in for this one.  The first one was on four days notice.  Just cutting the weight and hopping in.  I've got a lot of talent around me this time."
Despite being fairly new to the sport, Potts is undefeated in both the amateur and pro level.  What asked what he attributes his success to, Potts said his work ethic is unlike many competing at his level of experience.
"I have wrestling and jiu-jitsu.  I like to use a phrase, 'you may have been doing it longer, but I've been doing it better.' I go in there and I work my butt off.  I quit my job when I started fighting.  I've been doing two-a-days since I started, putting in more hours than anybody I've gone against.  I put a lot of focus in my mental game, leading up to any fight I take to ensure I'm in the right mental state when I step into the cage.  I'm ready to outwork any opponent I have."
To get to the level he is at, Potts divides his time between three gyms in the suburbs of Syracuse, New York.  He visits Ultimate Athletics in Phoenix, Team Andrello in Baldwinsville, Tai Kai in Liverpool.  He recognizes some of the up and coming talent that has helped him get to where he is at in his career.
"Over at Ultimate Athletics, Kevin Carrier is a guy you've got to look out for.  He's been with me since the beginning.  He's the one I went in to train for his training camp when I just started.  He's probably my best training partner.  Kevin had a fight with Bellator last year where he made his pro debut as well. He'll be looking to get back in it soon.  Over at Team Andrello, they are mainly a kickboxing gym, but they've got an insane amount of talent.  They've got the former GLORY Kickboxing interim world champ, Kevin VanNostrand, Luay Ashcar, Bryce Mills.  They are truly talented. Shane Manley is another guy who just had a fight.  It's probably been the most talent filled camp I have ever been a part of."
Most every fighter has a nickname or a moniker that they like to use when they step inside the cage.  Potts is no different, except his is relatively unique.  "40 oz" is the name that was given to fighter.  We had to find out why.
"It's from what you can expect.  It started out as a joke.  I was out with my former boxing coach.  I'm just this skinny little kid and I was drinking 40's (beer).  He ended up passing away later on at a young age.  He was 26.  It just kind of stuck.  It was just a fun, silly way for me to remember a coach that gave me a lot."
If you ask the 24-year old fighter how he sees this fight going down next month, it will sound as if he is confident that he can win the fight anywhere it goes.
"I'm going to take any opportunity that I can.  If an opportunity presents itself on the feet, I'll take it.  If an opportunity presents itself to take him down and beat him up, absolutely, I will take it.  I can't physically think of a way I want to finish it.  I almost want it to go the whole 15-minutes just so I can showcase all the great coaching and all the great work I've received over this camp."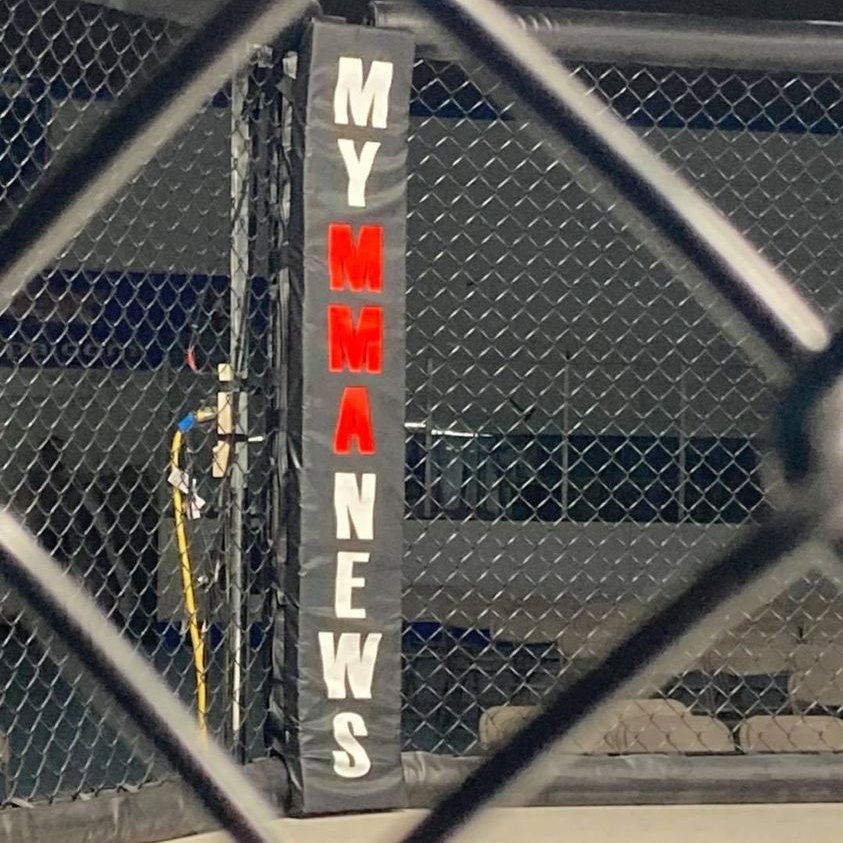 MyMMANews.com – We cover everything from MMA, BJJ, Bare Knuckle, Wrestling, Boxing, Kickboxing, and Judo
News, Opinions, Videos, Radio Shows, Photos and more.