Bold predictions for each MMA weight class in 2020
It's officially 2020. The calendar has reset and the MMA festivities are due to begin anew.
Fighting has proven to be one of the most unpredictable sports that there is. Just about anything can happen at any given time. What makes it so exciting is that anybody can beat anybody at any given moment. And by year's end when we're looking back, there is always a decent handful of results that were surprising for an inordinate amount of reasons.
In the sport that we've come to know and love, there are currently 13 major divisions. All of which have their own unique ins and outs to them. So as the new year starts, let's see if we can pin down what those outcomes end up being.
These are the bold predictions for each MMA weight class in 2020.
Atomweight, 105-pounds: Bellator beats UFC to the punch – again
Starting with the lightest division in the sport as we work our way up is the 105-pound atomweight class.
After a strong 2019 for the still flying under the radar division, 2020 has all the potential to be even greater for the class.
Last year we saw several upsets and the biggest fights in divisional history thanks to cross-promotional efforts. Which in the case of atomweight, has been critical for it to further gain popularity. Because as rich in talent as it is, that talent is spread across the globe perhaps more so than any other division.
In Japan's RIZIN Fighting Federation among other Asian promotions, the very best fighters are seen on display. Whether that be in the young superstar Kanna Asakura or the eldest of elite fighters in the world today, "The Fighting Queen Bee" Miyuu Yamamoto. Then, of course, there's the consensus top 2 in the new champion, Seo Hee Ham, and the former champion who many consider the division's best ever, Ayaka Hamasaki.
But over in the Western part of the world, Invicta FC also houses its own portion of the division's best. Sitting at the top being none other than their champion, Jinh Yu Frey.
After a strong rebounding in 2018 that saw Frey finally capture gold after being several years into her Invicta tenure, it seemed like 2019 could finally be the time for the UFC to make their move on the division. They had the source of talent to pick from in Invicta for starters after all. And Frey was – and still is – the perfect poster girl to kick things off with.
Whatever lack of talent that there may be when starting a UFC atomweight class would be immediately filled by the addition of strawweights that would drop down. Notable names that have voiced their interest include Tecia Torres, Michelle Waterson, and former UFC champion, Carla Esparza.
Instead, the UFC has waited to pull the trigger and if they do, it won't be until after Bellator beats them to the punch in 2020 … just like they did a few years back with the featherweight division. And in present-day, there's zero debate as to who has won that battle.
In April 2019, Bellator President Scott Coker addressed the possibility of adding the division after putting on their first fight in the weight class just a matter of weeks prior. While he said there was no plan on it at that time, since then Bellator and RIZIN have gone onto have a very successful and exciting collaboration. Which in turn has seen the exchanging and displaying of atomweight fighters. Such as the aforementioned Asakura.
Just knowing that Bellator has now been exposed to the absolute best that the division has to offer makes the possibility even stronger than it was already. And along with the fact that there's a partnership in place between the two promotions, Bellator can easily get a practically unbeatable headstart on the UFC with yet another division.
That's not even to mention them having the option to pick from Invicta as well.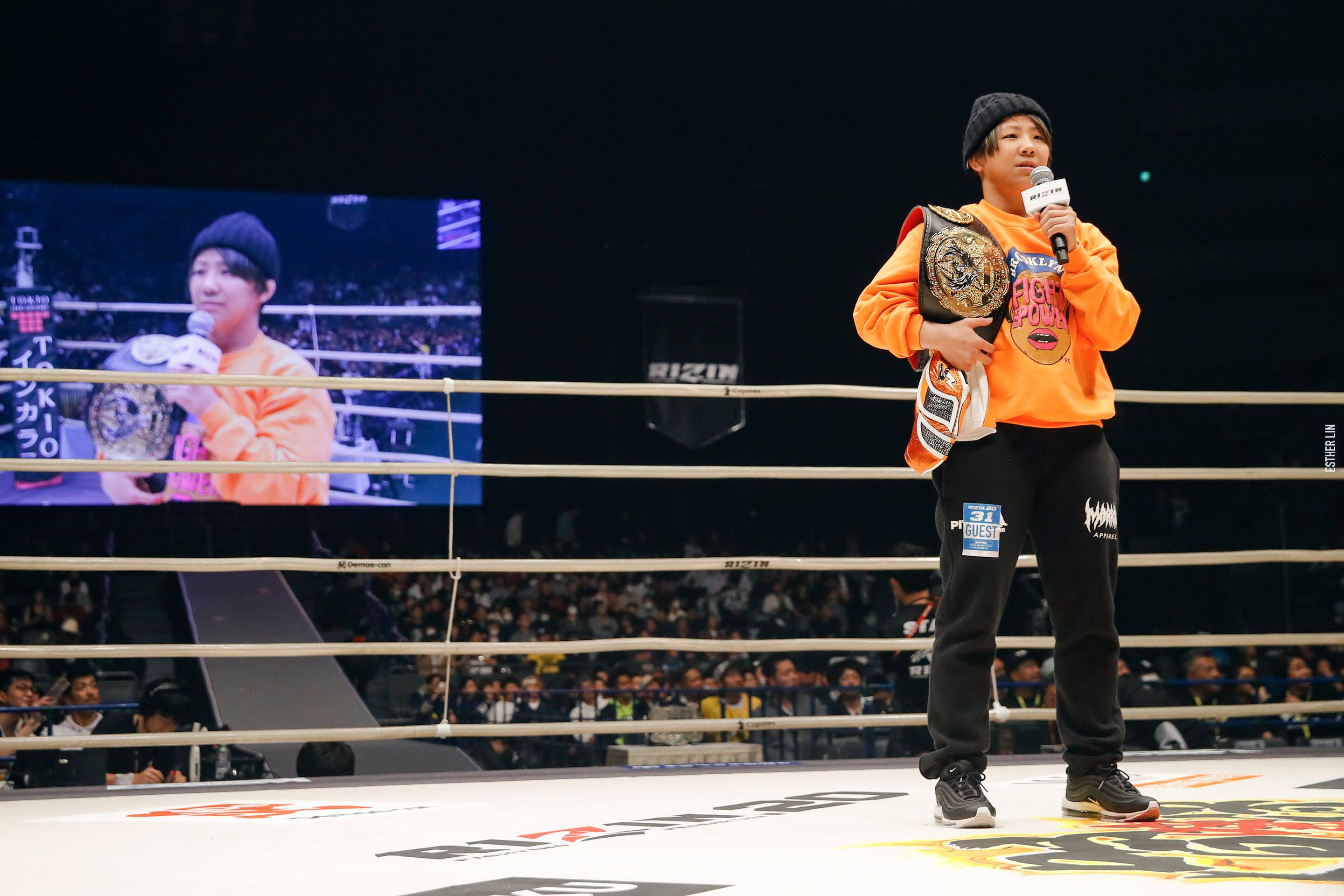 Strawweight, 115-pounds: Kanako Murata signs with UFC, cracks the top 10
The sky is the limit for the 5-foot-1 Kanako Murata as she finished off another year in MMA by capturing her first world title.
Murata, a former wrestling standout, made her professional debut in 2016 and has been nearly flawless ever since. She currently holds a record that consists of 11 victories and only one loss which came at the hands of former UFC bantamweight, Rin Nakai. Murata has won six of her fights via finish with four submissions and two TKOs.
Closing out 2018 and starting out 2019, Murata would score two consecutive Von Flue chokes. Thus making her the only female fighter to ever win with the technique and only the second fighter to ever do it in back to back fights. The other being Ovince Saint Preux.
Now riding a stellar seven-fight win streak that most recently saw her obtain the Invicta FC title, Murata has more options than ever. Most obviously, she can start defending her new title. However, she still has a strong connection with RIZIN who helped get her to where she is now.
Ultimately, now that Murata has debuted stateside and is in Invicta, a tie to the UFC, she can go even further up on the 115-pound MMA totem pole. And to achieve her goal of proving she's the very best in the world, one would imagine that's what the 26-year old will want to do.
As of right now, there might not even be a single strawweight outside the UFC that can beat her. So if she can make the transition this year, expect to see the powerful and crafty wrestler competing among the best in no time.
Women's Flyweight, 125-pounds: Kana Watanabe wins Bellator title
Sticking with fighters in relation to RIZIN and circling back to cross-promotion … there's undefeated flyweight judo sensation Kana Watanabe.
Judokas in MMA have often been able to find plenty of success in MMA, especially among female competitors. That's proven no different from the 9-0-1 Watanabe.
The Tokyo native has fought the entirety of her career under the banners of RIZIN and DEEP JEWELS – two promotions that have been fantastic starting points for her over in Japan. But the problem is that neither promotion's flyweight division has a title.
With gold on her mind, Watanabe was extremely excited to be granted the opportunity to get exposure to a new audience by being a part of the RIZIN-Bellator cross-promotion. All while at the same time getting a chance to climb the ladder towards a belt.
That ascent began at Bellator 237 in Japan as part of the Bellator-RIZIN tandem of New Year's Eve super cards. Watanabe would dispatch of Bellator prospect Ilara Joanne via third-round TKO with ground and pound punches.
Being undefeated and getting the win during this event already put Watanabe in a good spot to work towards the Bellator crown, but inevitably she will not be the very next in line. In fact, that's expected to be a fellow unbeaten judoka in Brazil's Juliana Velasquez. And after the dominant performance in her last time out, many believe Velasquez may even be the one to dethrone the champion in Ilima-Lei Macfarlane. Like the future challenger … Macfarlane also happens to be perfect in her career with no losses.
As styles do make fights, this prediction isn't to say that Watanabe is the one to take out Hawaii's finest. Just whoever is the champion by the time she gets her shot, she'll defeat before 2021.
Men's Flyweight: Joseph Benavidez becomes 12th UFC fighter to compete in three title fights in one year
It has been six-plus years since Joseph Benavidez got the chance to compete for a title. However, he'll get the opportunity to do so once again on February 29.
For perhaps the most underrated fighter that there's ever been, Benavidez has only lost to the very best in his 33-fight career. Prior to a very close split decision loss to Sergio Pettis in his first fight back after an ACL tear, Benavidez had only suffered defeats at the hands of Dominick Cruz and Demetrious Johnson. Having fought both of them twice, three of those fights saw championship belts be fought over.
The former Team Alpha Male staple has been the perennial and undeniable second best throughout his career. Now after 14 years of grinding and working to get to the top, 2020 will be his year.
After getting through the rather dangerous Deiveson Figueiredo in their vacant title bout in February, Benavidez will be only the third UFC flyweight champion in promotional history. After that, he'll fight twice more in the calendar year in an attempt to revitalize a still somewhat stagnant 125-pound weight class.
As a result, those three title fights in 2020 will make Benavidez the 12th UFC fighter out of 84 champions (including interims and excluding the Super Fight title) to ever do so.
So essentially, that also means Benavidez will have two successful title defenses to boot.
Women's Bantamweight, 135-pounds: Amanda Nunes retires
Amanda Nunes has done it all by this point. She's the greatest female fighter there's ever been and she continues to look more and more unstoppable with each new performance … so what exactly is left?
Nunes is the first and only female fighter to hold titles in two different divisions. She currently has five title defenses of her bantamweight title. If she can get two more this year, which is an achievable goal, then she'll have broken Ronda Rousey's record of six defenses.
At the moment, Nunes' featherweight title is practically just a nice trophy to have for defeating Cris "Cyborg" Justino as that division is still thinner than Michael Scott's hairline in season one of The Office.
Regardless, the point is that Nunes still has some options for challengers and at least one or two more fights before calling it a career. She's expressed no interest in going to do a boxing match against the recently interested Claressa Shields. However, she's down to do it in the Octagon. Assuming Shields could make the cut to 145-pounds, it would still be a freakshow fight that ultimately would just be a flashback to Randy Couture vs. James Toney.
On top of it all and most importantly, Nunes' and her wife, UFC strawweight Nina Ansaroff, announced their plan to have a child in 2020. Meaning that shifting her life to that next stage that is parenthood is coming sooner rather than later.
Ansaroff is going to take the year off from MMA as she'll be the carrier of their child. Upon return, she'll make the move to the 125-pound flyweight division.
Men's Bantamweight: Dominick Cruz recaptures UFC title
He's done it before and he can do it again!
Dominick Cruz propelled his division of bantamweight to the forefront of the sport during its rise through the WEC days. As champion, he innovated and created his very own unique style that puzzled many for the years that he reigned as the titleholder.
Unfortunately, the story of Cruz's legacy cannot be told without the mention of numerous debilitating injuries. But in the end, the argument is there to make that having battled back through the hardships has only made his place in history all the more concrete.
Starting in 2012, Cruz went through a series of career-threatening injuries in the span of three years as he suffered two ACL tears and a groin tear. Thus resulting in him being stripped of the title.
Upon his return, he stunned everyone and finished a top 5 contender in Takeya Mizugaki by strikes in only 61 seconds. And then … the injury bug struck again.
Cruz would suffer a third ACL tear in the following months after his return. This time to the opposite knee which put him on the shelf for another year. It didn't stop him from coming back again though. He had to recapture the title he never lost.
An unthinkable feat, Cruz would do just that as he dazzled in a chess match with new champion TJ Dillashaw. Picking up the split decision win, Cruz was king again after three ACL tears, a groin tear, and only a single fight in a four-year span.
Now having not fought in MMA after another three-year-plus stretch due to injuries to his upper body, Cruz is healthy and planning to return within the first half of the year. And when he does so, he won't be far from a title fight.
Women's Featherweight, 145-pounds: Megan Anderson becomes UFC champion
With this one, it can tie into the women's bantamweight prediction of the current champion in Nunes retiring.
Regardless of that prediction, the women's featherweight division is the smallest in the UFC by the largest of margins. There are currently only five and a half fighters who call the weight class home. The reason for the usage of "a half" is because of Leah Letson's most recently scheduled outings being set at 135-pounds. Yet she's been vocal about her willingness to fight back at featherweight if needed. As for the true featherweights, there is Megan Anderson.
Anderson has been touted as the future of the division for years now – and for good reason. The 6-foot Aussie is a former Invicta champion and just recently showed doubters that there is more to her game than just face rearranging striking. At UFC 243 in her home country, she submitted Zarah Fairn with a first-round triangle choke. It was her first submission win since December 2014.
The win got Anderson back on track and automatically put her in the place of the No. 1 contender, one would assume. If Nunes retires or an interim title is created due to Nunes' lack of activity in the division, it makes Anderson's chances all the better. With her continued evolution as a fighter and person, 2020 has all the makings to be her most successful year.
Men's Featherweight: Lance Palmer signs with UFC, becomes top 5 contender
Lance Palmer is officially now one of the richest fighters in MMA.
After two back to back tournament wins in the PFL, Palmer has accumulated over $2 million dollars. And after this most recent victory, he's now a free agent looking to test the market.
Palmer has done everything he possibly can with the PFL and is more than ready to challenge himself against some new competition. He's one of the best fighters outside of the UFC and his stellar 22-3 record has proven just that.
Currently riding an 11-fight winning streak, Palmer has plenty of value and leverage for where he could land next. The only potential roadblocks from stopping Palmer going to the UFC could be him asking for something a little too high for their liking. Especially when considering what he's earned in the past along with his dominant wrestling style.
But knowing his relationship with Urijah Faber and Team Alpha Male, and the fact that he wants to fight the best, a deal should be able to get done. And if it does, a brand new top contender would be seen in no time at all.
Lightweight, 155-pounds: Dan Hooker competes for the title on the same card as Alexander Volkanovski and Israel Adesanya – in Australia
Alright, now this one is easily the boldest of all these predictions simply due to all the pieces involved.
City Kickboxing was inarguably the biggest winner when it comes to MMA gyms in 2019. They unexpectedly went on to crown two champions who ended up defeating some very impressive titleholders to become such. And they did so with relative ease.
In 2020, they have the chance to crown a third … but let's not get that carried away!
He will compete for the title though. And that "he" is "The Hangman," Dan Hooker, who faces Paul Felder in the UFC Auckland main event next month. A win for the Auckland native will put him on a streak of three straight and push him that much closer into title contention.
After Israel Adesanya's great success and increasing superstardom, it only makes sense to capitalize on it with another huge event at some point this year. And what better way than to accompany him with his teammate, the new featherweight champion Alexander Volkanovski?
The only way to top the biggest Australasian event in MMA history that was UFC 243 would be by overdelivering. To do that, let's get crazy and do three title fights with three teammates in each bout. Meaning, Hooker facing off with whoever is the lightweight champion at that time.
Yeah, yeah … we will need to see what happens with Khabib Nurmagomedov vs. Tony Ferguson first in April. Oh, then there's Justin Gaethje and that Conor McGregor guy who's still floating around.
Eh, this prediction probably has less than a one percent chance of happening but hey, that's the whole point of this article.
Welterweight, 170-pounds: Colby Covington departs the UFC
Colby Covington finally got his undisputed title shot at UFC 245. Unfortunately for him, he didn't get the result he anticipated.
The former interim titlist was TKO'd in the final round of the bout and then proceeded to literally run out of the Octagon. What followed would be the claims that he was screwed over by referee Marc Goddard.
The gimmick wasn't dropped, there were no words from a newly humbled man – nothing.
Personally, this came as a surprise. If Covington lost, you could imagine he'd snap back to reality and take things in stride with his chin held high. To play Devil's advocate, perhaps the instant reaction was due to how the stoppage came rather than a clean knockout or submission.
Either way, it put things into perspective and brought to light that Covington is even more into his character than we possibly could have imagined. He's simply in far too deep to break now – even in defeat.
Prior to the fight, he had begun butting heads with UFC President Dana White and threatened that he wanted to be released if he didn't get what he deserved. Even during fight week, that same notion was echoed when it came to his contract.
Now that he's lost in definitive fashion, the UFC owes the brash Oregonian none of his requests. He isn't "no longer needed" necessarily as he's still one of the best in the world, but the Covington effect has been damaged beyond immediate repair. The "I'm so much better than everyone else, you all suck" gimmick only works when you're winning.
If he remains somewhat of a nuisance and sticks to his guns with his character, it shouldn't be surprising if the UFC lets him go as he asked for a matter of months ago.
In terms of possible landing spots, Covington has expressed his interest in going to the WWE. As a matter of fact, he's already done some professional wrestling work in the past.
In the MMA space, it would be hard to imagine Bellator not throwing an offer out as soon as possible.
Middleweight, 185-pounds: Vitor Belfort dethrones Aung La N Sang
Okay, this one is pretty out there, too. But again, that's the point!
ONE Championship's middleweight and light heavyweight champion Aung La N Sang has been nothing short of spectacular since he began his current title run in June 2017. But as all good things do, it has to end at some point.
With the signing of Vitor Belfort in 2019 and ONE's questionable policing of performance-enhancing drug (PEDs) use, all bets are off.
A big name like Belfort is just what ONE needed to spark up interest among their heavier weight classes. In 2019, N Sang rematched an unworthy challenger in Ken Hasegawa before a fun champ vs. champ fight with the heavyweight king, Brandon Vera. Now, he has a new potential contender.
As alluded to, Belfort, a notorious PED user, could be free to dabble once again now that he's back overseas. And the last time that that was the case, we saw the most monstrous version of "The Phenom." A version that violently knocked out the likes of Luke Rockhold, Michael Bisping, and Dan Henderson all with head kicks.
Even though he's 42, power is the last thing to go and N Sang likes to get into all-out wars. If Belfort can win his ONE debut, whoever that may be against, then there's nothing from stopping them from giving him a title fight. And how MMA would it be for him to be the one to dethrone a literal cultural icon in N Sang?
Light Heavyweight, 205-pounds: Jiri Prochazka becomes No. 1 UFC title contender
Jiri Prochazka is the current champion of RIZIN and a very, very bad man in the ring.
The Czech Republic native holds a 26-3-1 MMA record and currently rides a winning streak consisting of 10 straight. Nine of which have ended by knockout or TKO.
Happy with RIZIN but not his recent competition, Prochazka just finished out the last fight of his contract by quickly dispatching of CB Dolloway at RIZIN 20 to defend his crown. Fans have eagerly been anticipating a possible cross-promotion bout with Bellator champion Ryan Bader, but nothing has come to fruition as of yet.
That fantasy matchup was speculated to be in the works but seemingly has more steam now than ever. However, that would be quite a big risk for Prochazka to enter into as a new Bellator fighter.
Prochazka has already mentioned the UFC as somewhere he would like to test himself and there is no doubt he can hang with the best of the best.
After having done all he can do in RIZIN, Prochazka to the UFC isn't a crazy thought and if it happens, he'll be next in line for the title going into 2021.
The only reason he might not fight for the title sooner is due to the fact that the UFC seemingly likes to take their time with light heavyweights. Although, they haven't had as established of a free agent signing as Prochazka would be in quite a long time.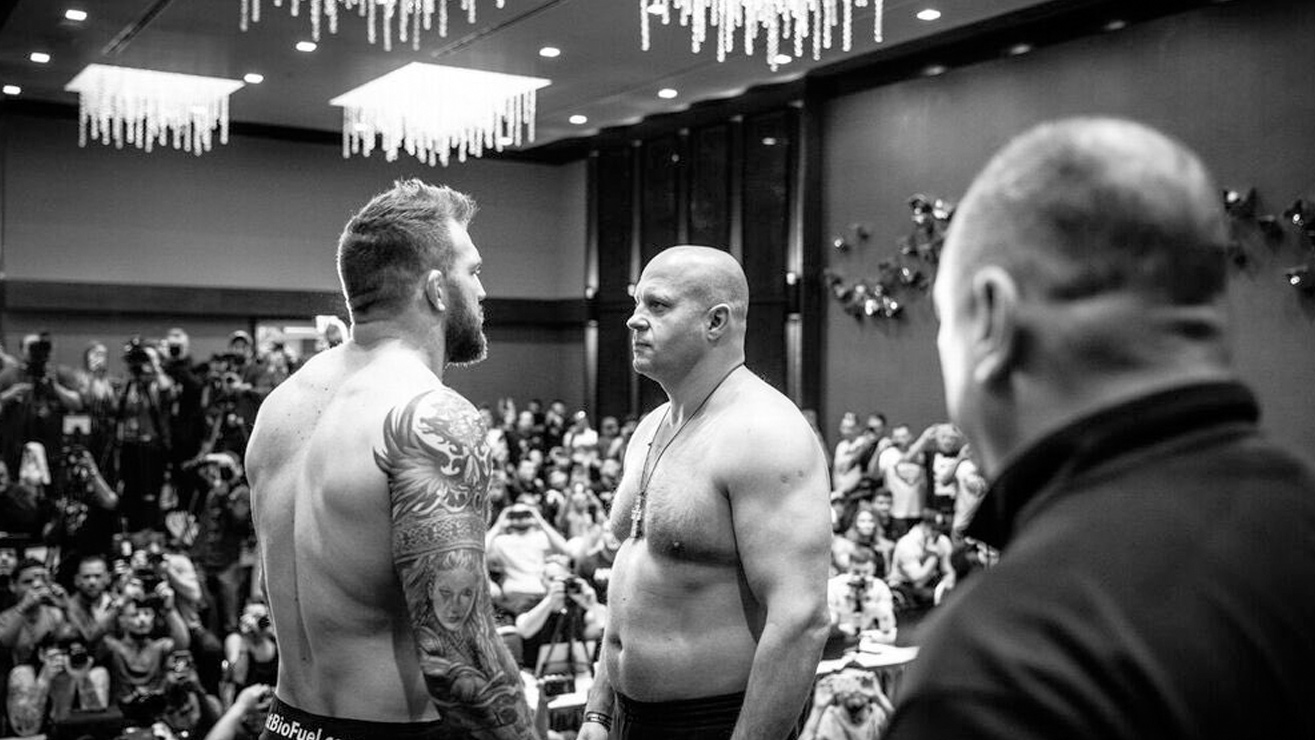 Heavyweight, 207-265-pounds: Ryan Bader and Fedor Emelianenko have title fight rematch in Russia for Emelianenko's final bout
Speaking of Ryan Bader, "Darth" also happens to be Bellator's heavyweight champion as well.
To earn that title, The Ultimate Fighter season 8 winner would defeat the greatest MMA fighter that the division has ever seen, Fedor Emelianenko. And he needed just one punch to do it.
Immediately after the loss, everyone speculated as to whether or not Emelianenko had just fought for the very last time. It seemed like as good of a time as ever for "The Last Emperor" to declare it as his last appearance.
Instead, Emelianenko is now in the midst of his "farewell tour" which just kicked off at Bellator 237 in Japan. The Russian wound up turning back the clock and putting Quinton "Rampage" Jackson on the mat with a brutal right hand in the first round.
With his next stop unknown, what is planned is for Emelianenko's final fight to take place in his home country. Assuming he picks up a win over whoever his opponent ends up being, why wouldn't Bellator give him one last grand opportunity to get a title?
By that time, Bader will likely still be the champion as he's now heading back to light heavyweight to defend that belt. So, a rematch, a retirement fight, and the first Bellator Russia card … it all seems like too good of a way to make it as large of an event as possible.