Relive One of The Greatest Amateur Fights in WCC History – Fight of the Year 2015
World Cagefighting Championships held their 15th fight card, Dec. 5.  Fans packed the Lancaster Host Resort in Lancaster, Pennsylvania for one of the best nights of both amateur and professional fights the state has ever seen.
Buried in the middle of the evening's fight card was an amateur bout between Kaheem "The Dream" Murray and Brian Knarr. Nobody knew what kind of treat they were in for when the bell rang, but half way through the first round when every fan was standing on their feet, they realized Christmas had come early.
Now, courtesy of Future Of The Game, you can relive part of WCC 15 history. Watch Murray vs. Knarr in its entirety once again.
Murray told MyMMANews.com a day after the fight, "I knew It could it wouldn't be easy and nerves were high, but I'm glad I took the tough challenge."
Murray would defeat Knarr by way of TKO in the third round.
Knarr said, "How I feel about the fight wouldn't change how I fought one bit. I have so many more tools in my fight arsenal but I always wanted to stand and trade with a striker. It's crazy but I don't feel like I am a loser. I'm very proud of this fight. I won my last fight in pretty dominate fashion and didn't feel as good about that fight as I did this one. I only wish the ref wouldn't have stopped it and we could have finished the fight since it was only 20 seconds left. I'm not mad at the ref; just wanted to finish on my terms as long as I was able to. I loved every moment of the fight. I thank Kaheem for a great fight; people told me itwas amazing; it was like Rocky movie. Everyone I spoke to was saying it was the best fight they have ever seen or comparing our fight to Pride or UFC battles they have seen."
The fight has since been labeled the Fight of the Year.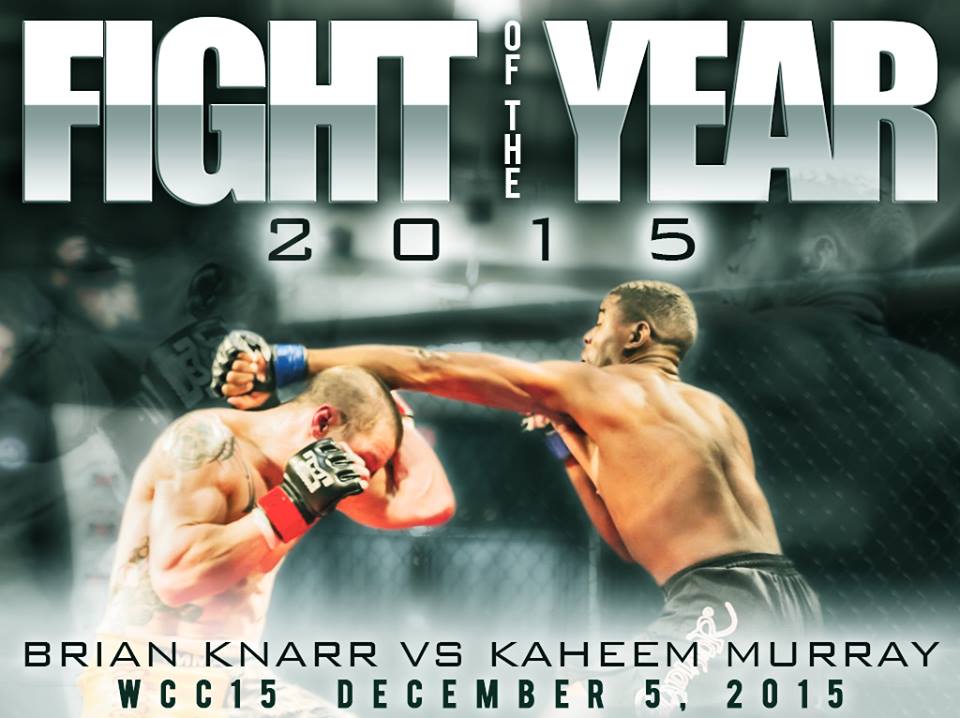 Here is a complete recap of WCC 15: https://www.mymmanews.com/wcc-15-results/
And a photo gallery by William McKee:  https://www.mymmanews.com/wcc-15-photo-gallery/
The following two tabs change content below.
Founder of MyMMANews.com - After writing for Ultimate MMA magazine and serving as the editor for U.S. Combat Sports, both of which went on hiatus, I decided to venture out on my own and enlist a staff of writers and photographers that could help me achieve my goal of telling stories that would otherwise go untold. We pride ourselves in taking a deeper look into the fighter, and understanding what makes them tick. - #1 Dad, Marine Corps Veteran, 80's and 90's Pro Wrestling Fan, MMA Commentator, Beer Lover, and avid movie watcher. Seriously..... I watch a lot of movies.
Latest posts by Eric Kowal (see all)