Fighter Spotlight: Vicente Luque and Sean Brady
[themoneytizer id="23967-1″]
In this Fighter Spotlight write-up, I will preview a fighter on the upcoming UFC event, who is currently not ranked in the top 15 of their division but is someone I think could be eventually. I will also preview a prospect outside the UFC, who I think has a bright future and will possibly be a ranked UFC fighter in the future.
Vicente "The Silent Assassin" Luque
14-6-1 MMA, 7-2  UFC | Welterweight | 27 | 5'10″ | Brasilia, Federal District, Brazil | Blackzilians | 7 KO/TKOs, 6 Submission | Win streak- 3 | Best Win – Belal Muhammad (10-1)
Luque is one of the most improved under the radar fighters in the UFC. He went from an up and down record in the begging of his career going 7-3-1. Even when he fought on The Ultimate Fighter Season 21 he had his issues. Now Luque has really proved he is a top welterweight with some solid wins in the UFC, finishing all seven of his wins inside two rounds. His only loss in the last three years came to top contender Leon Edwards. I would say Luque is favored for his killer instincts. His opponents' necks are always threatened with all of his submissions wins coming from a type a choke. His boxing though has looked stellar. He will trade in the pocket and shown if he lands flush he will shut the lights off. Luque is still very young, so improved, so fun, very dangerous everywhere as where I see him ranked sometime this year. This Sunday, he fights Bryan Barberena and with being 2-2 in his last four Luque should have got a better opportunity. Barberena does pose a threat in this fight as the gritty fighter with an iron chin is very game against anyone. Bryan hits hard and can take one of his own so I expect these guys to stand and bang and see who's chin holds up. Luque needs to take the same steps Leon Edwards did and utilize his wrestling as he was taken down five times.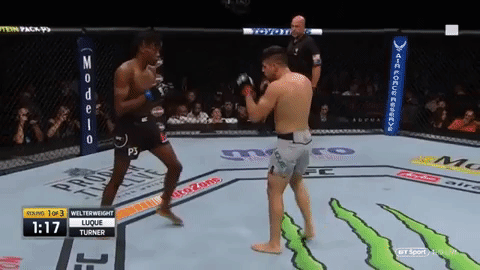 Striking: A
Kickboxing: C+
Movement: C-
Stand-up: A
Wrestling: C
Grappling: A
Submissions: A
Cardio: B
Takedown Defense: C
Striking defense: B+
Sean Brady
9-0 MMA | Welterweight | 26 | 5'9″ | Philadelphia, Pennsylvania | Renzo Gracie Philly | 2 KO/TKOs, 2 Submission | Best Win – Colton Smith  (7-4)
Sean Brady does a bit of Muay Thai under the well-known Rami Ibrahim, and boxing under Derek Ennis where he sharpens up his stand-up game. He's been training Muay Thai since he was 15 which compliments his ground game very well. With a brown belt in jiu-jitsu, Brady is fluid on the mat with control, and even though he only has two submission wins, he is a major threat on the floor. Training out of Renzo Gracie Philadelphia, Brady is surrounded by some good training partners such as UFC fighters Paul Felder and Eddie Alvarez. Brady has already defeated decent competition like TUF winner Colton Smith. This Saturday, he fights Taj Abdul-Hakim who has a phenomenal fight record and poses a good test. Taj's sole loss comes to solid prospect Sidney Outlaw. Outlaw is a fantastic wrestler and grappler like Brady himself so I expect the same outcome.
Striking: B-
Kickboxing: C+
Movement: C+
Stand-up: C+
Wrestling: A
Grappling: A-
Submissions: C
Cardio: A-
Takedown Defense: A
Striking defense: B-