KTFO Results: Castro and Gonzalez Leave Nothing to Chance for Titles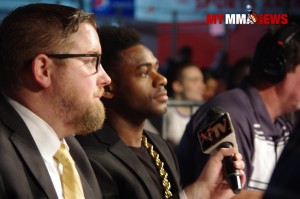 Last night, at the Sports Arena in St. James on Long Island, KTFO 12 delivered a terrific event, which included four title bouts. Eric Dehm of 1010 WINS and UFC bantamweight Aljamain "Funk Master" Sterling delivered excellent play-by-play and color commentary for the PPV broadcasted on watcheventsnow.com and Fite TV. KTFO is currently transitioning their name from MMA Platinum Gloves to KTFO (Knock the F*@% Out). The doors swung open at 7 p.m. and the fights kicked-off just after 8 p.m. inside a sold out Sports Arena.
In the Main event of the evening, Brett Sanchez went three rounds with Jonathan Gruber, a late replacement to Guy Hammond, retaining his heavyweight belt. In the co-main event, Ryan Castro delivered a lights out head-kick to Tom Kern. The new KTFO bantamweight champion, Luis Gonzalez dropped Lee Rasanen with a devastating punch that left Rasanen out cold before he hit the ground. Matt Semelsberger earned a close split decision victory over Mike Merante for the light heavyweight title.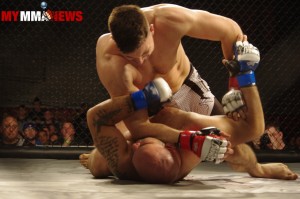 In the main event, Brett Sanchez improved his record to 5-0, as the Vamos BJJ fighter earned a dominating win over late injury replacement, Jonathan Gruber, of Regiment MMA. During the heavyweight title fight, Sanchez exchanged strikes with Gruber while on their feet, before the reigning champion brought the bout to the canvas. The six foot two inch tall champion mounted Gruber multiple times throughout his title defense, landing numerous hammer fists. Sanchez earned a unanimous decision victory by judges' score of 30-27, 30-27, 30-27.
The Knockout of the Night honors goes to Luis Gonzalez of East Coast United. He earned a brutal KO over Lee Rasanen for the bantamweight title. His knockout came in only 12 seconds of the first round. In the short 12 seconds the fight lasted, Gonzalez demonstrated excellent footwork, and a well-executed game plan. Gonzalez stunned his opponent early with a head-kick and then landed the finishing punch alongside the cage fence. The impact of the strike shut off all functions of Rasanen's brain, leaving him unconscious before collapsing to the ground.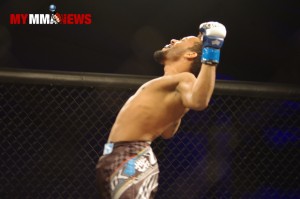 "trying to get some respect out here," Gonzalez mentioned in a post-fight interview with My MMA News. "I feel my team goes out there, we work hard – put on good shows and nobody is really talking about us, so I'm just going to keep working,"
Knockout of the Night honorable mention goes to Ryan Castro of East West MMA. Castro landed a head-kick that took away the legs of Tom Kern (Bellmore Kickboxing) in the welterweight title bout. Kern's fell to the floor, where Castro pounced on him with a couple of strikes forcing the referee to end the bout, giving Castro the TKO in just 12 seconds of the first round.
The first of four title fights of the evening started with light heavyweights Mike Merante (2-2) of East West MMA and Matt Semelsberger (4-1) of Clinch Academy. This fight was full of takedown slams and clinching from the ground guard position. Semelsberger snuck out a split decision victory that could have landed either way. Merante used his wrestling to continually place Semelsberger on his back. Once he was on top, Merante struggled to create any offense, forcing the referee to stand the fighters. Semelsberger had the best round in the second when he stretched Merante out in the crucifix. One arm was trapped between his legs, while the other arm was tied up by his right hand; Semelsberger used his left hand and delivered numerous strikes to the face of Merante. Merante was deeply winded by the third round. In amateur fighting, fighters participate in three three-minute rounds. After three rounds of a lot of takedowns and not a whole lot of offense, the fight cold have went either way.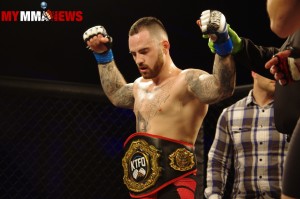 The only female bout of the evening involved Amanda Brundige (1-3) and Rose DeMatteo (1-0) in a bantamweight bout. DeMatteo of Kioto BJJ entered the cage making her MMA debut and Brundige of Team Tigon, entered the cage with intentions of reaching .500 in her amateur career. DeMatteo shorter by seven inches to the 5'10" tall Brundige, didn't have any trouble reaching the Team Tigon fighter's face. DeMatteo landed a solid left hand that spun Brundige into the cage. The amateur fighter looking to win her first MMA fight closed the distance quickly once she landed the left handed bomb. Not too soon after the referee stepped in-between the women. DeMatteo earned a TKO victory in her MMA debut in the first round at 1:34. Plans for DeMatteo's next fight are uncertain, but a matchup between Long Island MMA's Sarah Thomas would be a solid choice for the fans.
"A ton of these guys have a ton of potential and the sky's the limit as long as they stick with it and keep working hard." UFC bantamweight "Funk Master" Aljamain Sterling told My MMA News after working color commentary at the fights. When asked if there was real talent here on Long Island, the "Funk Master" answered "100%, I think there's something in the water,"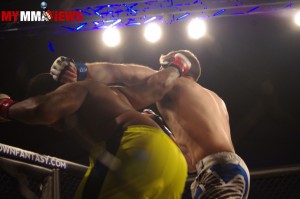 KTFO president, Nic Canobbio, was impressed with the fights, and the amount of finishes that occurred. Seven of the ten bouts were finishes. The attendance for KTFO 12 was north of 800 spectators, by far, KTFO's largest crowd to date. Canobbio also mentioned he hopes to get Guy Hammond and Brett Sanchez inside a cage together at their next event that takes place, April 30th.
KTFO is sanctioned by the U.S.M.T.A., which is known as the number one sanctioning body in the state of New York for amateur MMA. Their referees and judges are all educated inside a class room and complete numerous hours of training before working an event. Fighter Safety is the number one concern for the U.S.M.T.A as the empire state pushes for the sport of mixed martial arts to become legal professionally in New York.
Be sure to check out KTFO on Facebook and their social media by still using @MMAPlatinumgloves as they slowly transition their promotion's name over. For coverage of every fight be sure to check out the photos and articles by visiting us on social media @mymmanews for the latest news and information. KTFO will return to St. James on Long Island for their 13th show April 30th, 2016.
The official results below:
*HWT- Brett Sanchez (Vamos BJJ) def. Jonathan Gruber (Regiment MMA) via Unanimous Decision 30-27, 30-27, 30-27.
*WW- Ryan Castro (East West MMA) def. Tom Kern (Bellmore Kickboxing) via TKO (Head-Kick) in Round 1 at :12.
*BW- Luis Gonzalez (East Coast United) def. Lee Rasanen (Top or Bottom MMA) via KO in Round 1 at :12.
*LHW- Matt Semelsberger (Clinch Academy) def. Mike Merante (East West MMA) via Split decision, 29-28, 29-28, 28-29.
CW (180lbs) – John Gotti (Panza MMA) def. Cory Callender (Vamos BJJ) via Split Decision, 29-28, 29-28, 30-27.
CW (190lbs) – David Michal (Omni Martial Arts) def. Issac Poteat (Chok Sabri Gym) via TKO in Round 1 at 2:37.
**BW- Rose DeMatteo (Kioto BJJ) def. Amanda Brundige (Team Tigon) via TKO in Round 1 at 1:34.
CW (160lbs) – Roan Allen (Alpha Boys) def. Christian Acerbo via Submission (Rear Naked Choke) in Round 2 at 2:27.
BW- Irvin Averbukh (UFC Gym) def. Jamal Sharifi (Nubreed Martial Arts) via TKO in Round 2 at 2:38.
MW- Ruslan Volinchii (Astra Fitness) def. Noel Caban via Submission (Rear Naked Choke) in Round 1 at :20.
*- Title Fight
**- Female Bout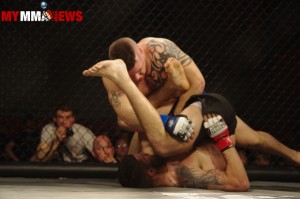 Kyle Carroll is a Long Island, N.Y. native and avid MMA and amateur wrestling fan. He has been a part of the wrestling community for nearly 20 years. Carroll has six years of experience coaching high school wrestling. His father coached high school wrestling over 35 years, passing on his strong knowledge. Carroll has been reporting MMA news since January 2011. The former wrestler's coverage includes the 2012 U.S. Olympic Wrestling Team Trials, 2013 & 2016 NCAA D1 Wrestling Championship, and numerous MMA events (Bellator MMA, King of the Cage, North American Fighting Championship, and Glory).