Mixed martial arts is a sport unlike any other. Baseball and football are sports that the venue is continually highlighted on television while the athletes are in the middle of game play. During a MMA bout, it's dark on the outside of the cage with all lights shining on the athletes inside the cage. As a sports fan, I enjoy events taking place at numerous venues across the nation seeing a variety of stadiums and crowds. Seeing college football bowl games happening at baseball stadiums is all part of the allure.
I'm going to list seven stadiums and arenas that I personally would like to see a UFC pay-per-view event take place. All seven of these venues will be within the United States of America. When listing each Stadium/arena, I'll give a main event fight that I would personally like to see on top of the fight card.
[themoneytizer id="23967-2″]
This article will have my choices 5 through 7 for future UFC fights venues i'd like to see. Let me know what you think of my choices thus far and later in the week I'll be revealing my final four choices. Can you guess where the top four might be and let us know your top seven stadium/arena choices would be.
Oriole Park at Camden Yards, Baltimore, Maryland- This major league baseball stadium has been an attraction to sports fans since the park opened on April 6, 1992. It's the home of the Baltimore Orioles. Camden Yards seats 45,971 and is nestled in the streets of downtown Baltimore near the Inner Harbor. It was built similar to ballparks of the early 1900s with steel columns, beams and trusses used to support the facility instead of concrete. Behind the right field wall stands the eight story high B&O Warehouse, constructed in 1899. Originally built as a warehouse for the Baltimore and Ohio Railroad, it's now used for a variety of purposes by the Orioles. The stadium consists of a three tier grandstand that stretches from behind home plate, down the third base line around the left field foul pole, and down the first base line.
Drop the octagon in the center of the infield. Seats could fill the outfield increasing the occupancy by thousands. A summer evening of fights under the lights would deliver an old school historic feeling that UFC fans have yet to experience. A main event match up that would bring Maryland                 native Sara McMann in a rematch to revenge her majority decision loss to Seattle's Meisha Tate.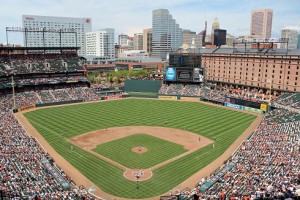 Levi's Stadium, Santa Clara, California- Home of the National Football League's San Francisco 49ers. This stadium earned the award of 2015 Sports Facility of the Year by Sports Business Journal in May of 2015 and followed that award one month later by being named 2015 Venue of the Year by The Stadium Business Awards in Barcelona, Spain. Levi's Stadium is known for being the most high-tech stadium in the world. This next generation of stadium design cost $1.2 billion and has 1.85 million square feet. The 49ers home field seats 68,500 and features 165 luxury suites and 8,500 club seats. It's one of many unique features, is the green roof atop the suite tower on the west side of the stadium.
Since Levi's Stadium has opened on July 17, 2014, it has hosted numerous events, including Wrestle Mania 31, Super Bowl 50, Taylor Swift Concert, NHL's outdoor stadium series, and the PAC-12 Championship game. Wrestle Mania 31 holds the record for attendance at Levi's Stadium               with 76,976. I believe the UFC fans can easily break that record with a strong fight card from the top to bottom. Plant the eight sided cage at the 50 yard line covering the "SF" painted at center field.
A strong main event that would attract a crowd to fill this size stadium would be interesting since so many fighters are from the state of California. An unlikely main event to occur, but one I would like to see in the future and I think could pack Levi's Stadium would be Uriah "California Kid"                     Faber vs. T.J. Dillashaw.
Michie Stadium, West Point, New York- Michie Stadium is an outdoor football stadium on the campus of the U.S. Military Academy in West Point, New York, which is roughly an hour-and-one-half drive north of the big apple. Its home of the Army Black Knights Football and one of the smaller division I college football stadiums, it opened in 1924. Michie Stadium has a capacity of 38,000, which is usually packed with cadets of the U.S. Army Military Academy every Saturday in the fall. This cozy stadium with a gorgeous backdrop would be a terrific spot for the UFC to host a Veteran Day or Memorial Day Fight Night. Boxing has hosted numerous events outside, and I don't see why Dana White and the UFC couldn't make outdoor events occur more often. Clearly being West Point is located in New York, this venue couldn't be used until the empire state wakes up and legalizes professional MMA.
Once again drop the cage at the 50 yard line and erect lighting above the cage right on the field.  Pack the stadium with both Army and Navy cadets, in addition to civilian fans and make this a new military tradition in the UFC.
Keeping with the theme of military, make the headliner a battle between two former military fighters. One of the first fighters that came to mind is Tim Kennedy. Kennedy, a former Army Green Beret, and recipient of the Army's Bronze Star Medal, he is also currently the No. 5 ranked           middleweight in the UFC. An opponent, which is highly unlikely that he'll ever step inside the cage to fight again, but it would keep with this current military theme and a rival of Army, would be fellow former middleweight Brian Stan. Stan, a former Marine, but before entering the Marines, he           played football for the U.S. Naval Academy. A graduate of Annapolis, Stan would bring forth the respectful rivalry between Army and Navy.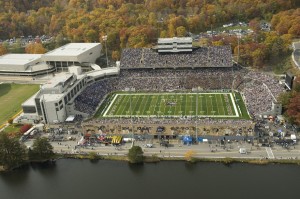 4.??
Kyle Carroll is a Long Island, N.Y. native and avid MMA and amateur wrestling fan. He has been a part of the wrestling community for nearly 20 years. Carroll has six years of experience coaching high school wrestling. His father coached high school wrestling over 35 years, passing on his strong knowledge. Carroll has been reporting MMA news since January 2011. The former wrestler's coverage includes the 2012 U.S. Olympic Wrestling Team Trials, 2013 & 2016 NCAA D1 Wrestling Championship, and numerous MMA events (Bellator MMA, King of the Cage, North American Fighting Championship, and Glory).