UFC 195 has come and gone and with that come new UFC rankings.  Members of a select media panel cast their votes after each event which determines positioning and ranking within each division and the pound-for-pound list overall.  It should come as no surprise that despite not having fought in more than a year former UFC light heavyweight champion Jon Jones is back on top of the pound-for-pound list.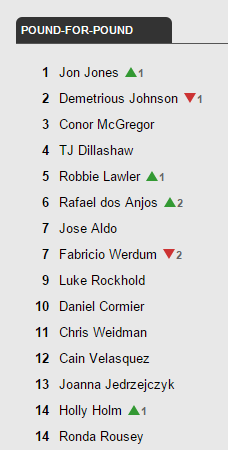 Stipe Miocic earned his title shot Saturday night with a 54-second finish of Andrei Arlovski, UFC president Dana White said after UFC 194. And his new position behind champion Fabricio Werdum and challenger Cain Velasquez was confirmed in Monday's official UFC rankings release. 
Miocic moved up one spot to No. 2 in the heavyweight rankings and Arlovski dropped a spot into a deadlock with Alistair Overeem, who moved up two spots to No. 3 on the heels of his win against Junior Dos Santos at Fight Night Orlando. "Cigano" fell another spot to No. 5, making for an entirely new picture atop the heavyweight division.
In other big rankings movement, former light heavyweight champion Jon Jones finally recaptured his place at the top of the pound-for-pound list, passing flyweight champion Demetrious Johnson. Jones' next fight hasn't been announced yet.
Robbie Lawler, fresh off his championship victory over Carlos Condit at UFC 195, moved up one spot in the pound-for-pound rankings to No. 5. Rafael dos Anjos also made a move to No. 6, two spots up from last week.
Michael McDonald returned in impressive fashion at UFC 195, submitting Masanori Kanehara in the second round of the FOX Sports 1 prelim main event. McDonald moved up two spots to No. 6 in the bantamweight division.
Brian Ortega also pulled off a sick submission at UFC 195 and he was rewarded for his efforts. Ortega was elevated to No. 15 at featherweight in his debut in the rankings.