We have an incredible main event this weekend at UFC 251, as UFC Welterweight Champion, 'The Nigerian Nightmare' Kamaru Usman looks to defend his title against the No. 3 ranked UFC welterweight contender Jorge 'Gamebred' Masvidal. As we all know, this wasn't the original headliner for this card. The champion was scheduled to face teammate Gilbert Burns, but Burns has come down with Covid-19, thus the reason Masvidal is now getting the shot. This was initially supposed to be the main event anyway; 'Gamebred' was next in line for a title shot, but negotiations between himself and the UFC went south, and the UFC ended up granting Burns the shot. Hopefully Burns doesn't get passed up and gets the winner of this fight.
Masvidal was the 2019 Fighter of the Year, but things were starting to look pretty unfortunate for his career. After being in the game for sixteen years, he was always an elite fighter, but he'd really come into his own since his return. Now it's half way through 2020 and he hadn't fought yet, nor had a fight signed. Now, on six days notice, he steps in to challenge for the UFC Welterweight Championship, since the UFC came "very close" to his number.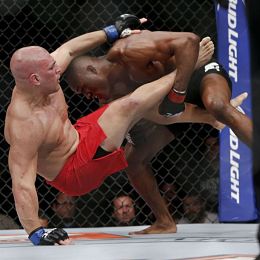 We all got to know Usman off of The Ultimate Fighter 21, where he went 2-0 on the show, before winning his season at the finale with a submission (arm-triangle choke) victory. Since then, Usman's only had two finishes, but has gone 10-0, capturing, and defending the UFC Welterweight Championship. He defeated Demian Maia and Rafael dos Anjos in his two fights prior to winning the belt, accustoming himself to five round battles. He then dominated then champion Tyron Woodley from start to finish to win the title, and had a Fight of the Year candidate with Colby Covington in his first title defense.
As mentioned above, Masvidal has been in this sport for a long time. He made it to 20-6 in his first seven years as a professional fighter, having competed in Bellator's inaugural event, going 2-1 in the promotion before joining Strikeforce. Masvidal had a 3-1 run in Strikeforce, only having lost to longtime Strikeforce Lightweight Champion Gilbert Melendez. Once the UFC purchased the Strikeforce organization is when most fans got to know who 'Gamebred' is. He won his first two fights in the UFC against Tim Means (UD) and Michael Chiesa (D'Arce choke), before dropping a unanimous decision to Rustam Khabilov. Many people believed he won that fight.
Masvidal then won his next three bouts before dropping a split decision loss to Al Iaquinta, a fight literally everyone but two of the three judges thought he won. To many people, Masvidal should've been 7-0 in the UFC, rather than 5-2. 'Gamebred' then moved up to welterweight to face a former middleweight, Cezar Ferreira, a man much bigger than himself. He won that fight via KO in round one, his first knockout in the UFC. He then dropped back-to-back split decision losses to Benson Henderson and Lorenz Larkin, both incredibly close fights. Some thought Henderson won, some thought Masvidal won, most said it was too close to complain either way, but most believed he beat Larkin.
After this, Masvidal went on a three-fight win streak, defeating Ross Pearson, Jake Ellenberger, and Donald Cerrone. He almost finished Pearson, but was unable to and walked away with the unanimous decision victory, and he TKO'd both Ellenberger and Cerrone. Masvidal again dropped back-to-back defeats after this, a split decision to Demian Maia, and a unanimous decision to Stephen Thompson. The Maia fight was close, but Maia did enough to get the W, and he was just out-classed by Thompson throughout.
Almost seventeen months went by before 'Gamebred' fought again, but he certainly returned with a bang! After being dropped in the first 15 seconds of his fight with Darren Till, he buckled down and had a great, competitive striking battle before winning via KO in round two. It was one of the most vicious knockouts in UFC history, as was his next, which came over the 19-0 nine-time world mixed martial arts champion (Bellator/ONE) Ben Askren, a record breaking performance.
He caught Askren with a flying knee about three seconds into the fight, but it was officially declared five seconds. Nonetheless, it's a record, a record that may never be beat. Masvidal capped off his 2019 year winning the BMF title against Nate Diaz, a great fight he dominated from start to finish, winning via TKO (doctor stoppage) after round three.
Kamaru Usman (16-1) vs. Jorge Masvidal (35-13)
This is such a compelling match up for many reasons. For one, Usman hadn't lost a single round in his entire UFC run until his last fight with Covington. That's very reminiscent of Khabib Nurmagomedov and Georges St-Pierre, two of the sports best ever, Usman is one of the most dominant fighters in the world today. So him versus this newer version of Masvidal, it's going to be very interesting. Masvidal used to coast in just about every fight he had. He generally out-pointed most of his opponents or lost a controversial decision. Now he's a welterweight with more energy than he had as a lightweight, and he's had a lot of time to reflect on his career in his time off, giving him this brilliant career resurgence he's on.
These are two of the most well rounded fighters in the world as well, both of them can mix it up very well. Masvidal keeps up with a lot of Division I wrestlers at American Top Team, but Usman's wrestling is on another level. 'The Nigerian Nightmare' completed his high school wrestling run with a 53-3 record, and he won a bronze, silver, and gold medal from 2008 to 2010 at the NCAA Division II National Championships. Not just that, but he's strong as hell, he's been able to take down every opponent he's attempted to, and has yet to be taken down himself.
Masvidal has finished all but one of his victories at welterweight, and he has a 7-4 record in the division with only one of those losses being a clear defeat. He could easily be 10-1 or 9-2 as 170 lbs. He's been a bit unlucky when it comes to decisions, perhaps this is the reason he's been fighting a little different recently. Some people thought it would be better if this fight were just pushed back to a later date, considering how high level of a match up it is on short notice, but Masvidal's been training, he's ready. He was supposed to get the shot to begin with, of course he's been preparing to fight Usman.
One interesting fact about this fight, Masvidal has as many knockout wins as Usman has total wins. He started his career in 2003, while Usman didn't have his first fight until late 2012. 'Gamebred' has nearly three times as many fights as the champion, and as we've seen in the past, experience often times is the deciding factor. As we've also seen many times in the past, it may not matter. We'll have to wait and see. Masvidal does have a lot of losses, and Usman's only lost once, his second fight, but to many peoples surprise, that doesn't matter. Masvidal is one of the best fighters in the entire world. Many of his losses should've been wins, and he hasn't lost in almost three years.
The last time we saw 'Gamebred' fight was at UFC 244, while the last time we saw 'The Nigerian Nightmare' fight was at UFC 245, just over a month later. Most people make a big deal of Usman's size compared to Masvidal, which isn't unjust, Usman's a massive welterweight and Masvidal used to be a lightweight. However, Masvidal's only an inch shorter than the 6′ champion at 5'11", and his reach is only two inches shorter at 74", while Usman's is 76".
Marc Raimondi had something very interesting to say about this whole situation on the ESPN MMA youtube channel when talking with Ariel Helwani and Brett Okamoto: "One thing guys that I was thinking about earlier today, and maybe it's just complete craziness, but I was thinking, if Gilbert Burns was never the opponent for (Kamaru) Usman, Usman would've stayed in Florida and continued training at Sanford MMA. And it seems like there is an issue at the gym right now, right, with illnesses? Would Usman have gotten sick? Would he have not been able to make that fight had he stayed in Florida instead of going to Colorado because his teammate Gilbert Burns was the opponent?"
He makes a great point, maybe it's a good, if not great thing that Burns was the original opponent. It seems as if it were meant to be for these two to fight one another at UFC 251. Usman versus Burns is the fight we all wanted, but didn't know we wanted. We know that now that it isn't happening, but we've got another great fight to look forward to instead.
Who wins this epic welterweight title clash at UFC 251?
I became a fan of combat sports when I was 12 years old. I was scrolling through the channels and landed upon Versus, where WEC was televised. Urijah Faber fought Jens Pulver for the second time that night. That's the first fight I ever saw, and I was immediately hooked. So eventually, I began covering the sport in the fourth quarter of 2018, and have since started writing about animals as well. If you'd like to see those pieces, be sure to check out learnaboutnature.com!