XFE 39 results – Martinez makes mark, Kunkel puts lightweights on notice
It was another amazing night of fights at the Sands Bethlehem Event Center as XFE 39 saw two fighters take home the My MMA News Knockout of the Night award, Marine Corps veteran Jason Heflin scores the My MMA News Submission of the Night and the My MMA News Fight of the Night ended in a majority draw.  Although there was no declared winner the fight put both fighters on the map and a rematch should be warranted.
Full fight card results below.
Josh Booher (155) vs. Brett Martinez (155) (6-1) Rat Pack MMA, Palmerton, Pa 
Martinez was on the receiving end of a flush foot to the face in the opening moments of the first round but controlled rest of the round with a strong wrestling base.  Booher clipped Martinez early on in the second round but again the rest of the round was all Martinez as he used short hammer fists from side control.  In the third round Martinez again controlled most of the fight on the ground, but no significant damage was done by either fighter.  Martinez wins the fight.
Brett Martinez defeated Josh Booher via unanimous decision (30-27)
Stephfond Ewins  (170) vs. Chris Pintado (170)
Pintado is a powerhouse who used his strength to control the entire round on the ground with wrestling and short strikes. In the second round Pintado opened a cut over the eye of Ewins that smeared across the white canvas turning it a crimson red.
In the third round each fighter managed to score point with punching but Ewins controlled top base but was not too effective as Pintado used jiu-jitsu off his back.
Chris Pintado defeated Stephfond Ewins via split decision (29-28) Ewins (29-28) Pintado (30-27) Pintado
Dean Lavin (155) vs. Tim Kunkel (155)
Kunkel is the hometown favorite as he enters the fight from nearby Bath, Pa.  Kunkel, making his pro debut does so in spectacular fashion.  Lavin comes out immediately with a head kick which went over the head of Kunkel but then followed up with three more kicks, each of them landing at various spots on Kunkel's frame.  The fight eventually went to the ground with Lavin trapping Kunkel's arm while in full guard.  Kunkel repeatedly slammed Lavin and the referee decided it was time for the two fighters to stand up.  Unfortunately for Lavin that would spell disaster as Kunkel delivered a vicious left hook that nearly took Lavin's head off.  Lavin is knocked out cold, laying on the canvas for near an entire round while ringside physicians and EMT's give him oxygen and try to awaken the lightweight fighter.
Kunkel put all lightweights in the organization on notice and earned the second My MMA News Knockout of the Night with his 2:12 knockout over Lavin in the first round.
Tim Kunkel defeated Dean Lavin via knockout at 2:12 in the 1stround.
Darnell Hayes (205) vs. Jason Heflin (205) Platoon Jiu-Jitsu
Heflin a Marine Corps veteran looks like he is coming in for a war.  Heflin took it to Hayes everywhere in the striking department, on the feet and on the ground, so much so that while on the ground Heflin looked up to referee Keith Petersen as if to say "are you going to stop this?"  Heflin was able to get the back of Hayes and apply a rear-naked choke with hooks in while Hayes was on his knees and he had no choice but to tap out.
Jason Heflin defeated Darnell Hayes via rear-naked choke submission at 3:48 of 1st round
Heflin earns the My MMA News Submission of the Night
Leonard Simpson (170) vs. Travis Creamer (170) (1-0)
Creamer was cleared coming to the cage by the Pennsylvania State Athletic Commission Greg Sirb.  As Creamer was walking up to the cage an older man who might have been Creamer's father approached out of the crowd and tried to hug him and Sirb nearly tackled him as no contact is allowed after the fighter has been checked. It was certainly something I had never seen before and in a My MMA News First, Commission Greg Sirb is awarded the My MMA News Save of the Night.  In the opening seconds of the round the two fighters collided up against the cage and squashed referee Keith Peterson who couldn't get out of the way fast enough.
Leonard Simpson earned the first of two My MMA News Knockouts of the Night with an amazing right that flattened Creamer.  He lay on the mat for over a minute and the crowd cheers as he finally comes to.
Leonard Simpson defeats Travis Creamer via Knockout at 0:38 of the 2nd round.
Phil Ferraro (135) AMA Fight Club vs. Jordan Morales (135) (1-0)
Ferraro has CFFC champion Scott Heckman in his corner.   Things were looking up for Ferraro as he started the round strong maintaining the pace with takedowns and the wrestling aspect.  Then unfortunately for Ferraro, Morales was able to gain control and finished the wrong stronger than Ferraro started.  Round one could go either way. A slow second round saw the two bantamweights fighting for under hooks but nobody really doing any points on damage.  In the third round Morales attempted several North-South chokes and stayed in the top position throughout the round.
Jordan Morales defeated Phil Ferraro via unanimous decision (29-28) (30-27) (30-27)
John "the Bull" Mosley (155) (4-2) vs.  Thad Frick (155) (3-0)
Lightweight championship bout.  Frick has a strong opening round with several big slam takedowns and controls the wrestling and top base.  Round two was all Frick.  Extremely solid round but he does receive a cut on the bridge of his nose and the fight doctor is called in to check him out between rounds. Mosley knows he has to come out with the killer instinct in the final round and he does exactly that.  He lands tough shots to the head of Frick, but Frick eventually finds a way out of the struggle and secures a takedown.   Mosley is tough as nails as he manages to hang on during a barrage of punches from a mounted Frick.
Thad Frick defeated John Mosley via unanimous decision (30-27) and is crowned the new XFE lightweight champion.
Mike Serrano (135) (9-1-1) vs. Eddie Alvarez (135) (6-5)
Alvarez, also a Marrero student has a huge Latino following at the event.  He is full of energy and comes in ready to scrap. Alvarez is clearly the faster of the two fighters as he is slipping and dodging but neither fighter is really landed any significant shots.  Serrano receives a warning for holding onto the cage and the fight is stalled and the two bantamweights are sent to their corners.  Serrano receives an official warning from referee Keith Petersen.  In the second round Serrano pulls a page out of the book of UFC Hall of Famer, Matt Hughes as he picks Alvarez up and walks him across the cage, stalls for a second before dumping him on his back and the crowd goes nuts.  Serrano opened the third round with a huge right that violently shook Alvarez's head.  After a brief stoppage from the referee to adjust Serrano's glove the action continued and the strength of Alvarez's 135-pound frame was shown as he picked Serrano up over his head and slammed him.  A very exciting fight that landed in the hands of the judges.
(28-28)  (28-28)  (29-27)   Majority Draw
Alvarez and Serrano take home the My MMA News Fight of the Night
Pat Ton (125) vs. Alex Buccini (125) American Top Team
Buccini has former UFC heavyweight fighter Carmelo Marrero in his corner.   These two flyweights are extremely fast.  Ton stunned Buccini right away and Buccini had to gather his senses and get Ton up against the cage to help speed the recovery.  Late in the round Ton secured a takedown.  Round one should be awarded to Ton.   In round two Ton knocked Buccini down with a strong left hook.  Buccini landed face first.  The fight probably could have been stopped there but Buccini bounced back up which only worsened the beating he would receive seconds later.  Ton lit him up with combos and referee Keith Petersen was about to jump in but gave Buccini a chance to fight back.  Then Ton delivered the same hook and knocked Buccini out cold.  Buccini sprung to after he hit the canvas and begged Petersen to continue the fight, but the referee wasn't having it.
Pat Ton defeated Alex Buccini at 1:27 of the 2nd round via Knockout
Anthony Inzone (170) (Totowa MMA) vs. Devon Jacobus 160 (Hammer Training & Fitness)
Jacobus could not have had a more perfect round.  Secured a takedown and then applied a rear naked choke flipping from top to bottom control several times.  Finally Inzone escaped but Jacobus went into full guard and fended off his back.  Inzone stood up and proved he made the wrong decision.  Jacobus dazed him several times on his feet and landed a knee to the face in the final seconds of the opening round.  Although both fighters are making their amateur debuts Jacobus appears to have more experience.  He was able to land in the full mount position and apply an armbar which was fought off by Inzone, however, immediately Jacobus gained control again and was landing knees to the ribcage of his opponent.  In the third round Jacobus tripped Inzone falling directly into full mount.  Jacobus ended up getting a rear-naked choke in the final seconds and Inzone was barely saved by the bell as he appeared to be near tapping.
Devon Jacobus defeated Anthony Inzone via unanimous decision (30-27)
Gospel Uche (145) Predator MMA vs.  John Brennan 145  Gracie 717 (1-0)
Brennan, a southpaw comes out swinging.  Fight eventually taken to the ground during the last minute of action with the two fights scrambling for position.  When the bell rings Brennan is on top throwing down fists. In the second round Brennan is not finding success in the striking as Uche is kicking his legs out from under him and landed right hooks.  Brennan's take down attempt was also stuffed on more than one occasion. In the third and final round Brennan had two successful takedowns and finished the round on top.   Uche did maintain full guard position, but Brennan was striking to the body and delivering elbows to the thigh of the Predator MMA fighter trying to unleash the hold.
Gospel Uche defeats John Brennan via split decision (29-28) Brennan (29-28) Uche (29-28) Uche
Fans seem to disagree with the judges and believe that Brennan won the fight.  Brennan has a look of disappointment knowing that he was robbed of a win, however, the fight ended in the hands of the judges, and anything can happen.
Matt Hill (257 lbs.) (2-0) vs. Jonathan Romero (240 lbs)( 2-0)
Hill shot in immediately after some wild shots were thrown but Romero insisted on hanging onto a guillotine even after his corner told him to circle out.  Hill got a takedown, landed in side control and worked to the back for a rear-naked before time expired in the first round.  There was no clear decisive victor in the second round.  No takedowns were awarded, and each fight held on to a clinch and threw jabs, but no damage was inflicted. Third round was again more of the second, but Hill proved to be more dominant.
Matt Hill defeats Romero via split decision (30-27) Romero (29-28) Hill (30-27) Hill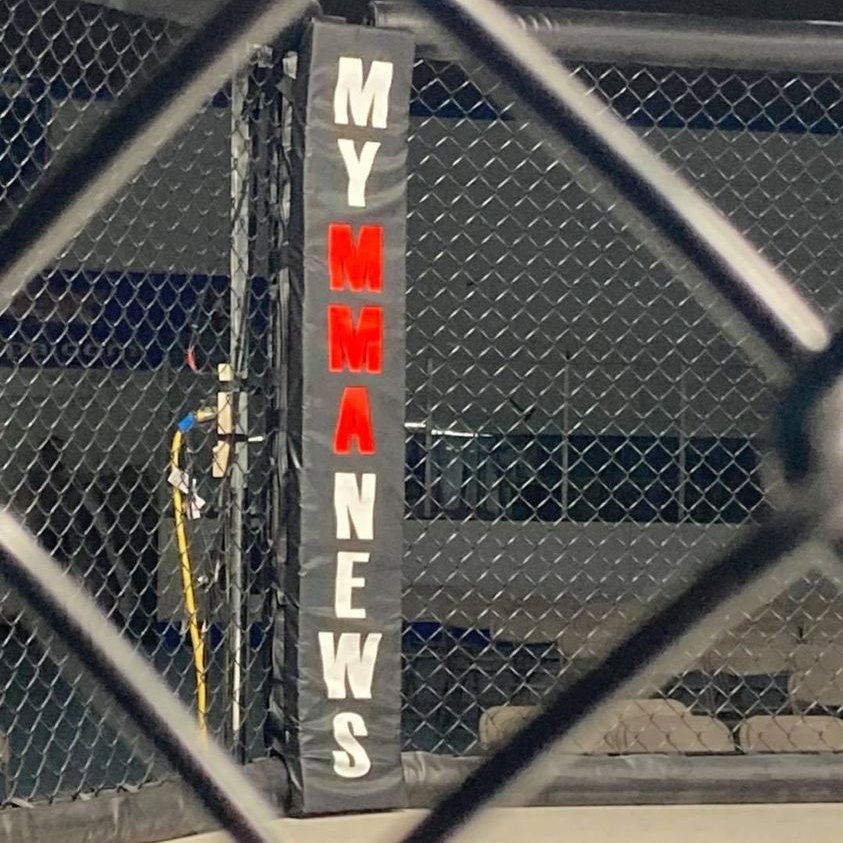 MyMMANews.com – We cover everything from MMA, BJJ, Bare Knuckle, Wrestling, Boxing, Kickboxing, and Judo
News, Opinions, Videos, Radio Shows, Photos and more.