A Closer Look Into Robert Whittaker vs. Jared Cannonier At UFC 254
We have a very exciting, meaningful middleweight co-main event match up this weekend at UFC 254, as former UFC Middleweight Champion, TUF: Smashes winner, and the No. 1 ranked UFC middleweight contender Robert 'The Reaper' Whittaker faces off against the No. 2 ranked UFC middleweight contender Jared 'The Killa Gorilla' Cannonier.
Firstly, we'll start out by saying neither of these men started their careers fighting at 185 lbs. Whittaker fought his first 16 fights at welterweight, which included a 3-2 run in the UFC, where he claimed The Ultimate Fighter trophy in his promotional debut.
Cannonier started his career out as a heavyweight, and despite being only 5'11", he did quite well in the division. He went 7-0 on the Alaskan regional circuit, capturing the AFC Heavyweight Championship by defeating 60+ fight veteran Tony Lopez via split decision over the course of five rounds.
He then lost his UFC debut to Shawn Jordan via KO, before picking up a KO victory over Cyril Asker. 'The Killa Gorilla' then made the move to light-heavyweight, where he had a 2-3 run, defeating the likes of Ion Cutelaba via unanimous decision and Nick Roehrick via TKO.
The three defeats came to Glover Teixeira via unanimous decision, Jan Blachowicz via unanimous decision, and Dominick Reyes via TKO. As you see, he's only lost to the very best, even in a weight class above.
Robert Whittaker (21-5) vs. Jared Cannonier (13-4)
Cannonier made his middleweight debut by finishing WSOF champ-champ David Branch via TKO early in round two, before defeating Anderson Silva via TKO in round one with a leg kick. That brings us to his most recent fight, where he TKO'd Jack Hermansson early in round two.
The way Hermansson has been looking lately, it just makes Cannonier look that much more unstoppable.
He's a very real threat to anyone in this division. He was KO'ing heavyweights, and now he's fighting at 185 lbs with a 100% knockout ratio thus far. He's really blossomed beautifully in this division.
'The Reaper' is looking to get back his throne that he lost to now UFC Middleweight Champion Israel Adesanya, and he must get past this tank of a man in Jared Cannonier before that can become a reality.
He had a successful first step in defeating Darren Till via unanimous decision back in July, and he looks to keep that momentum going this weekend.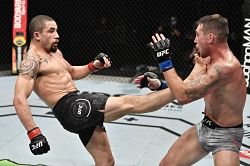 Up until his fight with Adesanya, Whittaker was 8-0 as a middleweight, having finished Jacare Souza and Derek Brunson, as well as winning two five-round decisions against Yoel Romero.
Some believe he lost the Romero fights, particularly the rematch, but that's neither here nor there. Most also believe he took too much damage in those fights and wouldn't be the same upon returning considering.
He didn't look the same upon returning when he fought Adesanya, he just wasn't himself that night. He was rushing in throwing blind shots, he'd never fought like that before. He was fighting Adesanya the way Brunson fought him, very recklessly, and it cost him.
'The Reaper' did however look like himself in July, it was the vintage Whittaker we were used to seeing. He just had too much time off between his Romero rematch and Adesanya fight, he was rusty, and after being out 16 months, we can't really blame him.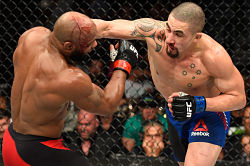 Whittaker was out for exactly eleven months in between his Romero fights, and the second was much closer than the first. Aside from that, he's fought at least twice a year since he's been a professional. It's obvious, an active Robert Whittaker is a dangerous man.
This will be his second fight in 2020, he should show up as expected. An on-point Whittaker is so crafty and skillful, people forget because he got finished two fights ago. He bounces back-and-forth between his feet with that Hapkido stance, which he has a black belt in.
'The Reaper' also has a black belt in Goju-ryu Karate, and a brown belt in Brazilian Jiu-Jitsu. Whittaker's about as clever of a striker as you'll find that didn't come from a professional kickboxing background. He also participated in some freestyle wrestling tournaments in his time off, and got some very good results.
After winning the Australia Cup in 2015, Whittaker had the chance to compete to go to the Commonwealth Games, and even the Olympics, but the UFC wouldn't allow it and he had to take a step back.
He resumed wrestling in 2017 however, and claimed the Australian National Championships gold medal in the 213 lb division. This gave Whittaker a shot at the 2018 Australian Commonwealth Games, where he again claimed a gold medal.
Following this, he was granted entrance into the 2018 Commonwealth Games, being one of eight representing Australia, the only one in his division. Whittaker was forced to withdraw from this opportunity however, because the UFC was threatening to strip him of his title.
Imagine if Whittaker won the 2018 Commonwealth Games, that would have been incredibly big. It's already huge what he did. He claimed two national titles really, and in a weight class or two above. For someone to do something like that who didn't come from a wrestling background, it's insane, it's absolutely remarkable.
That's some Georges St-Pierre-type athleticism. The thing is though, we haven't seen him use it, aside from defensively. It definitely helped him in the Romero fights, but if he could make that part of his arsenal and really learn to chain it together, which he's certainly capable of, he'll be even more effective than he already is.
If he can get his opponents worried about a takedown; he already knocks most of his opponents out, he may be a threat to Adesanya. If he can really secure good takedowns that is, not just simply threaten with it.
The wrestling matches weren't even close either. He defeated three of his six opponents via tech fall, one 8-2, and pinned a couple others.
Whittaker is already so good, and he's still just 29-years-old, turning 30 in December. Cannonier is 36-years-old, turning 37 in March, but he hasn't shown us any signs of slowing down. If anything, he's approaching his peak.
Cannonier is an incredible athlete, and he got a very late start in fighting. He was 27-years-old when he started out, which is pretty crazy to think about.
But he's only had 17 fights, he doesn't have the miles on him almost every other mid-thirties fighter does, and he shows us new things every time we see him.
'The Reaper' improved his middleweight record to 9-1 with his victory over Till in July, and Cannonier improved his middleweight record to 3-0 with his win over Hermansson in September of last year. It's crazy to think this is only a three-round fight, it's such a high level match up.
Both men have great boxing; Whittaker probably has the technique advantage in that department, but Cannonier certainly has the power advantage. Cannonier also has some thunderous leg kicks, which he uses to gauge distance and set up his punches with.
Whittaker also has great kicks. From his front kicks to the body, to his oblique kicks, to his round kicks to the head, he's about as well versed on the feet as they come.
The former champion stands 6′ and comes into the bout with a 73.5" reach, while the No. 2 contender is an inch shorter with a four-inch reach advantage, boasting a 77.5" wingspan.
Who wins this epic No. 1 contender fight at 185 lbs?